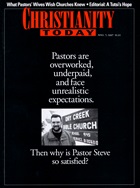 This article is from the April 7 1997 issue. Subscribers can read all of CT's digital archives.
On a beach in the Sinai peninsula, a group of Christian believers prepares for a most unusual Communion service.
"A man ought to examine himself before he eats of the bread and drinks of the cup," someone reads from First Corinthians. "For anyone who eats and drinks without recognizing the body of the Lord eats and drinks judgment on himself."
What makes this service so different is not the setting so much as the participants: Messianic Jews and Palestinian Christians whose common faith in Jesus has given them the courage to cross the political and cultural mine fields between them.
As the bread is being prepared, one of the men gets to his feet. "I have something I need to confess," he says quietly. All motion stops. The air is charged as he continues: "I've been holding something against my brother."
In a moment of holy courage he calls the other by name. He reaches out. "I'm sorry. Will you forgive me?" And the tension dissolves.
"It was powerful, beautiful," says Nizar Tuma, a Jerusalem pastor. "Something was set free in all of us. It was a night of confession and repentance, a real move of the Spirit. I saw people embracing, men on their knees, weeping, or just praying quietly. This is what Musalaha is all about."
Musalaha, an Arabic word meaning reconciliation and forgiveness, is also the name of a Jerusalem-based ministry that has been bringing groups like these into the desert since 1991.
Salim Munayer, director, explains, "In the beginning, the whole concept of Jewish believers was so new, it was a real surprise. The Palestinian Christians thought, 'Oh, they're Christians, they'll understand.' But we didn't realize how complex their relationship was with the historical church, even with the word Christian.
"It got to the ...
1
Our digital archives are a work in progress. Let us know if corrections need to be made.
Sharing Living Water