We wreathe our doors with juniper and if holly, deck our shrubs with tiny white lights and our living rooms with spruce trees, candles, Nativity scenes. We dress ourselves for Christmas: she sporting a cotton sweater with stars and snowflakes, he wearing a candy-caned tie, baby kicking green and red socks with tiny bells.
Ironic, all of this decking, when you consider that the Christmas movement of God is away from glitter and glory. To get ready for Christmas, God undressed.
God stripped off his finery and appeared—how embarrassing—naked on the day he was born. God rips off medals of rank, puts aside titles, honors, and talents, and appears in his birthday suit. Veiled in flesh the Godhead see; hail the incarnate deity. In the Incarnation, things heavenly and earthly are gathered into one: one in the naked flesh and folds of God.
Do we get Santa Claus and God mixed up? We think of a portly God with a long white beard, well covered in red flannel and fur. It's part of our great project—clothing God—making him as respectable as we are. No shirt, no shoes, no service, we tell him. Dressing God is, for many, a compulsive hobby.
God deserves the best-dressed celebrity award, as we have robed God not only in Santa suits, but in fine marble, gilt, marvelous mosaic. Let God be anything but naked. Yes, I want that cloth right there: Thank you, sculptors, for helping God where he could not help himself, covering God's bare flesh and unprotected love.
When the gospel was first preached, Romans laughed at the idea of a god become flesh. Oh, sure, a god might have a fling with a mortal woman and then disappear to better realms. But you know your side of the tracks, and the gods know theirs. God become flesh—hilarious!
Instead of laughing with the Romans, we've done a sleight of hand to turn the celebration of the Incarnation into Christmas. Into the hat we stuff a fleshly God; out pops tinsel, wrapping paper, photos of children with starry eyes. The incantation? Hocus pocus backwards—no, this is not my body, not my blood. Because of this trick, many educated people know nothing of what scandalized the Romans.
Dig under stockings, Christmas concert programs, carols, a gingerbread house recipe, and—Oh my God. What is it? A baby. Not a silent symbol of benign blessing, but meconium, squalling cries, desperate need for warm breast, loving eyes to search his: God is naked and not ashamed.
God's heart of love moved him to make choices that seem absurdly unstrategic. If he'd kept his wits about him, God could have hit the ground running, birthed as an emperor or at least to wealth. A wise God would rub shoulders with movers and shakers, attend presidential prayer breakfasts, speak at the National Press Club. Even the Devil could see God was ill advised, and in the wilderness he offered Jesus the opportunity to pull rank. But Jesus declined. God trotted past the great and leapt onto lesser mortals, knocking them flat by his grace.
Over and over, God plays the fool. He sends the massed angel choir to a rabble of shepherds. Why send such a hard-to-book troupe to riffraff who would have been wowed by one shabby angel clutching a bit of tinsel? God over-the-top throws the party-to-end-all-parties for scum who had never been to so much as a kegger.
God doesn't care whether they are wearing Brooks Brothers or bathrobes; God prefers them smelling of sweat or pig, not Obsession or soap. God doesn't worry about proper accents, good grammar. God has hidden these things from the wise and revealed them to infants. Searching high for God in mystical experiences, complicated revelations, asceticism, spiritual exercises? God is laid low, tucked under the mundane. Look down, not up—dig to find the treasure buried in your own backyard, called flesh.
Three men—from noble families, midfifties, wise—seek exalted experience of God. Willing to travel. The wise men looked high (not low) until their necks were tricked. Dazzled by stars, they expect to be bedazzled by God. Looking up, they play a game with God: Hide the holy one, and God is "it." Check the palace, of course. Where else could God be? Many people spend their lives like those wise men, looking for God in exotic spiritual experiences, not realizing that the extraordinary truth is under their noses.
As evangelicals we have focused on the saving death of Christ but thrown out the Incarnation in our Christmas wrappings. As we cover God with Christmas, we hide what is most distinctive about Christianity. And this is the tragedy: What many don't know about Christianity is that God has chosen to identify with their pain, their humanness, their flesh. This is what we've lost as we have exchanged the Feast of the Incarnation for Christmas.
As we have dressed God in his Christmas best, we have covered the jewel of the Christian faith—God's choice of flesh, of identification with humanity and therefore pain. The earliest Christmas hymns sing of incarnation; most Victorian ones hum harps of gold, reminding us over and over of straw and donkeys. We need to look for ways to communicate to unbelievers the wonderful news of a God who is unwilling to stand apart from us, who must become God with us.
Think about it. God could have chosen distance: contemplating from a detached, divine reverie, creating inanimate objects and slinging them around the universe. Or God could just be. He could have masked himself with the passive face of Buddha, gazing beyond pain. Sometimes when I am confronted with terrible pain, I wish I were Buddhist so I could distance myself from the dust, flesh, and torment of the human condition.
But no, the face of God is spun with joy, drawn by pain, creased with greeting. God avoids realms of esoteric understanding, wandering instead into the mud of identification, the spit and dirt of costly involvement. In flesh we endure heat, cold, toothache; in flesh we fear the rapist, the cancer.
God couldn't be God-with-us if he weren't flesh. The flesh of the baby is father to the flesh of the man. In his flesh, the spit of God mixed with the dirt of Galilee to make a healing paste. The naked baby must be flesh so that God can be stripped again, trading his dusty garments for the splinters of the cross.
No wonder we pile the Christmas tree skirt, the Christmas card list, the invitation to a Christmas party over the flesh-and-blood baby. Please, someone, load on the patchwork wreath, the felt stockings. Turn on somebody's Christmas tape. We don't want a God who becomes flesh.
The true Christmas story scares us spitless. If God undressed, we might have to join him—remove our self-sufficiency suits, pull off our health-and-well-being designer sweats. Perhaps instead of shopping we need to spend December reminding ourselves of God's choice of vulnerability and pondering its implications. Perhaps we need to call December 25th the Celebration of the Incarnation, to greet each other with Incarnation greetings—instead of "Happy Holidays" or "Merry Christmas'' we could shout, "God chose flesh!" "God became one of us!"
The Feast of the Incarnation is the time to dance to the descending scales of God's throwing off omnipotence. The Word was made flesh and dwelt among us—God closer than close. That's what we could be celebrating. This is the Christmas story as it should be told. This naked God is the path to God.
Mary Ellen Ashcroff is associate professor of English at Bethel College, St. Paul, Minnesota, and is author of The Magdalene Gospel and Balancing Acts.
Have something to add about this? See something we missed? Share your feedback here.
Our digital archives are a work in progress. Let us know if corrections need to be made.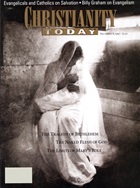 This article is from the December 8 1997 issue.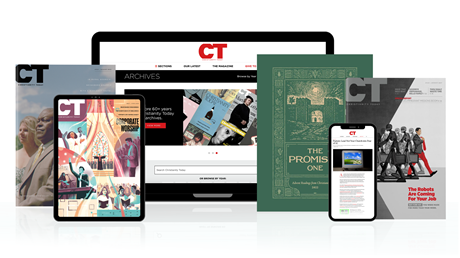 Subscribe to Christianity Today and get access to this article plus 65+ years of archives.
Home delivery of CT magazine
Complete access to articles on ChristianityToday.com
Over 120 years of magazine archives plus full access to all of CT's online archives
Subscribe Now
Gift wrapping God
Gift wrapping God