The Gift of Salvation," published here for the first time, was adopted by a group of Catholic and evangelical theologians, of which I was a part, meeting in New York City on October 7, 1997. Unlike the Lutheran-Catholic Joint Declaration on the Doctrine of Justification issued earlier this year, this statement is not the result of an officially sponsored dialogue, but the collaborative work of individuals who speak from and to, but not for, our several communities. This statement is being translated into various languages and will be distributed to pastors and church leaders around the world. We invite all Christians to consider what we have been able to say together about the gift of salvation.
We come together by the common recognition that all who truly believe in Jesus as Savior and Lord are indeed, by God's grace, brothers and sisters in Christ. We sense that urgency of our Lord's high priestly prayer for all his disciples—"that they may all be one; even as thou, Father, art in me, and I in, that they also may be in us, so that the world may believe that thou hast sent me" (John 17:21). True Christian unity, we believe, is not so much a goal to be achieved as a gift to be received. To this end, we have tried to speak with both clarity and charity, rejoicing in the remarkable convergence we have discovered, while ever mindful of the persistent and serious differences that remain.
We reject the kind of ecumenical euphoria that assumes the way to peace in the church is to downplay doctrine and theology. We are committed to an ecumenism of conviction, not an ecumenism of accommodation. In his encyclical Ut Unum Sint (That All May Be One), Pope John Paul II has reiterated this same theme: "In matters of faith, compromise is in contradiction with God, who is Truth. In the Body of Christ, 'the Way and the Truth and the Life,' who could consider legitimate a reconciliation brought about at the expense of truth?"
"The Gift of Salvation" has been made possible by a major realignment in ecumenical discourse: the coalescence of believing Roman Catholics and faithful evangelicals who both affirm the substance of historic Christian orthodoxy against the ideology of theological pluralism that marks much mainline Protestant thought as well as avant-garde Catholic theology. Thus, for all our differences, Bible-believing evangelicals stand much closer to Cardinal Joseph Ratzinger than to Bishop John Spong!
What is the relationship between "The Gift of Salvation" and the original Evangelicals and Catholics Together (ECT) declaration published on March 29, 1994? ECT called for a continuing process of study, discussion, and prayer "for a better understanding of one another's convictions and a more adequate comprehension of the truth of God in Christ." "The Gift of Salvation" emerged from a series of conferences convened by Charles Colson and Richard John Neuhaus in direct response to this statement in ECT. A volume of essays and papers presented at these meetings will be published in the near future.
While the 1994 ECT statement garnered a broad measure of support, it also elicited strong criticism, especially among certain evangelicals. Some of the original drafters of ECT readily admit that certain expressions in that statement could have been written with greater clarity and precision. "The Gift of Salvation" directly addresses two important topics of perceived ambiguity in ECT: the doctrine of justification by faith alone and the biblical mandate for world missions and world evangelization.
Evangelicals believe that justification by faith alone is at the heart of the gospel. It is, as Luther said in 1537, "the first and chief article," which cannot be "given up or compromised." The language about justification in "The Gift of Salvation" echoes the Thirty-Nine Articles of the Church of England: "We are accounted righteous before God, only for the merit of our Lord and Savior Jesus Christ by faith, and not for our own works or deservings."
We rejoice that our Roman Catholic interlocutors have been able to agree with us that the doctrine of justification set forth in this document agrees with what the Reformers meant by justification by faith alone (sola fide). This, we believe, is a major step forward, but it still does not resolve all of the differences between our two traditions on this crucial matter. In connection with the Lutheran-Catholic Joint Declaration, new questions are being asked about the status of the mutual condemnations of the sixteenth century, including those concerning the doctrine of justification. For their part, evangelicals must not allow sola fide to become a pretext for "easy believism" or antinomianism, both distortions of Reformation soteriology. Thus among the items requiring further discussion, we have included this quotation from John Calvin: "We are justified by faith alone, but the faith that justifies is not alone."
Equally important is the normative status of justification by faith alone in relation to other doctrines and practices. For the Reformers, justification was the criterion by which they evaluated the piety and teaching of the medieval church. This led them to call into question purgatory, relics, indulgences, the excesses of Marian devotion, and invocation of the saints-issues that still divide Catholics and evangelicals today. These and many other matters that are not even broached in this document, such as the role of the papacy and Scripture and tradition, are "necessarily interrelated" with what we have here affirmed together. The task of reforming the church on the basis of the Word of God still remains today: ecclesia semper reformanda (the church always reforming).
Certain critics of ECT interpreted its strictures against proselytism as a subtle attempt to undercut the witness of evangelical missionaries in largely Catholic countries. While this was never the intention of ECT, "The Gift of Salvation" says explicitly that evangelicals should preach the gospel to Catholics, and Catholics to evangelicals. We do not assume that all nominal Catholics are true believers in Jesus, nor that all nominal evangelicals are genuine followers of the Lord. As Cardinal Edward Cassidy reminded us at our meeting in October, it is far more important for one truly to know Jesus and find salvation in him than to belong without conviction to any particular community. At the same time, those who do know and love Jesus must pray and support one another in all that they are doing for the cause of Christ, never stooping to underhanded tactics or deceptive methods in their witness for the gospel.
As evangelicals and Catholics pursue theological dialogue, moved by our love for the truth and our love for one another, we must not let our discussions degenerate into a kind of armchair ecumenism, heady, aloof, and divorced from an awareness of "the pestilence that stalks in darkness, [and] the destruction that wastes at noonday" (Ps. 91:6). All who believe in Jesus, Catholics and evangelicals alike, are comrades in a common struggle, not a struggle against one another, but against the Prince of Evil himself; a spiritual conflict with the powers and potentates of this dark world. In a culture of death, we bear witness together to the Lord of life, our crucified, risen, and returning Savior. His triumph we celebrate, his gospel we proclaim, his joy we share, his kingdom we await. Jesus is Victor!
Timothy George is senior adviser to CHRISTIANITY TODAY and dean of Beeson Divinity School at Samford University in Birmingham, Alabama.
The Gift of Salvation
For God so loved the world that he gave his only Son, that whoever believes in him should not perish but have eternal life. For God sent the Son into the world, not to condemn the world, but that the world might be saved through him.
We give thanks to God that in recent years many Evangelicals and Catholics, ourselves among them, have been able to express a common faith in Christ and so to acknowledge one another as brothers and sisters in Christ. We confess together one God, the Father, the Son and the Holy Spirit; we confess Jesus Christ the Incarnate Son of God; we affirm the binding authority of Holy Scripture, God's inspired Word; and we acknowledge the Apostles' and Nicene creeds as faithful witnesses to that Word.
The effectiveness of our witness for Christ depends upon the work of the Holy Spirit, who calls and empowers us to confess together the meaning of the salvation promised and accomplished in Christ Jesus our Lord. Through prayer and study of Holy Scripture, and aided by the Church's reflection on the sacred text from earliest times, we have found that, notwithstanding some persistent and serious differences, we can together bear witness to the gift of salvation in Jesus Christ. To this saving gift we now testify, speaking not for, but from and to, our several communities.
God created us to manifest his glory and to give us eternal life in fellowship with himself, but our disobedience intervened and brought us under condemnation. As members of the fallen human race, we come into the world estranged from God and in a state of rebellion. This original sin is compounded by our personal acts of sinfulness. The catastrophic consequences of sin are such that we are powerless to restore the ruptured bonds of union with God. Only in the light of what God has done to restore our fellowship with him do we see the full enormity of our loss. The gravity of our plight and the greatness of God's love are brought home to us by the life, suffering, death, and resurrection of Jesus Christ. "God so loved the world that he gave his only Son, that whoever believes in him should not perish but have eternal life" (John 3:16).
God the Creator is also God the Redeemer, offering salvation to the world. "God desires all to be saved and come to a knowledge of the truth" (1 Timothy 2:4). The restoration of communion with God is absolutely dependent upon Jesus Christ, true God and true man, for he is "the one mediator between God and men" (1 Timothy 2:5), and "there is no other name under heaven given among men by which we must be saved" (Acts 4:12). Jesus said, "No one comes to the Father but by me" (John 14:6). He is the holy and righteous one who was put to death for our sins, "the righteous for the unrighteous, that he might bring us to God" (1 Peter 3:18).
The New Testament speaks of salvation in various ways. Salvation is ultimate or eschatological rescue from she and its consequences, the final state of safety and glory to which we are brought in both body and soul. "Since, therefore we are now justified by his blood, much more shall we be saved by him from the wrath of God." "Salvation is nearer to us now than when we first believed" (Romans 5:9; 13:11). Salvation is also a present reality. We are told that "he saved us, not because of deeds done by us in righteousness, but in virtue of his own mercy" (Titus 3:5). The present reality of salvation is an anticipation and foretaste of salvation in its promised fullness.
Always it is clear that the work of redemption has been accomplished by Christ's atoning sacrifice on the cross. "Christ redeemed us from the curse of the law by becoming a curse for us" (Galatians 3:13). Scripture describes the consequences of Christ's redemptive work in several ways, among which are: justification, reconciliation, restoration of friendship with God, and rebirth from above by which we are adopted as children of God and made heirs of the Kingdom. "When the time had fully come, God sent his son, born of a woman, born under law, that we might receive the adoption of sons" (Galatians 4:4-5).
Justification is central to the scriptural account of salvation, and its meaning has been much debated between Protestants and Catholics. We agree that justification is not earned by any good works or merits of our own; it is entirely God's gift, conferred through the Father's sheer graciousness, out of the love that he bears us in his Son, who suffered on our behalf and rose from the dead for our justification. Jesus was "put to death for our trespasses and raised for our justification" (Romans 4:25). In justification, God, on the basis of Christ's righteousness alone, declares us to be no longer his rebellious enemies but his forgiven friends, and by virtue of his declaration it is so.
The New Testament makes it clear that the gift of justification is received through faith. "By grace you have been saved through faith; and this is not your own doing, it is the gift of God" (Ephesians 2:8). By faith, which is also the gift of God, we repent of our sins and freely adhere to the gospel, the good news of God's saving work for us in Christ. By our response of faith to Christ, we enter into the blessings promised by the gospel. Faith is not merely intellectual assent but an act of the whole persons involving the mind, the will, and the affections, issuing in a changed life. We understand that what we here affirm is in agreement with what the Reformation traditions have meant by justification by faith alone (soda fide).
In justification we receive the gift of the Holy Spirit, through whom the love of God is poured forth into our hearts (Romans 5:5). The grace of Christ and the gift of the Spirit received through faith (Galatians 3:14) are experienced and expressed in diverse ways by different Christians and in different Christian traditions, but God's gift is never dependent upon our human experience or our ways of expressing that experience.
While faith is inherently personal, it is not a purely private possession but involves participation in the body of Christ. By baptism we are visibly incorporated into the community of faith and committed to a life of discipleship. "We were buried therefore with him by baptism into death, so that as Christ was raised from the dead by the glory of the Father, we too might walk in newness of life" (Romans 6:4).
By their faith and baptism, Christians are bound to live according to the law of love in obedience to Jesus Christ the Lord. Scripture calls this the life of holiness, or sanctification. "Since we have these promises, dear friends, let us purify ourselves from everything that contaminates body and spirit, perfecting holiness out of reverence for God" (2 Corinthians 7:1). Sanctification is not fully accomplished at the beginning of our life in Christ, but is progressively furthered as we struggle, with God's grace and help, against adversity and temptation. In this struggle we arc assured that Christ's grace will be sufficient for us, enabling us to persevere to the end. When we fail, we can still turn to God he humble repentance and confidently ask for, and receive, his forgiveness.
We may therefore have assured hope for the eternal life promised to us in Christ. As we have shared in his sufferings, we will share in his final glory. "We shall be like him, for we shall sac him as he is" (1 John 3:2). While we dare not presume upon the grace of God, the promise of God in Christ is utterly reliable, and faith in that promise overcomes anxiety about our eternal future. We are bowed by faith itself to have firm hope, to encourage one another in that hope, and in such hope we rejoice. For believers "through faith are shielded by God's power until the coming of the salvation to be revealed in the last time" (1 Peter 1:5).
Thus it is that as justified sinners we have been saved, we arc being saved, and we will be saved. All this is the gift of God. Faith issues in a confident hope for a new heaven and a new earth in which God's creating and redeeming purposes are gloriously fulfilled. "Therefore God has highly exalted him and bestowed on him the name which is above every name, that at the name of Jesus every knee should bow, in heaven and on earth and under the earth, and every tongue confess that Jesus Christ is Lord, to the glory of God the Father" (Philippians 2:9-11).
As believers we are sent into the world and commissioned to be bearers of the good news, to serve one another in love, to do good to all, and to evangelize everyone everywhere. It is our responsibility and firm resolve to bring to the whole world the tidings of God's love and of the salvation accomplished in our crucified, risen, and returning Lord. Many are in grave peril of being eternally lost because they do not know the way to salvation.
In obedience to the Great Commission of our Lord, we commit ourselves to evangelizing everyone. We must share the fullness of God's saving truth with all, including members of our several communities. Evangelicals must speak the gospel to Catholics and Catholics to Evangelicals, always speaking the truth in love, so that "working hard to maintain the unity of the Spirit in the bond of peace … the body of Christ may be built up until we all reach unity in the faith and in the knowledge of the Son of God" (Ephesians 4: 3, 12-13 ).
Moreover, we defend religious freedom for all. Such freedom is grounded in the dignity of the human person created in the image of God and must be protected also in civil law.
We must not allow our witness as Christians to be compromised by half-hearted discipleship or needlessly divisive disputes. While we rejoice in the unity we have discovered and are confident of the fundamental truths about the gift of salvation we have affirmed, we recognize that there are necessarily interrelated questions that require further and urgent exploration. Among such questions are these: the meaning of baptismal regeneration, the Eucharist, and sacramental grace; the historic uses of the language of justification as it relates to imputed and transformative righteousness; the normative status of justification in relation to all Christian doctrine; the assertion that while justification is by faith alone, the faith that receives salvation is never alone; diverse understandings of merit, reward, purgatory, and indulgences; Marian devotion and the assistance of the saints in the life of salvation; and the possibility of salvation for those who have not been evangelized.
On these and other questions, we recognize that there are also some differences within both the Evangelical and Catholic communities. We are committed to examining these questions further in our continuing conversations. All who truly believe in Jesus Christ are brothers and sisters in the Lord and must not allow their differences, however important, to undermine this great truth, or to deflect them from bearing witness together to God's gift of salvation in Christ. "I appeal to you, brothers, in the name of our Lord Jesus Christ, that all of you agree with one another so that there may be no divisions among you and that you may be perfectly united in mind and thought" (1 Corinthians 1:10).
As Evangelicals who thank God for the heritage of the Reformation and affirm with conviction its classic confessions, as Catholics who are conscientiously faithful to the teaching of the Catholic Church, and as disciples together of the Lord Jesus Christ who recognize our debt to our Christian forebears and our obligations to our contemporaries and those who will come after us, we affirm our unity in the gospel that we have here professed. In our continuing discussions, we seek no unity other than unity in the truth. Only unity in the truth can be pleasing to the Lord and Savior whom we together serve, for he is "the way, the truth, and the life" (John 14:6).
EVANGELICALS


Dr. Gerald L. Bray (Beeson Divinity School)
Dr. Bill Bright (Campus Crusade for Christ)
Dr. Harold O. J. Brown (Trinity Evangelical Divinity School)
Mr. Charles Colson (Prison Fellowship)
Bishop William C. Frey (Episcopal Church)
Dr. Timothy George (Beeson Divinity School)
Dr. Os Guinness (The Trinity Forum)
Dr. Kent R. Hill (Eastern Nazarene College)
The Rev. Max Lucado (Oak Hills Church of Christ, San Antonio, Texas)
Dr. T. M. Moore (Chesapeake Theological Seminary)
Dr. Richard Mouw (Fuller Theological Seminary)
Dr. Mark A. Noll (Wheaton College)
Mr. Brian F. O'Connell (Interdev)
Dr. Thomas Oden (Drew University)
Dr. James I. Packer (Regent College, British Columbia)
Dr. Timothy R. Phillips (Wheaton College)
Dr. John Rodgers (Trinity Episcopal School for Ministry)
Dr. John Woodbridge (Trinity Evangelical Divinity School)

ROMAN CATHOLICS


Fr. James J. Buckley (Loyola College in Maryland)
Fr. J. A. Di Noia, O.P. (Dominican House of Studies)
Fr. Avery Dulles, S.J. (Fordham University)
Fr. Thomas Guarino (Seton Hall University)
Dr. Peter Kreeft (Boston College)
Fr. Matthew L. Lamb (Boston College)
Fr. Eugene LaVerdiere, S.S.S. (Emmanuel)
Fr. Francis Martin (John Paul II Institute for Studies on Marriage and Family)
Mr. Ralph Martin (Renewal Ministries)
Fr. Richard John Neuhaus (Religion and Public Life)
Mr. Michael Novak (American Enterprise Institute)
Fr. Edward Oakes, S.J. (Regis University)
Fr. Thomas P. Rausch, S.J. (Loyola Marymount University)
Mr. George Weigel (Ethics and Public Policy Center)
Dr. Robert Louis Wilken (University of Virginia)
Have something to add about this? See something we missed? Share your feedback here.
Our digital archives are a work in progress. Let us know if corrections need to be made.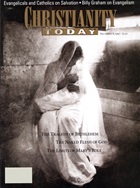 This article is from the December 8 1997 issue.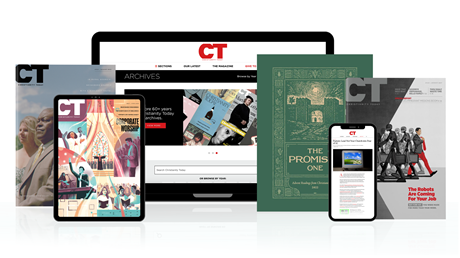 Annual & Monthly subscriptions available.
Print & Digital Issues of CT magazine
Complete access to every article on ChristianityToday.com
Unlimited access to 65+ years of CT's online archives
Member-only special issues
Subscribe
Evangelicals and Catholics Together: A New Initiative
Evangelicals and Catholics Together: A New Initiative