The sun is high, but a cool breeze from Lebanon's Shouf Mountains comes through open windows and blows across the concrete living room. Sitting on plastic chairs in the sparse living room, the Hasroute family drinks thick Arabic coffee with their neighbors.
In the mountain village of Wadi Al-Deir, Lebanon, families are rediscovering caring, cooperation, and neighborliness after a generation of warfare. Nowhere is this rediscovery more evident than in the vibrant smile on the face of Menwar Wadih Hasroute, the family's head.
"This is the center: our house. After 11 years, I was able to return," Hasroute says. "The destroyers burned, bulldozed houses, and cut down the olive and lemon trees." But now a new season of replanting and rebuilding has begun for many Christian families, scattered by the internal warfare that divided Lebanon for 22 years.
Chatting and pointing proudly, the Hasroute family takes a group of guests through the restored kitchen, bathroom, and bedroom. The rebuilding has not only involved bricks and mortar, but there has also been the reconstruction of relationships between Christian Lebanese and Druze, as well as between villages and the national government. In differing ways, the international relief-and-development ministry World Vision, local Lebanese leaders, and the American and Lebanese governments have provided financial and personnel resources to help more than 400 Christian families driven from their villages return to their homes and begin the process of reconciliation with the Druze, the Lebanese minority group that forced Christian villagers to flee.
RECOVERING FROM DEVASTATION
From 1975 to 1991, Lebanon was ravaged by internal warfare, which also ensnared Syria and Israel, both of which still occupy a portion of the country.
In 1983, one of many bleak twists in the bloody conflict occurred. A sectarian wave of violence against Christian villages in the Shouf Province caused residents to flee from the shooting and destruction. Towns were obliterated, and the occupants fled.
Many Christian refugees settled in Beirut, where they eked out a living under desperate conditions. Other refugees, those who moved from place to place to avoid battles for control of Beirut, were already living in whatever confiscated housing they could find.
Hasroute, his wife, and their six children were given living space in a building in exchange for his services as janitor and guard. "We lived under the staircase," he says. "No one can ever know what it feels like to be displaced, to lose your home."
In 1991, the Lebanese government established the Ministry of Displacement to facilitate the return of homes to their rightful owners and to provide resettlement money to the squatters.
Government funds paid only for relocation, not for reconstruction. Many Christians from the mountain villages were seasoned farmers. Their property now consisted of burnt and axed trees, uprooted vineyards, scorched gardens, and demolished houses. They had little hope and almost no money.
PRACTICAL CHRISTIAN WITNESS
Jean Bouchebl, director of World Vision Lebanon, and George Deeb, a Lebanese political leader from the Shouf Province, met with government officials, urging them to assist Christians in rebuilding their villages and livelihoods.
Yet, Christian leaders were not content to work solely on reconstructing houses. They were determined to promote reconciliation and peace among conflicting religious groups. "It is relationship and Christian witness in practical ways that speaks to hearts," says Bouchebl.
In 1992, a successful rebuilding effort on the outskirts of Beirut at Souk-El-Charb brought Christian, Druze, and Shiite Muslims together to lay aside their differences and cooperate in rebuilding the area where they all lived.
Following this successful model, local leaders developed the Lebanon Emergency Reconstruction proposal to aid other displaced Christians. The U.S. Agency for International Development agreed to match funds donated by World Vision Relief and Development and World Vision Lebanon. Finally, the Lebanese government agreed to restore basic services to the villages.
Reconstruction was no small undertaking. Many dwellings were completely gutted. Unless a significant portion of a home remained, little could be done to help. Those homes that could be fixed through repairs to windows, doors, kitchens, bathrooms, and one other room of the owner's choice qualified for the World Vision Lebanon Emergency Reconstruction program. Priority was given to large families, the unemployed, the elderly, and widows. Once the homes were partially reconstructed—using $2,000 per family for "seed money"—the hope was that owners would continue rebuilding using their own resources.
A Community Reconstruction Committee guided the program. It included representatives from the nine Christian villages in the project, the local municipal authorities, and World Vision advisers. The family recipients, guided by engineers, rebuilt their homes.
"The people love their land. The only encouragement to come back was from World Vision. If it were not for them, we would not be able to build. [They] gave us $2,000, and since then we have put in additional [money]," says Hasroute. The Hasroute family has completed repairs on the bathroom, kitchen, and one bedroom. The other rooms have had the windows and doors replaced and are habitable in the warm summer months.
"The village people brought a pipe from a spring 500 meters away to fill up a galvanized container. The previous water pipes have deteriorated since the fighting. There is no running water as yet," Bouchebl explains. Cooperation among villagers for community improvements was a benefit that developed.
"The government has provided electricity and paved the roads," says Bouchebl. In coordination with the project, the government has restored some basic utilities. From 1994 to 1996, 400 families were helped. In Wadi Al-Deir, 48 families received assistance, and the majority have permanently resettled. Now that the families have reestablished themselves, they are once again planting vineyards, olive and lemon trees.
GROWING RECONCILIATION
Although his background as a hotel executive gave Bouchebl little direct experience with impoverished villagers, his characteristic courtesy and prayerful consideration motivate his involvement with those in need.
Born in Lebanon, but living abroad for long periods, Bouchebl has always had a deep devotion to his native country and a deeper love for its people. Since 1984, Bouchebl and his associates have worked toward establishing communication among diverse religious groups and promoting respect.
"Entire villages of Christians were displaced by the Druze from the Wadaya, and the Druze have now come to help them rebuild!" Bouchebl exclaims.
Economic necessity became part of the process leading to reconciliation in the Shouf. Without transportation and before the roads were repaired, the Christians had only those in neighboring Druze villages to turn to for building skills. Buying some of their building material from the Druze and relying on them for manpower and skilled labor brought the two groups together. "The [Druze] were the only ones around to help. The Druze workers said the past is past, and we need to link together," said Hasroute. Druze leader Walid Jumblatt, current Minister of the Displaced, wrote that the project "is in alignment with the National Plan for the return of the displaced, all the displaced." Reconciliation and a new trust between Christian and Druze has been planted here amid the rubble of the past. The hope is that it will grow. Hasroute expresses the desire of all those in Lebanon: "We hope that peace will reign in the area; that we will be able to live a better life and our children will have a better future."
Have something to add about this? See something we missed? Share your feedback here.
Our digital archives are a work in progress. Let us know if corrections need to be made.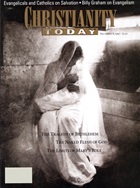 This article is from the December 8 1997 issue.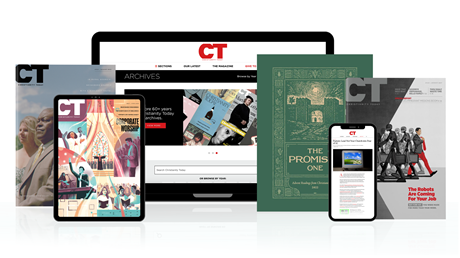 Subscribe to Christianity Today and get access to this article plus 65+ years of archives.
Home delivery of CT magazine
Complete access to articles on ChristianityToday.com
Over 120 years of magazine archives plus full access to all of CT's online archives
Subscribe Now
They Could Go Home Again
They Could Go Home Again