Behind the Eyes, by Amy Grant (Myrrh Records, cd, $16.98). Reviewed by William D. Romanowski, professor of communication arts and sciences at Calvin College and author of Pop Culture Wars: Religion and the Role of Entertainment in American Life (InterVarsity).
It has been 20 years since Amy Grant first burst onto the contemporary Christian music (CCM) scene. Since then she has garnered five Grammys and 22 Dove Awards, has been named Artist of the Year four times, and has seen her 14 albums sell over 20 million copies worldwide. More than any other CCM artist, this "Michael Jackson of gospel music" has come to embody the ideals and complexities, hopes and frustrations of the evangelical popular music industry.
Grant's newest release, Behind the Eyes, comes as no surprise given the course of her career since Unguarded (1985), the first of her albums to be distributed jointly by CCM label Myrrh in the evangelical market and A&M in the mainstream market. Previous "crossover" projects, however, had made at least some mention of God or Jesus. The complete absence of explicitly Christian lyrical content on Behind the Eyes has renewed a debate in the CCM industry about what constitutes Christian music.
While a reviewer in CCM Magazine (the Rolling Stone of the gospel industry) called Behind the Eyes "definitely faith-revealing," a music buyer for religious stores countered, "It's not a Christian album. A Christian album should be clear on the person of Christ, and these lyrics are not." Trying to avoid confusion (or perhaps deflect criticism) concerning the album, a CCM notice alerted religious radio programmers: "As far as the lyrical content is concerned, there's no evangelical bent, no mention of God. If the music you play has to have either of those two elements, you might not want to play it." Some religious stations, apparently, took the advice.
In interviews, Grant explains that this album is meant as a soundtrack to a phase in her life. And she hopes others will relate to it. "The sense of connection in the human experience is the crux [of this album]," she said. "Am I a Christian? Yes, yes, yes!" But, she adds, "I don't know if Behind the Eyes is a Christian record. Being able to label it Christian or non-Christian is not the point for me. The point was to make available the songs I wrote between 1995 and 1997, and to let them find their own audience."
PARADOX IN THE MAKING
Grant's latest release reveals that the CCM industry is caught in a paradox of its own making. CCM came into being when artists and executives took the traditional themes found in church music (evangelism, worship, and ministry) and placed them in music with a contemporary sound. This model legitimized for the church the use of "secular" popular music styles, whether light rock or heavy metal. Ministry was to be the driving purpose of CCM, and the vehicle of communication was to be a contemporary music style.
While this approach did capture a growing audience and made CCM a notable growth industry, ultimately it resulted in a confusing mixture of ministry as consumerism, evangelism, and entertainment. Given this recipe, the present identity crisis in the CCM community was inevitable.
In the early years, a superficial definition of contemporary Christian music, based on "confessional" lyrics emphasizing aspects of evangelism and worship, held the movement together. While the sound of the music sometimes varied wildly, Christian catch phrases demonstrated a musician's evangelical faith and served as boundary markers for the fledgling Christian music enterprise. As the Gospel Music Association (GMA) became an umbrella organization assimilating the industry's disparate musical styles, this definition became informally institutionalized.
But as the CCM industry became more successful and popular, it began to draw criticism from two groups: on the one hand, from those who believed that the original evangelistic ideals were being compromised, and on the other, from those who felt the industry was limiting the performers' artistic and commercial potential. There was merit to this latter criticism; with its imitative posture and often pedantic lyrics, CCM had little appeal outside the evangelical subculture, and mainstream media critics easily dismissed most CCM as cliched and redundant.
CROSSING OVER
In retrospect, it is clear that Amy Grant's career took off as a confluence of business acumen and an artist overcoming the CCM limitations. Age to Age (1982), the first gospel album to sell over 1 million copies, featured songs like "Sing Your Praise to the Lord" and "El Shaddai." But as Grant pioneered the crossover trend in the mid-1980s, subsequent projects broadened the appeal of her music to evangelicals and others who did not shop at religious retail stores but who enjoyed "wholesome" Adult Contemporary (AC) music.
Her crossover albums, apparently for both artistic reasons and marketing imperatives, tried to balance spirituality with an interest in everyday relationships: an angry young woman who hopes that "Love will find a way," another in her "darkest hour, When the lights are coming on in the house of love." "Ask Me," a song about sexual abuse, suggests there is room for doubt amidst enduring faith in God.
Heart in Motion (1991) sold over 5 million copies. But by the time Grant topped the Billboard charts with the jejune love song "Baby Baby," many CCM fans were confused. Nothing seemed to distinguish Grant's crossover music from secular AC songs. To faithful CCM followers, the absence of explicit Christian themes seemed like a breach of contract.
The world portrayed in Behind the Eyes is inhabited by people who make both right and wrong choices when faced with temptations and struggles. The pop-country "Curious Thing" plays with life's unexpected turns and ironic twists. With Beatlesque harmonies, "Leave It All Behind" considers the need either to escape or to make a change. Fidelity and resilience are valued in "I Will Be Your Friend" and "Like I Love You," a song about brokenness and learning to revive love. "Missing You," "The Feeling I Had," and "Cry Like a River" all dwell on a love that "might have been" and the struggle to "just let go" when "All I ever wanted was / The feeling I had with us." All three songs intimate that longing, loss, and regret can be part of the experience of walking away from temptation. The album concludes with "Somewhere Down the Road," a song suggesting that the mysteries of life will someday be revealed, a thin allusion to divine presence in the journey of life.
If mining relationships for personal understanding and meaning is the thematic strength of this recording, it also reveals an important weakness in terms of the discussion about music composed by Christians. Grant treats life and relationships in such a highly individualistic manner that, while characteristic of evangelicals, it isolates these experiences from the larger world. The relation between personal feelings and experiences seems strangely devoid of social and religious context.
Realistically, most Top 40 songs don't get much beyond personal pleasure and immediate gratification. But there are artists who explore the bigger picture. Grant takes aim in that direction, but her songs don't transcend the individual experience. "Nobody Home," Grant's lament over the decline of traditional, small-town life in America, for example, lacks the metaphorical depth of Mary Chapin Carpenter's "I Am a Town" and the social criticism of Bruce Springsteen's "My Hometown." (If Carpenter can sing, "I'm a Baptist like my daddy, Jesus knows my name," why does Grant have to be so discreet about her faith?)
By comparison, the songs on Behind the Eyes point at these, but do not probe them with a sensitivity to social and cultural barriers. While I applaud Grant for acknowledging that any aspect of life is legitimate for artistic consideration, I wonder at the same time why an evangelical world-view seems to leave her with less depth than her nonevangelical counterparts.
AMY AND U2?
The Christian music industry has been unsure how to categorize Grant's latest offering, so much so, in fact, that the GMA and Christian Music Trade Association (CMTA) initiated a re-evaluation of existing guidelines for GMA Dove Award eligibility and sales chart placement.
Designating Behind the Eyes "Christian" could diminish whatever uniqueness CCM has and potentially alienate a segment of evangelical artists and fans. Further, if Behind the Eyes is certified for GMA awards and counted in the Recording Industry Association of America (RIAA) gospel category, it could be argued that artists like Bruce Cockburn, Bob Dylan, or U2 should also be included.
This would, of course, dramatically boost CCM's percentage of the overall market for prerecorded music. (Practically speaking, however, the RIAA uses distribution labels to determine charting and is unlikely to count these artists in the gospel category.) On the other hand, excluding Grant's sales activity would diminish Christian music's market share, a factor that plays significantly in efforts to secure television coverage, sponsorship, and advertising for events like the GMA Dove Awards ceremony. (If Behind the Eyes, a recording by CCM's biggest and brightest star, is not labeled "gospel," does that render it "secular"? A Billboard representative expressed bewilderment: "It's hard to explain to someone that all of a sudden this artist that has been on Christian charts for years now doesn't belong on the Christian chart.")
Amy Grant's solution of letting the music find its own audience will work individually for her. And, I would argue, in the end her common-sense answer will win at the industry level as well. For while confessional music will and should always be a vital part of community worship, its role as parent to today's CCM music should not limit the music made by Christians to the old setting and purpose. The popular arts have the potential to serve God and neighbor in myriad ways by addressing human needs for both leisure and artistic interpretations of our lives and times.
For the present, however, Behind the Eyes will serve to focus (and polarize?) the debate about the nature and purpose of CCM and the industry that produces it. The discussions, one hopes, will help us find our way to a broader and more informed understanding of the role of Christians in the popular arts.
Have something to add about this? See something we missed? Share your feedback here.
Our digital archives are a work in progress. Let us know if corrections need to be made.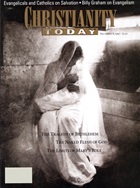 This article is from the December 8 1997 issue.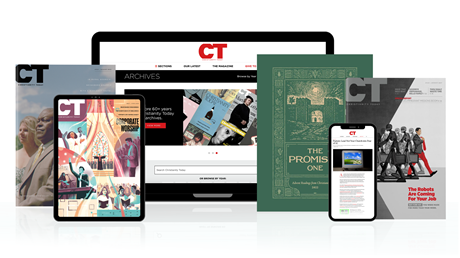 Subscribe to Christianity Today and get access to this article plus 65+ years of archives.
Home delivery of CT magazine
Complete access to articles on ChristianityToday.com
Over 120 years of magazine archives plus full access to all of CT's online archives
Subscribe Now
Where's the Gospel?
Where's the Gospel?