Revive Us Again: The Reawakening of American Fundamentalism, by Joel A. Carpenter (Oxford University Press, 335 pp.; $25, hardcover). Reviewed by John Wilson.
In its issue of June 24, 1926, the Christian Century wrote an obituary for fundamentalism. According to the arbiters of American culture, fundamentalism had been defeated and would soon fade away. Thus the stage was set for a reversal of historic proportions. Over the next several decades, the mainline Protestant denominations would suffer a disastrous decline while fundamentalists and other conservative evangelicals prospered. This is the story told by Joel Carpenter, provost of Calvin College, in his new book, Revive Us Again: The Reawakening of American Fundamentalism.
Thanks in part to the efforts of historian George Marsden, fundamentalism is attracting a great deal of scholarly attention. It has not always been so, and even in recent years scholarship on fundamentalism has focused disproportionately on the con-temporary Religious Right, with the distorting effect that in the minds of many readers the two terms are virtually synonymous. But we are beginning to see an increasing number of studies that attempt to understand fundamentalism (sometimes fundamentalism/evangelicalism or fundamentalism/Pentecostalism; the boundaries can't be neatly drawn) in greater depth. Some of these are historical, like Margaret Lamberts Bendroth's Fundamentalism and Gender: 1875 to the Present (Yale University Press, 1993); some are memoirs, like Through Isaac's Eyes: Crossing Cultures, Coming of Age, and the Bond Between Father and Son, by Daniel Barth Peters (Zondervan, 1996; see CT, July 14, 1997, p. 54), who holds a Ph.D. in history and American Studies "with a specialty in fundamentalist and evangelical culture"; others, like R. Marie Griffith's God's Daughters: Evangelical Women and the Power of Submission (University of California Press, 1997) and Brenda Brasher's Godly Women: Fundamentalism and Female Power (Rutgers University Press, forthcoming), are "ethnographic" studies in which the author writes as a "participant observer." (Look for a review of the books by Griffith and Brasher in a forthcoming issue of CT.)
Among these new studies, none is likely to be as widely read and cited as Revive Us Again. Carpenter's book is indispensable for three reasons.
First, he focuses on the 1930s and 1940s, a period given short shrift in earlier histories of the movement. Referring to what he calls "the myth of fundamentalism's demise," Carpenter observes that while fundamentalism did indeed suffer public humiliation in the 1920s with the Scopes trial and other embarrassments, "loss of the respect of intellectual elites does not necessarily mean loss of popular support, and it may actually enhance the group's appeal in some circles." This was the secret dynamic that allowed fundamentalism to prosper at the same time mainline Protestantism dwindled.
Even nonfundamentalist evangelicals, Carpenter argues, were significantly influenced by fundamentalism: "The role of fundamentalism and its moderating heirs during our century has been similar, then, to the influence of Methodism during the first half of the nineteenth century and the pervasive reach of the holiness movement throughout the second half of that century."
That is a large claim, but Carpenter makes a persuasive case for it. Most readers of CT will recognize strands of their own lineage in his narrative: the call to be "separated from the world"; the emphasis on the "surrendered life"; the fervent revivalism; the missionary impulse; the jazzed-up gospel rhythms of Youth for Christ; the sense of intimacy and community created by radio preachers, whose congregations of the airwaves cut across denominational lines—all these and more in the fundamentalism of the thirties and forties helped to shape evangelicalism in the post-World War II era, even to this day.
Second, Revive Us Again is distinguished by the thoroughness of its scholarship. If, for example, you want a concise, well-documented account of the origins of the "extraordinary postwar expansion of evangelical missions," Carpenter's chapter 10, "World Vision," is the place to turn. He is particularly illuminating on the influence of the war on missions:
Especially for North American evangelicals, the triumph of the Allied forces arrayed around the world excited the missionary imagination, and so did the technological mastery that made these operations possible. Furthermore, the experience of tens of thousands of born-again soldiers and sailors, trained and transported at government expense to serve in faraway lands, led them quite naturally to a greater missions awareness. And thanks to veterans' educational benefits and the abundance of surplus war goods, government spending provided additional support for a missions surge.
On the home front, Carpenter stresses the role of Inter-Varsity Christian Fellowship in urging students to be attentive to the call to "full-time Christian service"—especially in foreign missions. In a mere ten pages, Carpenter tells the story, conveys its significance to the reader, identifies the major players, and provides plenty of notes for those who want to pursue the topic.
So it goes throughout his narrative. Whether he is sketching some of the dominant figures of the fundamentalist movement, exploring the fruitful tension between the need to be separated from the world and the imperative to evangelize, or recounting the amazing saga of fundamentalism via radio (see chap. 7, "Tuning in the Gospel"), Carpenter is comprehensive without ever becoming pedantic.
Finally, Revive Us Again profits from Carpenter's firsthand knowledge of his subject. As he explains in the preface, he is writing about the world in which he was reared. While he has left it behind, he can draw not only on materials stored in library archives but also on his own memories of a slightly later period in the "fundamentalist era." While some ex-fundamentalist scholars seem to be overcome with bitterness toward their past, Carpenter writes about fundamentalism with a great deal of empathy: "Fundamentalism has been, as historian R. Laurence Moore writes, not so much a species of 'deviation' in American religious life, but one important way in which 'average Americans invested their lives with meaning.' "
This emphasis on fundamentalism's appeal to those whom Carpenter elsewhere calls "ordinary people" provides a refreshing contrast to the condescension of many academics. Indeed, it is striking to see how Carpenter has appropriated a perspective that has wide currency these days in the academy—where is it fashionable to study the "strategies of resistance" employed by marginalized groups, in contrast to traditional history's focus on intellectual elites—in order to tell the story of a group that many in the academy would disdain. (At the same time, he wisely reminds us that "the rhetoric of heroic alienation can also be misinterpreted, for popular movements often ascribe a more marginal status to themselves than a realistic assessment would dictate.")
On the other hand, as Carpenter himself surely realizes, there is a certain irony in extending this courtesy to the fundamentalists, who of all people would not be satisfied with the assurance that they had "invested their lives with meaning." No, what they outrageously claimed was that they were preaching the truth, yesterday, today, and forever. That is a scandal that even the "moderating heirs" of those immoderate fundamentalists can't avoid, as long as they continue to preach the gospel.
Short Notices
Spiritual Moments with the Great Hymns
By Evelyn Bence
Zondervan
224 pp.; $12.99, paper
Reviewed by Carol R. Thiessen
Great texts of great hymns can help guide devotional times, and many people find hymns a valuable adjunct to scriptural meditation. Evelyn Bence's new collection of 70 hymns and gospel songs may prove a helpful resource to get the juices flowing.
Spiritual Moments with the Great Hymns is more than a compilation of stories of how or why a particular hymn text was written or a history of the writer's life and experience. Rather, these meditations give fresh insight to well-worn words, often adding Bence's personal recollections of how a particular text ministered to her or to someone she knows.
Most of the texts are widely known, some are not. But each brief meditation sheds new light on familiar territory. Read, for example, of American poet Henry Wadsworth Longfellow who wrote the text for "I Heard the Bells on Christmas Day." Though Longfellow had known the "rush of success," Bence writes, he had also "been agonizingly crushed with the loss of his wife. … And the War Between the States mercilessly raged. … Sons, fathers, and brothers—from Maine to Mississippi, thousands had not come home for Christmas.
"And yet … for such a winter as this, Christ had come to earth."
Surely we, too, can identify with the strong sentiments Longfellow expressed and say with him, "God is not dead, nor doth he sleep."
This book is a treasure to keep alongside your Bible—and your hymnbook.
Have something to add about this? See something we missed? Share your feedback here.
Our digital archives are a work in progress. Let us know if corrections need to be made.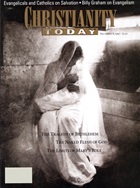 This article is from the December 8 1997 issue.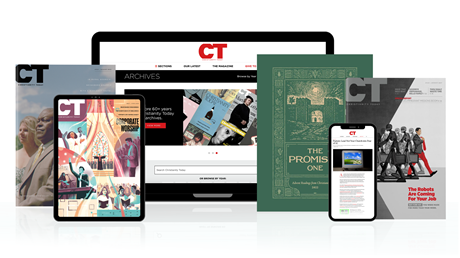 Subscribe to Christianity Today and get access to this article plus 65+ years of archives.
Home delivery of CT magazine
Complete access to articles on ChristianityToday.com
Over 120 years of magazine archives plus full access to all of CT's online archives
Subscribe Now
The Secret History of Fundamentalism
The Secret History of Fundamentalism