Deep in the heart of Dixie, Judge Roy Moore is a states-rights fist looking for a federal fight. In the government-battling tradition of the Confederacy and of former Alabama governor George Wallace, Moore is defying first one judge and then another over separation of church and state.
"I admire his courage," says Gary Bauer, president of the Family Research Council in Washington, D.C. "I think Judge Moore may be starting a much overdue debate about the ongoing hostility toward the free exercise of religion."
In a case that pits an Alabama district judge against the American Civil Liberties Union over the wall between church and state, Moore has defied the order of State District Judge Charles Price of Montgomery to remove a homemade plaque of the Ten Commandments from a wall of his courtroom.
Both sides have promised to fight to the end, and the case has landmark potential at the U.S. Supreme Court level. For good or bad, the case in the small northeast Alabama town of Gadsden may become as pivotal to the debate over the roles of church and state as the 1962 Engel v. Vitale decision that outlawed organized, sponsored prayer in schools.
To add further defiance to his actions, Moore is also continuing his tradition of allowing local pastors to open his Etowah County Circuit Court day with prayer, even after being ordered by Price to stop. Moore has appealed.
Moore mounted the national stage more than a year ago with his Ten Commandments stance, and he defied another judge last month. U.S. District Judge Ira A. Dement issued an order restricting vocal prayers in Alabama public-school classrooms and at commencement exercises. Moore responded with a temporary restraining order of his own to keep Dement's "unconstitutional abuse of power" from being enforced in Etowah County.
"We've turned the Constitution and the First Amendment from a shield to protect us into a sword to deprive us of our civil and religious rights," Moore says. "Separation of church and state was never meant to separate God from government. It's time to do what the Scripture says to do. It's time to stand up."
GUBERNATORIAL SUPPORT: His fight is for his right—and, he says, his duty—to acknowledge God as Creator and giver of everything, from the Earth to government. After Price ordered Moore to remove the Ten Commandments in February, Gov. Fob James announced he would call out the Alabama National Guard to protect the plaque. The governor's action has been compared to Wallace's attempts to prevent black students from entering the University of Alabama in 1963. Wallace's action made him a national villain. This time, Alabama's governor has become something of a national conservative hero.
In defending his position, Moore has cited William Blackstone's commentaries on English law as well as the writings of America's founders. From memory, he recites long passages of Scripture and of law. Moore had no idea that when he made the plaque in 1980 it would cause such a fuss. He has received letters and calls of support from around the world.
Moore, while a deputy district attorney, cut two pieces of wood to resemble stone tablets and engraved the commandments with a wood-burning tool. They hang behind him in his courtroom.
CHECKERED CAREER: Moore is not new to adversity. He grew up poor, the son of an itinerant construction hand. "We lived in houses that did not have bathrooms," he says. After high school, Moore's father borrowed $300 to get his son to West Point, where he had won an appointment. He graduated in 1969, received airborne training at Fort Benning, Georgia, then shipped out to West Germany with the 2nd Battalion, 51st Mechanized Infantry. In Vietnam, he became a company commander and military police captain.
In 1977, Moore became Etowah County's first full-time deputy district attorney. Five years later, he made his first run for elected office, a bitter race for a judgeship that he lost. He fled the political climate to work construction in Galveston, Texas. After that stint, he worked for nine months in Australia as a cowboy, herding cattle from the back of a horse. He married in 1985, at the age of 39. He and his wife, Sue, now have four children.
The judge says he is fighting the battle over the right to acknowledge God in all aspects of life on behalf of his children and his country. "The acknowledgment of God is found clearly in history and in law and in the earlier opinions of the U.S. Supreme Court," he says. "What they've done by their reinterpretation of God as religion is to establish another religion—secular humanism."
Moore is accepting invitations to speak far and wide. In September, he traveled to Washington, D.C., to accept the Statesman of the Year award from the D. James Kennedy Center for Christian Statesmanship. He promises to continue the fight.
"I've vowed I'm not going to stop opening with prayer," Moore says. "I'm not going to take down the Ten Commandments. The freedom of conscience is the most valuable freedom we've got."
December 8, 1997 Vol. 41, No. 14, Page 60
Have something to add about this? See something we missed? Share your feedback here.
Our digital archives are a work in progress. Let us know if corrections need to be made.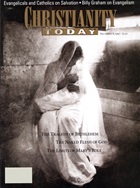 This article is from the December 8 1997 issue.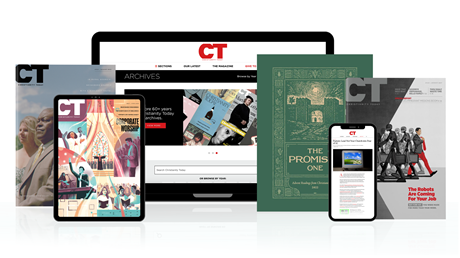 Annual & Monthly subscriptions available.
Print & Digital Issues of CT magazine
Complete access to every article on ChristianityToday.com
Unlimited access to 65+ years of CT's online archives
Member-only special issues
Subscribe
Ten Commandments Judge Looking for a Federal Fight
Ten Commandments Judge Looking for a Federal Fight