Tremors from last month's major medical and moral earthquake in Oregon soon will be felt across the nation. Three years ago, Oregon voters approved legalizing doctor-assisted suicide by a 51 to 49 percentage margin (CT, Jan. 9, 1995, p. 54). The Death with Dignity Act, also known as Measure 16, allows any person over age 18 who has been judged to have fewer than six months to live the right to obtain a prescribed lethal dose of medication.
Since then it has been an uphill battle for assisted suicide opponents. Relying on a legal injunction to halt implementation of the ruling, a coalition of the Oregon Catholic Conference, Oregon Right to Life, Oregon Association of Hospitals and Health Systems, and more than 30 other organizations formed to repeal Measure 16.
This year, the Oregon legislature returned the issue to voters as Measure 51, which would have repealed the earlier law. In a special election on November 4, voters once again determined their state should be the first to legalize doctor-assisted suicide. By a spread of 20 percentage points, Oregon has opened the door to a major shift in health-care ethics.
"Frankly, we're scared," says David Stevens, executive director of the 10,000-member Christian Medical and Dental Society based in Bristol, Tennessee. "We're scared that a shroud of secrecy will cloak this practice so that it will be impossible to expose abuses or reverse course."
LAW IN EFFECT: Only hours before the voters went to the polls, the three judges of the Ninth Circuit Court took steps to lift the injunction that had been blocking the law for nearly three years. Typically, the original judge who issues an injunction lifts the decision, a process that takes weeks to complete.
On election day, Oregon's deputy attorney general declared the law "is now operational."
"A majority of Oregon voters deluded themselves into believing that physician-assisted suicide is about 'personal autonomy' and 'choice,' " says Carrie Gordon, bioethics analyst for Focus on the Family in Colorado Springs. "They have unleashed a force in this nation too powerful to control. In this age of skyrocketing health-care costs and desperate cost-containing attempts, an early death may become a reasonable substitute for treatment and care."
"It will make a difference in my ministry," says hospital chaplain Carl Blanchard, an evangelical Baptist in Portland. "Even though I want to be there for everybody, when assisted suicide is being considered, I may have to stand on conscientious objection."
CATHOLIC BASHING: Although much of the campaign debate related to an individual's "right to choose," repeal opponents sounded a strong note of antireligious rhetoric by pounding away at the involvement of conservative leaders and organizations. Trish Conrad, spokesperson for Yes on 51, called it "blatant bigotry" to single out the Catholic church.
"[They] tried to divide us, brother against sister, child against parent, younger against elder, one faith community against another," says Bishop Kenneth Steiner, administrator of the Catholic archdiocese of Portland. "If they did it with any other minority, they wouldn't get away with it." Still, the accusation of the church being "a political machine, driven by dogma" had an effect.
NATIONAL TURNING POINT? Based on lessons learned from the failure to defeat the Death With Dignity Act in 1994, assisted-suicide opponents attempted to stay away from moral issues and focused on medical facts this time. Doctors spoke from the pulpits instead of priests.
While assisted-suicide opponents emphasized medical facts, proponents stressed the "morality" of personal choice.
Because of the election outcome, Oregon has the potential to develop into a proving ground for a national movement. Barbara Coombs Lee, a chief petitioner for the 1994 Measure and executive director of Compassion in Dying, a nonprofit organization in Seattle, has also helped create an umbrella organization called the Compassion in Dying Federation of America.
She sees this election as a mandate and turning point for the death-with-dignity movement across the nation. Chapters already have been established in Washington and Northern California, with one in Oregon planned next. "Let's make dying as peaceful and humane as possible for all Oregonians," Lee says.
ADMINISTERING DEATH: The law provides assisted suicide be administered by taking pills. Derek Humphry, founder of the Hemlock Society in Junction City, Oregon, argues for lethal injection, saying the pills-only law will work only if doctors are standing by "to administer the coup de grace if necessary." Already, Oregon lawmakers are discussing allowing lethal injection.
A group of two dozen doctors, the Mid-Valley Physician Assisted Suicide Interest Group, has released the state's first set of medical guidelines for assisting in the suicide of terminally ill patients. If a patient's suicide attempt fails the first time, doctors are to assist in trying again after sufficient time to recover from side effects. Measure 16 gives health-care providers immunity from civil and criminal liability for "good faith compliance."
Emphasizing the presence of flaws, the entire repeal campaign based its call for repealing Measure 16 on the phrase "Fatally Flawed." Major concerns are no mandatory counseling, no family notification, and no residency requirements or enforceable directive for physicians to report their assisted suicides.
Drug Enforcement Administration official Thomas Constantine says Oregon's law may violate federal rules regulating distribution of narcotic medicines.
December 8, 1997 Vol. 41, No. 14, Page 64
Have something to add about this? See something we missed? Share your feedback here.
Our digital archives are a work in progress. Let us know if corrections need to be made.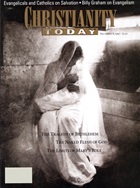 This article is from the December 8 1997 issue.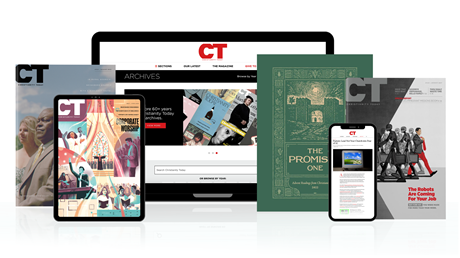 Annual & Monthly subscriptions available.
Print & Digital Issues of CT magazine
Complete access to every article on ChristianityToday.com
Unlimited access to 65+ years of CT's online archives
Member-only special issues
Subscribe
Oregon: Doctor-Assisted Suicide Stirs Physicians' Fears
Oregon: Doctor-Assisted Suicide Stirs Physicians' Fears