Farewell to heroes
Today our culture is far less likely to raise up heroes than it is to exalt victims, individuals who are overcome by the sting of oppression, injustice, adversity, neglect or misfortune. … Success, as well as failure, is the result of one's own talent, decisions and actions. Accepting personal responsibility for victory, as well as for defeat, is as liberating and empowering as it is unpopular today.
-U.S. Supreme Court Justice Clarence Thomas in a speech at Regent University, quoted in the Christian Leader (Oct. 1996)
Where real power lies
Spilt blood, broken body, signs, symbols, and facts of failure, suffering, powerlessness, disease, and death are the only things powerless enough to transform our power-constipated lives.
-Michael Dwinell in
Being Priest to One Another
What are friends for?
Religion and celebrity do not mix. Religion and fame might work well together, but celebrity is a different matter.
The distinction? Try this out: Celebrities do not have friends. They are surrounded by people, but are actually isolated. They have … people who tell the noted, soon to be notorious, cleric what he or she wants to hear until each begins to believe the publicity. Such friendless clergy take themselves seriously, lose perspective, put themselves above the law, and invent self-justifying rationales.
What are friends for? … Friends say to people who acquire power and position-and even the pastor of the humble parish has some of that-"Watch it, buddy," or "We knew you when … " or "This time you went too far."
-Martin E. Marty in the
Christian Century (Nov. 4, 1992)
True community
The real community of man, in the midst of all the self-contradictory simulacra of community, is the community of those who seek the truth.
-Allan Bloom in
The Closing of the American Mind
Ignorance and vain speech
It is a disgraceful and dangerous thing for an infidel to hear a Christian, while presumably giving the meaning of Holy Scripture, talking nonsense. We should take all means to prevent such an embarrassing situation, in which people show up vast ignorance in a Christian and laugh it to scorn. … If they find a Christian mistaken in a field which they themselves know well, and hear him maintaining his foolish opinions about the Scriptures how then are they going to believe those Scriptures in matters concerning the resurrection of the dead, the hope of eternal life, and the kingdom of heaven?
-Saint Augustine in
The Literal Meaning of Genesis
No surprises here
We make men without chests and expect of them virtue and enterprise. We laugh at honor and are shocked to find traitors in our midst. We castrate and then bid the geldings to be fruitful.
-C. S. Lewis in
The Abolition of Man
The action of inaction
Faith is not the way around pain, it is the way through pain. Faith doesn't get rid of the opposition, it invites it over for dinner. Faith doesn't give you the winning point at the last second, it ties the game and sends you into overtime. Faith doesn't give you the solution, it forces you to find it. Faith doesn't teach you at the moment, it teaches in retrospect. Faith doesn't provide a net to fall into when your fingers are about to give way as you hang suspended over the cliff, faith gives your fingers the strength to hang on just a little longer.
In other words, faith doesn't do anything when it's doing something.
-Mike Yaconelli in
The Door (Sept./Oct. 1994)
It's no joke
Only if we are secure in our beliefs can we see the comical side of the universe.
-Flannery O'Connor in
Mystery and Manners
Higher education
It was from [my high-school Latin teacher] that I learned neither to fear nor to idolize intellect; to take respon-
sibility for my own education; to link self-respect to objective achievement, not to sugary compliment; to respect persons but not necessarily the ideas they hold; to expect to have what one says taken seriously and, as need be, seriously taken apart; to see that human dignity is grounded in the gift of an immortal soul, not the growth of an inflated self; and, above all, to understand that the doing of however humble a task can truly be [to the greater glory of God].
-P. M. Aliazzi in the
New Oxford Review (Oct. 1995)
February 3, 1997 Vol. 41, No. 2, Page 69
Have something to add about this? See something we missed? Share your feedback here.
Our digital archives are a work in progress. Let us know if corrections need to be made.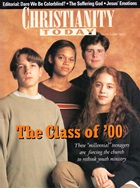 This article is from the February 3 1997 issue.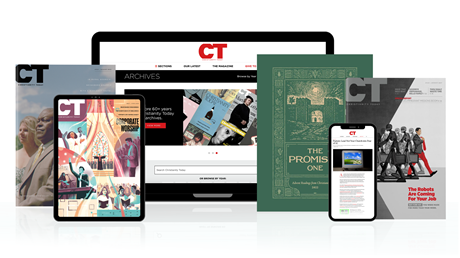 Subscribe to Christianity Today and get access to this article plus 65+ years of archives.
Home delivery of CT magazine
Complete access to articles on ChristianityToday.com
Over 120 years of magazine archives plus full access to all of CT's online archives
Subscribe Now
Classic & Contemporary Excerpts from February 03, 1997
Classic & Contemporary Excerpts from February 03, 1997