Ongoing research by Christian colleges, tracking the development of student values, finds that undergraduates who probe their beliefs may graduate with a deeper commitment to their convictions.
But survey results found that only about 60 percent of Christian college students had actively questioned their values and beliefs by graduation.
The research project, Taking Values Seriously: Assessing the Mission of Church-Related Higher Education, points to several stages of students' intellectual development. On entering college, most students arrive either with a strong commitment to beliefs received from others, or without a firm commitment to a set of values.
During their college years, some students will critically evaluate those received values and may graduate with a renewed and deeper commitment to those same beliefs. "The idea is whether a student has thought about a question and made an informed, rational, reasoned judgment," says project codirector Bayard Baylis, associate dean of Messiah College in Grantham, Pennsylvania. "They may end up exactly in the same place on issues, but they'd be able to explain why." The project is being coordinated by the Coalition for Christian Colleges and Universities (CCCU).
Debbie Gleichman, a senior at Cedarville (Ohio) College, says she started and ended college with the same values, but in the meantime had an extended period of questioning them.
"My values ended up being the same as the school's, but they're different because they're my values, not those given to me," she says. "Before college, I'd always just been told things instead of being encouraged to question and wonder why."
VALUES SHIFT: When students do change their values, they often become more inclusive and tolerant, according to research findings.
Ron Burwell, professor of sociology at Messiah College and one of the project researchers, says many Christian college students come from highly conservative backgrounds. And, he says, it is not uncommon for some of these students during college to develop a more accepting attitude of traditionally liberal political views.
For example, among first-year students at CCCU institutions in the study, 65 percent say the government should prohibit homosexual relationships. But only 43 percent of seniors at the schools agree. (Among all private-college students, there is only a 14 percent shift from first-year students to seniors, with 22 percent of seniors agreeing that government should prohibit such homosexual relations.)
The study also found CCCU seniors to be less concerned with their financial and professional well-being than first-year Christian college students or college seniors at other private schools.
College faculty and administrators generally agree that a college education in part should provide the opportunity for students to scrutinize and evaluate their beliefs.
Bob Chasnov, associate professor of engineering at Cedarville, says many parents probably wonder why the schools encourage students to examine their values. He says, "We do it to make sure students are capable of answering society themselves." Surveys show that 84 percent of first-year Christian college students have not examined their beliefs to the extent that they could intelligently defend or explain those beliefs.
Baylis says that when compared to other schools, CCCU colleges appear to have more students strongly committed to beliefs they have not personally explored. He is quick to note that little research exists contrasting the beliefs of Christian college students and their cohorts at other colleges.
Yet a 1976 study of first-year students at Hartwick College, a private liberal arts school in Oneonta, New York, similar to CCCU colleges except in its religious commitment, found less than 40 percent of the students were committed to borrowed beliefs. In the CCCU study, 75 percent of first-year Christian college students were dedicated to beliefs they had not explored.
While attending a Christian college may help students examine their beliefs, 40 to 45 percent of them leave college without having developmentally examined their received values, according to a preliminary study of three of the colleges. College faculty and administrators say that number is higher than they would like it to be, but Baylis says it is important to remember that the values of students often develop significantly postgraduation.
FRIENDLY FACULTY: One selling point for many Christian colleges has been to feature a faculty committed to assisting students in exploring values.
"Christian faculty, being initially perceived by the students to be of like mind and faith, can raise dissonant ideas within the boundaries of acceptance," Baylis says. "Students would be less likely to discount these ideas than they would from a 'radical, secular professor.' "
Faculty, however, can only prod the students so far. "Professors help you in the informational or factual tools to examine your beliefs," says Gleichman. "But it's friends who help in figuring it out."
This is the third year of the six-year study, which is based upon surveys and interviews of the same students as freshmen in 1994, seniors in 1998, and alumni in 2000. The project also draws upon data from first-year students and seniors in 1996, alumni who graduated in 1994, and faculty.
Baylis says the 50-school project, largely financed by the Fund for the Improvement of Postsecondary Education, grew out of accrediting agencies' expectations for evidence that Christian schools were following their stated missions of developing student values.
February 3, 1997 Vol. 41, No. 2, Page 88
Have something to add about this? See something we missed? Share your feedback here.
Our digital archives are a work in progress. Let us know if corrections need to be made.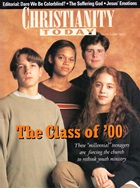 This article is from the February 3 1997 issue.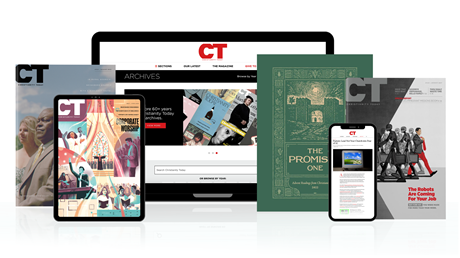 Subscribe to Christianity Today and get access to this article plus 65+ years of archives.
Home delivery of CT magazine
Complete access to articles on ChristianityToday.com
Over 120 years of magazine archives plus full access to all of CT's online archives
Subscribe Now
Few College Students Actively Probe Beliefs
Few College Students Actively Probe Beliefs