On the FM radio dial, the low numbers used to tend towardclassical music, while the high end jumped with rock. But now you get tochoose between seventies rock, light rock, heavy metal rock, alternativerock, classic rock, or even classic light rock (and don't forget the "AllElvis" stations). Welcome to Niche Time, a.k.a. the 1990s.
Long gone are the days when Sears Roebuck marketers claimed, in a cleverphrase, that theirs was the store for "the middle 85 percent of Americans."In the nineties, nobody gets 85 percent of a market. The goal is to capturea niche, a targeted market that shares specific attributes or interests.
And therein lies a dilemma for the church. Our theology tells us that Godso loved the whole world that he is not willing that any should perish. Theapostle Paul insists that "all of you who were baptized into Christ haveclothed yourselves with Christ. There is neither Jew nor Greek, slave norfree, male nor female, for you are all one in Christ Jesus" (Gal. 3:27-28,NIV). Just how are we to make that happen in our niche-crazyage?
We have been trying hard, to be sure. The Promise Keepers movement has beenurging us to "Bring Down the Walls" (their 1996 motto), especially betweenraces. Also, we are more sensitive than ever to the matter of gender. Thesewalls, while not yet down by any means, are lower than they used to be.
THE QUESTION OF THE AGES
While race and gender are at least on our radar screens, we are still largelyunaware of two other major walls that keep the church from full unity andgrowth. One of those is age.
Watch how we socialize at church. When did you last have a conversation morethan a few seconds long with someone 20 years younger or older than yourself?We sit together in the same sanctuary, and we say hello politely in the narthexon our way out—as we head toward lunch with our "real" friends, those inour own age bracket. People of all decades are certainly welcome at our church,of course, so long as we don't have to spend much time with them.
Power naturally accrues to those age groups with the greatest numbers anddonor potential. Have you ever noticed that these are the people who tendto sit in the center of the sanctuary? They also tend to get to make thebig decisions.
I remember speaking at a church on a Sunday morning where the worship stylewas not just traditional, but stiff. I couldn't help noticing the handfulof bored teenagers who slumped on the very back row of the left section,almost under the balcony. Their faces—their whole body language—said theyweren't connecting.
I got to know the youth pastor that weekend, and I asked him how the teenswere relating to the church as a whole. "Not well," he replied. "I appealedto the leadership a while back to try to loosen up just a bit, to do somethings in the service that kids would appreciate. Do you know what the responsewas? 'That's why we hired you.' "
In other words, run your own little subchurch with the youth group, and don'tbother us with reaching across age lines. Just keep teenagers coming to thebuilding until they get old enough to buy into our style—a daunting task.
On the other hand, there are just as many congregations that do appeal toyounger, more progressive niches while abandoning older Christians. A frustratedgray-haired cousin of mine in a sizable West Coast church said to me a fewyears ago, "If I have to listen to my pastor exhort one more time about reachingboomers and busters, I think I'll scream. What about us? Is this not mygeneration's church anymore?"
Population surveys and trend analyses may fascinate us, but they can alsolure us away from seeing people as individuals for whom Christ died. Whymust we view the various age groups as either/or? Is not Jesus appealingto all?
One church that has opted for a different philosophy is a midsized Seattlecongregation called Church by the Side of the Road. "We pay as little attentionto age as possible," says Dennis Sawyer, senior pastor. "If you come to ourchurch on a Wednesday night, you'll see 60 young people, ages 2-17, all inone group! Working with them will be 30 adults—a 1:2 ratio—guiding a widerange of learning experiences.
"The other night I stopped by, and there was this wonderful Kodak moment:a cluster of four or five energetic little kids gathered around two adultworkers: a lady who's in a wheelchair—she's probably in her early seventies—anda 24-year-old single guy."
Sawyer and his people have been spurred by a Youth with a Mission(YWAM) program called King's Kids. Among its foundationalprinciples: "Children, teens, and adults can learn from one another as theywork together. In their transition from childhood to adulthood, teens playa key role as a link."
Sunday school at Church by the Side of the Road takes a similar tack, withall ages choosing from a menu that includes a discovery track for those newto the faith, a Bible overview class, praise and worship (emphasis on music),evangelism (emphasis on drama), missions (emphasis on art), and leadershiptraining. The missions class went on a work trip last year to clean and paintan orphanage in Jamaica, taking 37 people ranging in age from 3 to 64. Theyoungest to go without an accompanying parent was a 9-year-old girl. Shegot along fine, being supervised by adults she already knew well from church.
Why does this well-established congregation, founded in the 1930s, do this?"Because 'common sense' isn't so common anymore," says Sawyer. "The wisdomthat used to be shared around the supper table in America, from older toyounger, isn't happening. So we need to make opportunity for this in church."
Sawyer added a 19-year-old to the church's full-time ministry staff—andnobody objected. "Nobody said to me, 'Isn't he awfully young?' They had alreadyseen this 'kid' ministering and knew him to be a person with valuable spiritualgifting."
Sawyer is convinced that bringing down the age wall pays big dividends attransition points. "The Bible doesn't even have a word for teenager,"he notes. "So when visiting parents come up to me or call the office andask, 'What programs do you have for teenagers?' I smile and say, 'We havechurch!'
"If everything for teens has to be specialized … how do you keep theirfaith alive when they graduate from high school or college, and all the folderolstops? You've conditioned them for beach trips and lock-ins, and suddenlythey're disappointed. We believe it's better not to set teens up in the firstplace."

Churches view
singles the way
Congress views
soybean farmers—
a special-interest
group with a
one-item agenda
to push.

Perhaps the acid test of age openness in a church is who is trusted to lead.At Lake City Church in Madison, Wisconsin, a congregation of perhaps a thousandworshipers on Sunday morning, Pastor Warren Heckman says, "My goal for yearshas been that the board of elders have an age span. Every year in the nominatingprocess, I purposely steer things that way—not that I neglect the biblicalwarnings against choosing 'novices'—but I've always believed there wereyoung people who were worthy of consideration. Age does not automaticallyequal spiritual maturity."
The current elder board runs from individuals in their early thirties onup. This is all the more important, says Heckman, because he is "becomingwhat [church consultant] Lyle Schaller calls a 'forever pastor' "—he hasbeen there since 1969. "I need fresh blood, people who aren't third-generationmembers of this church, young Turks who will challenge me and say, 'Why doyou do that?' Otherwise, I become encrusted."
A CHURCH BUILT FOR TWO
If we can successfully break down the niches of age, we may even somedayfind the fortitude to deal with another niche not currently getting muchattention in the church: marital status.
Yes, we have an abundance of singles groups, even specially appointed pastorsfor singles on larger church staffs. There is a Christian magazine calledSingle-Parent Family and large annual conferences on singles ministries.
But acceptance into the mainstream of church life is still rare. Most churchleaders, and parishioners as well, view singles the way Congress views soybeanfarmers—a special-interest group with a one-item agenda to push—a populationto be placated by giving them a Friday-night meeting in a side room and asmall provision in the annual budget. Meanwhile, those of us in the MarriedMajority will run things.
How else can we explain newspaper ads that blithely promote "a church forthe whole family" or "a family worship center"? How else to account forfellowship schemes called "Dinner for Six" (rather than Seven, or Nine)?Of the nominees for significant church offices in your congregation lastyear, what percentage were single? Even in churches that view divorce asa disqualification, how many never-marrieds were deemed worthy?
No wonder that when pollster George Barna asked a nationwide sampling whether"the Christian churches in your area are relevant to the way you live today,"80 percent of marrieds said yes but only 61 percent of singles agreed—ahuge gap.
Fifty percent of marrieds go to church at least three times a month. Singles?37 percent. These are telling statistics, since singles now make up one-fourthof all American households. And their percentages are growing: over the last25 years, the number of Americans in their early thirties who have nevermarried jumped from 6 percent to 20 percent for women, and from 9 percent to 30 percent for men.
The apostle Paul would be feeling more at home all the time. The questionis: As a single man, would he be taken seriously in our churches? For thatmatter, would Jesus? Or would he be waved off as just another thirtysomething who needs to settle down and "establish himself"?
Roughly five years ago, West End Assembly of God in Richmond, Virginia, surveyedits attenders and got a big surprise: Close to 50 percent were single. That led to the hiring of two new staff pastors: Rob Rhoden to work with younger singles (up to age 35), and another man for older singles.
"I made a fundamental statement in the very beginning," says Rhoden. "I determined that this would be a singles ministry, not a singlesgroup."
What's the difference? "The first is outreach-oriented; the second is more inward, like therapy. Hence, we do mission trips one to two times a year,some of them integrated with marrieds from the larger church. In fact, whenwe do plan an all-singles trip, the marrieds sometimes come around to ask,'Could I go along with you guys?' because they're interested in the particular location."
The Thursday night meeting is as mainstream as Rhoden can make it. "My premise is: 'Yes, you're single, but you're a Christian first,' " he says. "Therefore I don't do teachings on 'How to Get Along with Your Roommate.' Instead, I do series on things like 'The Life of Christ' or 'Lessons from the Book ofJob'—generic discipleship issues.
"And I find our singles thinking of themselves in this light. They don't say to their friends at work, 'Come to my singles group.' They say, 'How about coming to church with me Thursday night?' because that's in fact what it is."
On the opposite coast, Saint Andrew's Presbyterian Church in Newport Beach,California, has become known for its inclusion of singles; a third of its 4,600 members are single. Bill Flanagan, minister of singles for the past 16 years, has made it a personal goal to groom and encourage single people for church leadership.
"If singles don't make it eventually onto governing boards, committees, and task forces," he says, "they will drift off from a church in time."
What holds churches back from this kind of awakening? Flanagan names two factors:
"First, an inadequate theology of what the family of God really is.
"Second, the persistent myths, such as: marriage is the cure for the 'disease'of singleness; single people are less than whole—they're oversexed, they're losers, incapable; the offspring of singles are doomed to failure, juvenile delinquency. And most offensive of all: the myth that singles will prey upon your spouse if you let them get close."
In seeking to overcome the barriers created by niches, we can look to the first-century church, which faced its own niche dangers. It could have conveniently segmented itself into Jewish and Gentile factions, Aramaic-speaking and Greek-speaking congregations. But this was not God's design for his church.
It is time for us once again to hear the clarion voice of Paul in Ephesians 2 to those "excluded from citizenship in Israel and foreigners to the covenants of the promise. … But now in Christ Jesus you who once were far away have been brought near through the blood of Christ.
"For he himself is our peace, who has made the two one and has destroyed the barrier, the dividing wall of hostility. … Consequently, you are no longer foreigners and aliens, but fellow citizens with God's people andmembers of God's household" (vv. 12-14, 19, NIV).
Nineteen centuries later, we face the same challenge to live out this truth in our fragmented world.
Dean Merrill, vice president of the International Bible Society in ColoradoSprings, is married and the father of three adult children.
Copyright © 1997 by the author or Christianity Today International/Christianity Today Magazine. For reprint information call 630-260-6200 or e-mailcteditor@christianitytoday.com.
Have something to add about this? See something we missed? Share your feedback here.
Our digital archives are a work in progress. Let us know if corrections need to be made.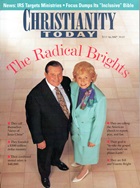 This article is from the July 14 1997 issue.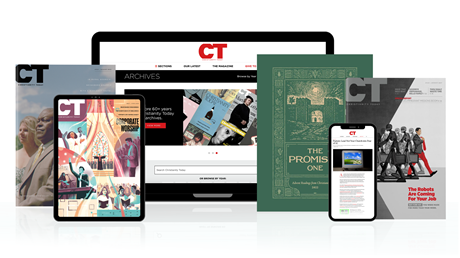 Annual & Monthly subscriptions available.
Print & Digital Issues of CT magazine
Complete access to every article on ChristianityToday.com
Unlimited access to 65+ years of CT's online archives
Member-only special issues
Subscribe
Not Married-with-Children
Not Married-with-Children