David: A Man of Passion and Destiny,by Charles Swindoll (Word, 236 pp.; $19.99, hardcover);
Leap Over a Wall: Earthy Spirituality for Everyday Christians,by Eugene Peterson (Harper San Francisco, 238 pp.; $18, hardcover). Reviewed by Susan Wise Bauer, who writes for Charles Colson's radio commentary, BreakPoint, and teaches literature at the College of William and Mary. She is the author of The Revolt (Word), a novel.
Back in the days of Saul, God chose a womanizing, foreskin-gathering guerrilla warrior to lead his people. Biblical biographers have been trying to explain God's taste ever since.
The most popular medieval technique was a nice coat of tropological whitewash—a valiant Moral of the Story, extracted from even the most disreputable Davidic deeds. Tropology entwined itself around our feet all through Vacation Bible School. David fought Goliath and won, so trust God when a "giant" (the big, mean kid down the street) wanders into view. David stared at Bathsheba and sinned, so if you see evil, look away. End of lesson. Is this why God gave us David's story?
Two new books—Charles Swindoll's David: A Man of Passion and Destiny and Eugene Peterson's Leap Over a Wall: Earthy Spirituality for Everyday Christians—grapple with that very question. Why does God want us to know that the man after his own heart deserted to the Philistines, raised dreadful kids, cheated on his (multiple) wives? Both writers are anxious to answer this question without whitewash; only one manages to bring David to full, roaring life.
Swindoll writes in his foreword, "Our world is desperately in need of models worth following. Authentic heroes. People of integrity, whose lives inspire us to do better, to climb higher, to stand taller." Given this purpose, it's inevitable that tropology creeps into Swindoll's stories: David's life is a series of moral lessons on how to be better, higher, and taller; his attitude illustrates "Three Priorities for God-Appointed Servant Leaders"; his fight with Goliath gives us four lessons in dealing with worries; his friendship with Jonathan provides four characteristics of the Ideal Friend. And this, of course, answers the burning question: We have a record of David's failings because they convey transcendent moral principles.
The end result isn't exactly whitewash, but nevertheless we lose all sense of the historical David, the anointed king of Israel, hiding out in the desert, pursued by yet another anointed king. When David snips Saul's robe, Swindoll writes, "See, that's the way we rationalize when we yield to temptation. 'Who cares if you take a little bit from the company. … They won't miss these stamps or a few pieces of stationery.' " But the story of David's robe-snipping has nothing to do with paper clips and everything to do with our trust in God's sovereignty—our faith that God has control over those in authority as we careen into the twenty-first century.
Somewhere along the way," Eugene Peterson writes, "most of us pick up bad habits of extracting from the Bible what we pretentiously call 'spiritual principles,' or 'moral guidelines,' or 'theological truths,' and then corseting ourselves in them in order to force a godly shape on our lives." This moralism, Peterson warns, is "death on spirituality"—it puts all the emphasis on our performance, not God's power.
Instead, we must allow the biblical stories to be just that—narratives that assure us God is busy in our individual lives, in ways that can't be reduced to Transcendent Moral Principles. Stories like David's are "the primary means we have for learning what the world is, and what it means to be a human being in it." So it makes sense that the heart of Peterson's book isn't the story of a Great Deed or Great Sin, but the tale of David's exhaustion. Worn down by Saul's ceaseless hostility, David wanders over to the Philistines and lives under Achish of Gath for 16 months.
The story lends itself to moralizing; Swindoll provides us Three Consequences of Backsliding and David's Four Steps to Despair. But Peterson sees a weary David, merely trying to live, as we all do, in "conditions that are decidedly uncongenial to what we're apt to call 'the spiritual life.' " There are no tidy principles in this tale; that's not why stories are written. Instead, we see God's salvation in the lousiest of circumstances:
And in precisely these conditions, God works out his purposes. God protects David from violating the covenant; he guards David's faithfulness to his anointing; he works out his salvation. The primary concern of the spiritual life isn't what we do for God but what God does for us. This is the very center of Story: God working out our salvation in the middle of our knots of earthly living.
There is nothing wrong with Transcendent Principles; the didactic parts of Scripture are full of them. But to flatten Story into Principle takes away a vital dimension of revelation. David ought to be a place of rest for us, an assurance that others have struggled with God and watched his holiness work in and out of their lives as sin pushed in at them from every angle. Peterson's retelling of David's story provided me with this rest; Swindoll's merely made me tired.
Have something to add about this? See something we missed? Share your feedback here.
Our digital archives are a work in progress. Let us know if corrections need to be made.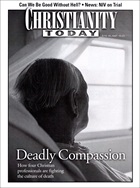 This article is from the June 16 1997 issue.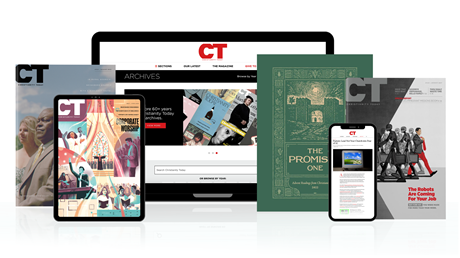 Annual & Monthly subscriptions available.
Print & Digital Issues of CT magazine
Complete access to every article on ChristianityToday.com
Unlimited access to 65+ years of CT's online archives
Member-only special issues
Subscribe
A Paper Doll King David
A Paper Doll King David