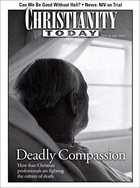 This article is from the June 16 1997 issue. Subscribers can read all of CT's digital archives.
Third of three parts; (click here to read part 2)
"She wouldn't be saying she wants to commit suicide if she had Rockefeller's resources. She's saying she wants to commit suicide because we have made long-term care the step-child of medical care. We've never properly funded long-term care, and we see to it that old people have to be impoverished very near their death." Many elderly people literally face a choice between a friendless and penniless future—a terrifying thought—or death. And they often face this choice in isolation.
It is this elderly, "invisible" patient that concerns Lynn. "For every 60-year-old dying of breast cancer, there's a hundred dying at 85 of uncertain causes. These are the people who should be in the limelight, not the 25-year-old men dying of AIDS."
As a geriatrician, the debate toward PAS in the midst of a broken system puts Lynn in a serious dilemma. "Am I supposed to be willing to be your Nazi doctor treating you as a useless eater, or am I supposed to stand by as society's tormentor and see that these inadequate resources are all you have to live on and that you have to keep living it out?"
According to Lynn, this is the real debate—how we treat or fail to treat the bulk of her elderly, once middle-class patients. Legalized PAS is just one possible solution, one that she believes won't really be the best option for those most likely to be affected by it. "Who will show up when 5 percent of deaths are done this way?" she asks. "It's not going to be the occasional Janet Adkins who can't face the prospect of possibly losing her mind, or the 60-year-old who has just found out he has cancer. It's going to be old people. A 60-year-old still has families, insurance, and people who care. ...
1
Our digital archives are a work in progress. Let us know if corrections need to be made.
Deadly Compassion (Part 3 of 3)
Deadly Compassion (Part 3 of 3)