How Wide the Divide? A Mormon and an Evangelical in Conversation, by Craig L. Blomberg and Stephen E. Robinson (InterVarsity, 228 pp.; $11.99, paper). Reviewed by Francis J. Beckwith, associate professor of philosophy, culture, and law, and W. Howard Hoffman scholar, Trinity Graduate School, Trinity International University (Deerfield, Ill.), California campus. He is the coauthor (with Stephen Parrish) of The Mormon Concept of God: A Philosophical Analysis (Edwin Mellen).
Because it is the first of its kind, this book is a significant work in American religious history. It is an interaction between a respected scholar from the Church of Jesus Christ of Latter-day Saints (LDS), Stephen E. Robinson, a professor of ancient scripture at Brigham Young University; and a respected evangelical scholar, Craig L. Blomberg, a professor of New Testament at Denver Seminary. According to its authors, this book's main purpose is to help each community to understand the other's beliefs.
In addition to separately authored introductions and a jointly authored conclusion, this book consists of four parts: (1) Scripture, (2) God and Deification, (3) Christ and the Trinity, and (4) Salvation. In separately authored chapters, each contributor presents his tradition's viewpoint on each of these doctrines, ending each part with a jointly authored conclusion.
Given the book's main purpose and the constraints of its format, Blomberg does an outstanding job of explaining and defending the evangelical positions on these doctrines. Robinson's contribution, however, makes things more murky for the LDS case. Consider only Robinson's discussion of God. Robinson affirms that, in addition to being corporeal, the LDS "God is omniscient, omnipotent, omnipresent, infinite, eternal and unchangeable." Yet Joseph Smith, the founding prophet of Mormonism, testified (in the King Follet Discourse) that God by nature is changeable, finite, contingent, not eternally God, and corporeal and that we too may become Gods. According to Lorenzo Snow, a successor of Smith's, "As man is, God once was; as God now is, man may become."
This view of God has been affirmed in official Mormon literature as well as pronouncements by other church prophets, including Brigham Young and Joseph Fielding Smith. Because, according to Robinson, the "church's guarantee of doctrinal correctness lies primarily in the living prophet, and only secondarily in the preservation of the written text," it is clear that these pronouncements and the theology that flows from them are Mormon doctrine. This theology teaches that God is not responsible for creating or sustaining many things, including matter, energy, natural laws, or individual intelligences, the uncreated and eternal primordial beings that all persons, including God, once were.
But Robinson's religious epistemology has an escape clause: "[W]hat God has said to apostles and prophets in the past is always secondary to what God is saying directly to his apostles and prophets now." So, if the current LDS president, Gordon Hinckley, says that God is not finite, then God is not finite, even though Joseph Smith and his successors said otherwise. In fact, Robinson speaks approvingly of the call of Hinckley's predecessor, Ezra Taft Benson, to emphasize the theology of the Book of Mormon, which seems to teach a strongly Judaic monotheism with modalistic overtones. Because this view is contrary to what was taught later by Joseph Smith and his successors, a number of Mormon scholars have argued that LDS theology evolved from a traditional monotheism to a uniquely American polytheism. But if Robinson's Mormonism is to become "true" Mormonism, Mormon theology must go back to traditional monotheism.
Although evangelicals might applaud this purported shift by some Mormons, the road back must go through Joseph Smith, Brigham Young, and numerous other church authorities and prophets. And this is no easy trek, since it leaves Robinson with the Mormon equivalent of the liar's paradox: If President Hinckley says that Smith was wrong about God's nature, would Robinson believe him? Evidently, Robinson would, on the authority of none other than Joseph Smith, since the church's authority to make theological pronouncements hinges on the veracity of its founding prophet, who has passed on his authority to his successors. But if Smith can't be trusted to tell us the truth about God's nature, why should we believe Hinckley's claim to divine authority, since it, after all, is contingent upon the veracity of Joseph Smith?
In his introduction, Robinson suggests that evangelicals, rather than relying on anti-Mormon literature, ought to ask Mormons what they believe. Robinson volunteers: "I think I am the world's authority on what I believe, and I consider myself a reasonably devout well-informed Latter-day Saint." Fair enough. But prior to that claim, Robinson qualifies it by saying, "I do not speak in this volume for the LDS Church, only for myself." And when we ask another Mormon, Joseph Smith, he tells us something contrary to what Robinson tells us.
Query: Does Joseph Smith speak for the church? If Robinson answers yes, then LDS doctrine does affirm a finite, changeable, contingent God, and Robinson is vindicated: He really doesn't speak for the church. If he answers no, then the only difference between Robinson and evangelicals is that the latter disbelieve in a larger number of things said by Joseph Smith than does Robinson. Which means that the more interesting divide is not between Robinson and Blomberg, but between Robinson and the founder of Mormonism.
Consequently, the agreements between Robinson and Blomberg in their joint conclusions should be taken with a grain of salt, keeping in mind that Robinson, by his own admission, does not speak for the LDS church, even though some church members agree with his views.
Have something to add about this? See something we missed? Share your feedback here.
Our digital archives are a work in progress. Let us know if corrections need to be made.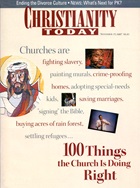 This article is from the November 17 1997 issue.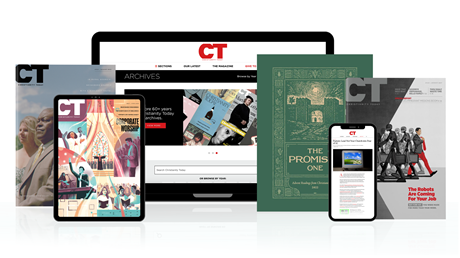 Subscribe to Christianity Today and get access to this article plus 65+ years of archives.
Home delivery of CT magazine
Complete access to articles on ChristianityToday.com
Over 120 years of magazine archives plus full access to all of CT's online archives
Subscribe Now
With a Grain of Salt
With a Grain of Salt