In the beginning was the text, and then came the study notes. The two samples of women's study Bibles below illustrate the complicated factors involved not only in translation decisions but also in interpreting Scripture. We have chosen some of the women listed in Romans 16 as the basis for our comparison because of the text's seemingly uncontroversial nature and because it deals directly with the stated subject matter of these two Bibles. The excerpts are taken from The Women's Study Bible (NKJV), Dorothy Patterson, general editor (Thomas Nelson), which is written from an evangelical traditionalist perspective, and from the Study Bible for Women (NRSV), Catherine Clark Kroeger, Mary Evans, and Elaine Storkey, eds. (Baker Books), which reflects an evangelical egalitarian perspective.
Was Phoebe a Deacon? (Romans 16:1-2)
The Women's Study Bible (NKJV):
I commend to you Phoebe our sister, who is a servant of the church in Cenchrea, that you may receive her in the Lord in a manner worthy of the saints, and assist her in whatever business she has need of you; for indeed she has been a helper of many and of myself also.
Phoebe was a Gentile Christian from the port city of Cenchrea. Her name, derived from Greek mythology, means "pure" or "radiant as the moon." Paul described Phoebe as a "servant" (Gk. diakonon ) and "helper" (Gk. prostatis ). She may have been a patron of some sort . …
Paul spoke highly of Phoebe. He introduced her to the Roman Christians as "sister," "servant," "saint," and "helper." Though the word here translated "servant" is also transliterated "deacon," note both generic and technical usages of the word. The Greek root means literally "one who ministers or serves." Of course, taken in that sense, the word describes not only Phoebe and other "deaconesses" in the early church but also countless women who have given and do give themselves untiringly to the work of the Kingdom through ministries within the local church. However, the word is also used by some in a technical sense to describe a functional ecclesiastical office such as assigned to Stephen (Acts 6:1-7). This office was created to equip a corps of godly saints to meet physical and social needs so that the apostles would not be pulled away from the primary ministry of the Word (Act 6:4).
Certainly in the New Testament sense of deacon or deaconess, women can find ample opportunity for service with or without an official title. On the other hand, if deacon or deaconess is considered a position of official spiritual leadership, there are other passages for consideration (see 1 Tim. 2:11-15; 3:8-13).
Study Bible for Women (NRSV):
I commend to you our sister Phoebe, a deacon of the church at Cenchreae, so that you may welcome her in the Lord as is fitting for the saints, and help her in whatever she may require from you, for she has been a benefactor of many and of myself as well.
We know from Phil. 1 that by the early A.D. 60s some churches had at least one officer called a "deacon," and from this text, that Phoebe was deacon of the assembly of Christians at Cenchreae. Since then various churches have entrusted various duties to deacons. We do not know precisely which duties were entrusted to Phoebe in addition to delivering the Epistle to the Romans to the church in Rome. At that time the word "deacon" connoted an extremely high standard of service, skill at perceiving needs and resources, an ability to negotiate and enable things to happen with speed, and trustworthiness. At Cana, it was the "deacons" who perceived that the good wine had come from Jesus . …
Her title as prostasis ("benefactor" in the NRSV translation) may be rendered "champion," "protector," "leader" or "presider." Justin Martyr used the term to indicate the person presiding at Communion. The verbal equivalent occurs at Rom. 12:8; 1 Thess. 5:12; 1 Tim. 3:4-5,12; 5:17; Titus 3:8, 14, in all of which it describes the action of governing. Some scholars have suggested that the last phrase of Rom. 16:2 should be translated "She has been ordained, even by me, as an officer over many."
Priscilla, the "Co-worker" (Romans 16:3-5)
The Women's Study Bible (NKJV):
Greet Priscilla and Aquila, my fellow workers in Christ Jesus, who risked their own necks for my life, to whom not only I give thanks, but also all the churches of the Gentiles. Likewise greet the church that is in their house.
[Notes on Priscilla in this version are found under the reference for Acts 18.]
Priscilla, whom Paul usually called by her more formal name, Prisca, was his valued "fellow worker." As a Jewess who had come out of Rome, she and her husband Aquila were deeply involved in the spread of the gospel. Her name unexpectedly precedes her husband's in three of the six references to them. This may have indicated that she belonged to a higher social class than Aquila, or it could have designated her as the more active of the two in Christian service. It could have merely been an expression of deference toward Priscilla as a woman.
When Paul arrived in Corinth in late a.d. 50, he worked with this dynamic couple in their tentmaking business. … When Paul left Corinth a year and a half later, Priscilla and Aquila accompanied him as far as Ephesus. For several years they were leaders in the Ephesian church. In addition to leading a house church, they had a significant ministry to Apollos. Although an eloquent speaker, Apollos had some serious gaps in his understanding of the Christian message. Priscilla and Aquila wisely took Apollos aside privately and with extraordinary wisdom, tact, and courage, lovingly gave him a thorough, step-by-step explanation of Christian doctrine.
Study Bible for Women (NRSV):
Greet Prisca and Aquila, who work with me in Christ Jesus, and who risked their necks for my life, to whom not only I give thanks, but also all the churches of the Gentiles. Greet also the church in their house.
[Notes on Priscilla are likewise taken from Acts 18.]
We first learn from Luke that Priscilla is married to a Jew named Aquila, and is perhaps herself a Roman Gentile . …
While in Ephesus, Priscilla and Aquila gain prominence not only through the church they establish in their home, but by risking their lives for Paul, a deed for which the Gentile churches gave thanks. Moreover, Luke recognizes Priscilla and Aquila as skilled teachers for having instructed the eloquent Apollos. Though Apollos was well versed in the Scriptures, his understanding of salvation was incomplete, and it was Priscilla and Aquila who furthered his knowledge. Apollos received Priscilla's instruction without reservation. Far from condemning Priscilla for having taught a man, both Luke and Paul promote Priscilla, who along with her husband explained the way of God more accurately.
Priscilla's authority in the early church is highlighted by Paul who calls her his "co-worker," a term Paul uses to identify leaders such as Mark, Timothy, Titus, Philemon, Apollos, and Luke. Moreover, her name is mentioned first in four of the six references to Priscilla and Aquila, suggesting she is the more distinguished of the two, and both Luke and Paul honor her in this way.
Andronicus and Who? (Romans 16:7)
The Women's Study Bible (NKJV):
Greet Andronicus and Junia, my countrymen and my fellow prisoners, who are of note among the apostles, who also were in Christ before me.
Paul greeted a number of believers—including many women—by name. One of his friends was Junia. "Junia" may have been a contraction of the male name "Junianus," but some believe Junia was a woman. For example, John Chrysostom so identified Junia and spoke in glowing terms of her service for the Kingdom. The coupling of her name with Andronicus could suggest the two were married . …
Their conversions were before Paul's, which indicates that they were among the earliest Palestinian Christians in Jerusalem. Paul stated that Andronicus and Junia were of note among the apostles. Whether referring to a man or woman, the exact nature of this apostleship is certainly not clear in the text.
"Apostle" means "sent one," and the term most often refers to the twelve disciples called and sent out by Jesus, to Matthias (who succeeded Judas), and to Paul himself. In this case, however, Paul seemingly used the word in a broader sense, not implying official status but suggesting that the ones so designated were commissioned to spread the gospel and in that sense had been sent by the Lord.
Study Bible for Women (NRSV):
Greet Andronicus and Junia, my relatives who were in prison with me; they are prominent among the apostles, and they were in Christ before I was.
Although the gender of Junia(s) is questioned, early commentators took the name to be feminine, which is consistent with Greek and Latin literature of the first century. The name was a very common one in Rome, though the masculine form "Junias" is not attested. No question about her gender was raised until the thirteenth century. St. John Chrysostom declared, "O how great is the devotion of this woman."
Paul's identification of Junia as an apostle, and a prominent one at that, is significant. Given his defense of his own apostleship in Gal. 1:1, it is unlikely Paul would have considered Junia an apostle unless he was certain she had been specifically called by God to serve as a missionary in the church. Such a recognition indicates that at least one woman held a position of leadership and authority early in the life of the Christian church community.
Have something to add about this? See something we missed? Share your feedback here.
Our digital archives are a work in progress. Let us know if corrections need to be made.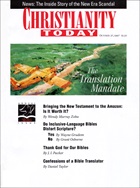 This article is from the October 27 1997 issue.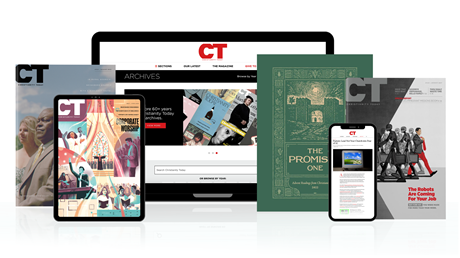 Subscribe to Christianity Today and get access to this article plus 65+ years of archives.
Home delivery of CT magazine
Complete access to articles on ChristianityToday.com
Over 120 years of magazine archives plus full access to all of CT's online archives
Subscribe Now
The Women in Paul's Life
The Women in Paul's Life