Pro-life activists have found success in getting state legislatures to ban partial-birth abortions, even though court challenges may keep some of the legislation from being enforced.
As President Clinton is poised to veto a congressional partial-birth abortion ban for the second consecutive year (CT, July 14, 1997, p. 70), 14 states have enacted bans this year that resemble the language of a Michigan law passed last year. U.S. District Court Judge Gerald Rosen ruled that law unconstitutional in July, saying the Michigan legislation defined the banned procedure so broadly that it placed an "undue burden" on women seeking abortions by other methods.
Louise Melling, who argued the case for the ACLU's Reproductive Freedom Project, believes the ruling is a "death knell" for the nationwide movement banning the late-term abortion procedure.
But National Right to Life Committee legislative director Douglas Johnson disagrees. "I don't think it's going to have that much weight," he says. "It's not a precedent in any binding sense."
State lawmakers have attempted to align proposed bans with the federal bill, which, in the latest version, narrowed the definition of the controversial procedure to win the endorsement of the American Medical Association. The Senate passed the ban, but it was three votes short of the two-thirds majority needed to override Clinton's expected veto.
The Michigan ruling is the first that permanently invalidates a state ban on partial-birth abortion, but it may be appealed. Courts have temporarily blocked bans in at least nine other states. Johnson insists that backers of the Michigan law did not present their best case—the argument upon which the proposed federal ban is based.
"The position of the Congress is that this is a premature infant—almost entirely delivered alive—and that the government can step in at that point at least and protect the child," he says. "The Supreme Court has never said otherwise. They would actually have to extend Roe v. Wade in order to cover [partial-birth abortion]."
STATE-LEVEL TRIUMPHS: Highly publicized debate on the federal level has partly obscured the state-level legislative success, which may be greater than at any time since Roe v. Wade, the 1973 Supreme Court ruling that legalized abortion nationwide.
Partial-birth-abortion legislation has been introduced in at least 38 states and considered in at least 5 others. Bans have passed this year in Alabama, Alaska, Arizona, Arkansas, Georgia, Indiana, Louisiana, Mississippi, Montana, Nebraska, Rhode Island, South Carolina, South Dakota, and Tennessee.
The governors of Florida, Missouri, New Jersey, and Illinois vetoed bans passed by their legislatures. An Illinois ban is pending approval of changes made by Gov. Jim Edgar. Missouri's Senate failed to override Gov. Mel Carnahan's veto by one vote, but Carnahan promised to consider a bill in the next session that would include a health exception for the mother. The governor spent $60,000 of his own campaign money to buy full-page newspaper ads that explained his reason for the veto.
Polls around the country indicate at least a two-thirds majority favor banning partial-birth abortion with an exception for a mother whose life is in danger.
In the procedure, usually performed in the twentieth to twenty-sixth week of pregnancy, the fetal brain is vacuumed out of the skull to allow the abortion to be completed with fewer complications to the mother.
"State legislators are falling all over themselves to be on the right side of this issue," says Michael Schwartz, executive director of the Congressional Family Caucus. "It is definitely to the political advantage of anyone, without regard to his or her position on the general question of whether abortion should be legal."
HEALTH EXEMPTION: A key legislative point is insistence by abortion-rights lobbyists that an exception be made for the health of the mother.
Pro-life lawmakers say this is a huge loophole that permits partial-birth abortions for "emotional well-being" or "depression." Utah passed a law with that exception, which Johnson calls a "phony ban."
In Oklahoma, a proposed ban passed the House but failed in the Senate. "Pro-choice people here insisted on the health-of-the-mother language to be included in the legislation, which really made the legislation on a par with what's already law," says Linda Morgan Clark, executive director of the Oklahoma affiliate of the Religious Coalition for Reproductive Choice.
"These kinds of laws are being used for political purposes," Clark maintains. "They're not being used to save lives or to make sure that more children come into the world. Quite frankly, they're being used to raise money by the anti-choice movement and to keep a fire burning all the time."
"We have never suggested that the partial-birth-abortion legislation is any sort of stopping point or panacea," Johnson says. "Any time we have an opportunity to advance a policy that will save a substantial number of lives, we think it's worthwhile, as long as we're not doing it in such a way that precludes future progress."
Have something to add about this? See something we missed? Share your feedback here.
Our digital archives are a work in progress. Let us know if corrections need to be made.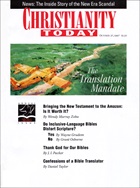 This article is from the October 27 1997 issue.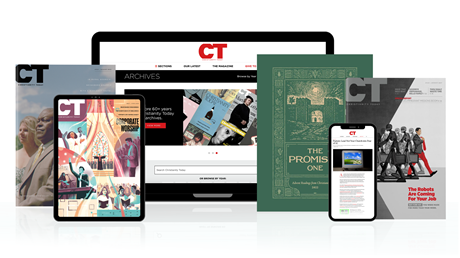 Annual & Monthly subscriptions available.
Print & Digital Issues of CT magazine
Complete access to every article on ChristianityToday.com
Unlimited access to 65+ years of CT's online archives
Member-only special issues
Subscribe
Partial-Birth Abortion: States Approving Bans on Partial-Birth Abortion
Partial-Birth Abortion: States Approving Bans on ...