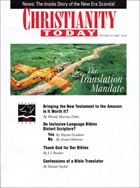 This article is from the October 27 1997 issue. Subscribers can read all of CT's digital archives.
Pro-life activists have found success in getting state legislatures to ban partial-birth abortions, even though court challenges may keep some of the legislation from being enforced.
As President Clinton is poised to veto a congressional partial-birth abortion ban for the second consecutive year (CT, July 14, 1997, p. 70), 14 states have enacted bans this year that resemble the language of a Michigan law passed last year. U.S. District Court Judge Gerald Rosen ruled that law unconstitutional in July, saying the Michigan legislation defined the banned procedure so broadly that it placed an "undue burden" on women seeking abortions by other methods.
Louise Melling, who argued the case for the ACLU's Reproductive Freedom Project, believes the ruling is a "death knell" for the nationwide movement banning the late-term abortion procedure.
But National Right to Life Committee legislative director Douglas Johnson disagrees. "I don't think it's going to have that much weight," he says. "It's not a precedent in any binding sense."
State lawmakers have attempted to align proposed bans with the federal bill, which, in the latest version, narrowed the definition of the controversial procedure to win the endorsement of the American Medical Association. The Senate passed the ban, but it was three votes short of the two-thirds majority needed to override Clinton's expected veto.
The Michigan ruling is the first that permanently invalidates a state ban on partial-birth abortion, but it may be appealed. Courts have temporarily blocked bans in at least nine other states. Johnson insists that backers of the Michigan law did not present their best case—the argument upon which the proposed federal ban is based.
"The position of the Congress ...
1
Our digital archives are a work in progress. Let us know if corrections need to be made.
Partial-Birth Abortion: States Approving Bans on Partial-Birth Abortion
Partial-Birth Abortion: States Approving Bans on ...