Part three of three parts; click here to read part two.
THE DEDICATION
It took 40 years for Scotty and Marie to see this special day when the church building filled up with Sharanahuas celebrating their finished task. There was no relief from heat that Sunday morning when we ambled down the village path to attend the dedication service. (I looked and smelled like a withered flower, but I had to let go of it.) We carried chairs from the schoolhouse to accommodate what would be "an overflow" crowd (members from other Sharanahua villages up the river were attending). They came as families, or alone, wearing hand-me-down Western clothes and sitting on the dirt floor.
The service began with Cusco leading simple choruses sung in Sharanahua. Gus spoke in a monotone but used extravagant arm gestures—and his hearers remained engaged. Cusco said that it was a sign of the end times that the rest of the New Testaments couldn't be here. The single New Testament to be presented that morning was hidden in Scotty's notebook, not to be unveiled until the final moments of the service.
Scotty had asked my husband, who is a pastor, if he would bring a message. So Bob told a story (as Scotty interpreted) about Charles Spurgeon. One day Spurgeon encountered a "bad" and "sly" little boy who had a field sparrow in a cage. Spurgeon asked the boy what he was going to do with the bird. The boy said, "Play with it for a while, then torture and kill it." (This evoked laughter from the Sharanahuas because some of their little boys do that to birds, too.) Spurgeon asked how much the boy wanted for him to purchase the bird. The boy mocked: "It's a worthless bird. You don't want it." But the boy sold it for "400 [Peruvian] soles—$200." (The Sharanahuas gawked.) Spurgeon then opened the cage and set the bird free.
The Sharanahuas liked my husband's story. He had them laughing and gasping and shaking their heads. My husband continued: Spurgeon took the empty cage and placed it on his pulpit at church the following day. He told his parishioners how—just as he himself had done with the boy—Jesus went to the Devil and engaged in a similar discourse. "You don't want these people," the Devil mocked. "They're worthless." The Devil said he wanted to "play with" and then "torture" them. But Jesus wanted to purchase the people in the Devil's cage, so the Devil finally relented. He would sell them, the Devil said, but it would cost Jesus his blood.
"There's a problem," Bob said. "Some people are still trapped in the Devil's cage. Some are there by their own choice. But others are in darkness because they don't know that the cage is open. The Sharanahuas needed to hear that, and God asked many people to go and tell them. Many said, 'It's too far.' 'It's too hot.' 'I don't know their language.'
"But," he continued, "Scotty and Marie said, 'We'll go and tell the Sharanahuas.'"
Bob finished his message by recalling the passage in Revelation (a book the Sharanahuas now recognized): "There before me was a great multitude that no one could count, from every nation, tribe, people, and language, standing before the throne … crying out in a loud voice, 'Salvation belongs to our God' " (7:9-10).
"Your language will never be lost," my husband said. "Sharanahua will be spoken in heaven."
WHERE IT'S NEVER DARK
I met Charles Love, a geologist and anthropologist from Western Wyoming College, during the latter portion of my Peru adventure. We stood face to face on the summit of Huayna Picchu, the jutting mountain overlooking the famous Incan ruins of Machu Picchu. Wiping his sweating brow with a kerchief while I leaned on my walking stick, he boldly inquired about our trip to the jungle tribe: "Were you there with some of those missionaries? What do you think of all that?" he asked.
Never one to shirk a good row, I took the bait: "Well, their language is written down; they know how to read; they have their oral tradition documented; they have learned to interact with the larger world; they aren't afraid of the dark anymore; the men don't beat the women anymore. I guess you will have to decide whether or not that's a 'good thing.' "
He demurred: "I'll bet if you ask any one of those old women if they thought wives ought to be beaten, they'd say yes." He argued that any influence, redemptive or not, is not "good." The tribes are better "left alone" rather than corrupted by "Western imperialism," and worse, the Bible.
I countered that, if anything, the intervention of "those missionaries" staves off the inevitable encroachment of the outside world that would otherwise assimilate the tribe into the larger societal pool.

Is 40 years of work for 500 copies of
New Testaments—sold for about $2.00
each (so they won't be used as toilet
paper)—with only plastic bags separating
them from jungle rot, worth the cost?


But there was no convincing him. Some will never concur that introducing the gospel is right. They will always argue that it is "better to leave them alone"—though I wonder how many of them have heard the wails and dressed the wounds of a bloodied and bruised wife.
But it is a different question, whether the human and monetary cost of this ministry is worth so disproportionate a "return." Arthur Lightbody, director of public relations for wbt, responds with three points: First, he says, nobody questions a pastor who earns $40,000 a year to serve a small congregation of a hundred for 20 years. Second, he points out that, were it not for SIL's presence in some of these hard places, translation work would not be done. Should we not go until it is cheaper? he asks. Third, he says, SIL is working more through the nationals, rather than sending in people from the West—though he adds that in some countries there is so much intertribal or ethnic hostility that outsiders have a greater impact as neutral third parties.
Yet even these reasonable responses did not answer that question for me as well as a story that Scotty told did: Shortly after he arrived, before he knew the language well, an elderly man in the tribe was lying in his hammock, dying. Scotty felt an urgency to share about Jesus with this dying man, despite his being tentative with the language.
He went to the man and said in halting Sharanahua, "You are going to die." He tried to explain to him who Jesus was and then asked him if he wanted to go and be with Jesus after he died.
The man said no. Why would he commit his afterlife into the hands of a complete stranger?
Scotty persisted. He helped the man understand that Jesus was good, that he was a friend. After a bit more persuading, the old man said that he would go with Jesus into the next life. Scotty helped him to pray: "Jesus, please take me."
Death closed in when suddenly the old man's strength returned and his eyes widened: "I see him!"
But the story doesn't end there.
As the Sharanahuas were burying him, throwing dirt on his body along with his machete and his few personal belongings, a man from the tribe said to Scotty: "It is dark where he is."
Scotty said, "It is dark where his bones and flesh are, but where his spirit is, it is light and will never be dark."
"Never dark? Did your father know about this place?" the man asked.
"Yes, my father knew about it," Scotty said.
"Did your grandfather know about it?"
"Yes."
"Did your ancestors know about it?"
"I suppose they did," Scotty said.
Crestfallen, the man replied, "My father and my grandfather never knew about this place where it is never dark. And I am hearing about it only now."
THE PEARL OF GREAT PRICE
The rustic church building was packed that steamy Sunday morning when the Sharanahua New Testament was dedicated. But on the grand scale of things, the number who came was minuscule—it was a small building. "Fasanahua's" single copy of the New Testament represented the culmination of his life's work—the pearl of great price. And the price has been great, for the benefit of only these few.
But when Scotty presented that one copy, holding it up for all to see, I looked into the faces of our brothers and sisters, people like I Ate My Dog in the Remote Past and Nobody. They understood that that book carried promises: That their sins are washed as white as freshly peeled yucca; that there is a place where it is always light and never dark; that the Sharanahuas will stand with the nations of the world around the throne of God in heaven; that they don't have to fear the night anymore.
I wondered, how do you put a price on a field sparrow set free?
Have something to add about this? See something we missed? Share your feedback here.
Our digital archives are a work in progress. Let us know if corrections need to be made.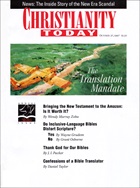 This article is from the October 27 1997 issue.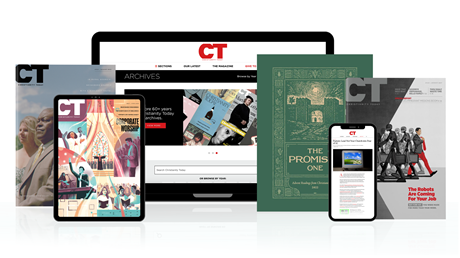 Annual & Monthly subscriptions available.
Print & Digital Issues of CT magazine
Complete access to every article on ChristianityToday.com
Unlimited access to 65+ years of CT's online archives
Member-only special issues
Subscribe
Your Sins Shall Be White As Yucca (Part 3 of 3)
Your Sins Shall Be White As Yucca (Part 3 of 3)