On a sultry day in Blowing Rock, North Carolina, the customers at a local grill swap wisecracks with the young women behind the counter. "What do you usually eat here?" one newcomer asks the teenage cook.
"Nothing," she says, waving a greasy spatula. Actually, the hamburgers are fine, but the real appeal of this place is the decor. "Don't talk about yourself," a poster declares, "we'll talk about you when you leave." Other wall literature addresses concerns of politics, religion, and male-female relations with about equal seriousness.
But amid the clamor of words, hanging near a window that looks out on Main Street is a little group of photographs. Look closer and you'll see snapshots of the restaurant employees with a local writer who has gradually become a celebrity—Jan Karon, author of the Mitford novels: At Home in Mitford, A Light in the Window, These High, Green Hills, and, this summer thirteenth on the hardback besteller list, Out to Canaan. All four books follow the ups and downs of a likable Episcopal priest named Fr. Timothy Kavanaugh. But the main character of the Mitford series is the mythical town of Mitford itself. Over a million readers have visited it in print and on audiotape, and many of those readers have gone on to become pseudocitizens, following local news in a Mitford newsletter, keeping up with its characters like real friends and neighbors.
Some people think that Blowing Rock is Mitford. With its maple-shaded back streets, its mossy rock walls and bursting rhododendrons, this North Carolina resort town could pass for the place Jan Karon describes in At Home in Mitford:
"Mitford," observed a travel feature by a prominent newspaper, "is a village delightfully out of step with contemporary America. Here, where streets are named for flowers, and villagers can seek the shade of a dozen fragrant rose arbors, spring finds most of the citizenry, including merchants, making gardens."
Whether the resemblance goes deeper than the scenery, though, I may never know. Walking to the restaurant where I have arranged to meet the author, I hear a multitude of Yankee voices. Downtown Blowing Rock is thriving; shop doors open and close, people fill the sidewalks. This is a tourist town, and I'm a tourist.
I enter the Village Cafe from a damp alley. "I'm meeting Jan Karon here," I tell the hostess. "Could I have that table?" I point to one beside the garden, outdoors but under an awning.
"That's exactly the one she's reserved for you."
"Oh, really?" I crouch behind my menu, waiting for a woman I've never met, studying every female face that passes me through the garden. Finally, just when I've leaned over to check the batteries in my tape recorder, I hear the hostess say, "Hello, Miss Jan!"
A beautiful, golden-haired woman stands a few feet away on the flagstone walkway, wearing a pale linen suit and sandals. I glimpse a gracious, forthright, maybe a little sad (or just tired after a long book tour) author. She chats with the restaurant staff, then a few visitors. She knows them all; she's a part of this place. I get up to introduce myself, but I am quickly drowned out by several more friends who come by.
"I've been telling everybody about your books, Jan!"
"I wanted to watch you on CBS, but the TV wasn't working."
"Somebody asked me if I knew 'Jan Kar-ON' and I said, 'Oh you must mean my friend Jan KAR-on!'"
Big laugh, all around. The friends leave. I take a deep breath, and Karon and I sit down together with a few opening pleasantries. Did I have a good trip? Yes, the mountains are lovely. Do I like the hotel? Yes, it has a heated swimming pool. We open our menus. "The crab cakes," she says in a gentle but precise Carolina accent, "are delicious. And the Greek salad is wonderful. Do you like feta cheese?"
"You know, I believe I'll just have french toast." I switch on my tape recorder. It might be important to record Jan Karon discussing food. After all, the Mitford books are full of it. Father Tim often visits the Sweet Stuff Bakery to chat with Winnie Ivey; he's a regular patron at the Main Street Grill and a frequenter of uncounted teas, barbecues, dinner parties, and glad suppers at home with his wife, Cynthia. Such is the life of a fictional clergyman.
While we're waiting to eat, I ask her to tell me a little bit about her upbringing—whom she played with as a child, where she learned to mimic the Appalachian dialect that fills her books.
"My younger sister and I were reared by my grandmother and grandfather in the country on a farm. My sister became the charge of my grandmother, and I somehow became the charge of my grandfather. I was very fortunate. Instead of staying in the kitchen and learning how to cook, I went with my grandfather to swap mules and horses, to buy bird dogs, to buy nails for roofing and seed corn for planting. I got to be around a lot of different people. The world opened up to me. I developed, without even knowing it, an ear for dialect. The dialect you read in my books comes from the Scottish-Irish people in this part of the world. They speak in a very colorful way, and I try to reproduce that as authentically as possible. Never do I do it to embarrass or make fun of anyone, because that's what I was reared with. I love and honor and respect the way these people talk."
No need to convince me; I'm from rural Alabama. As politely as possible, I mention all the Yankees around Blowing Rock. "Do you still hear Appalachian dialect here?"
She tells me that Blowing Rock has many natives, but that to hear the strongest accents, you have to go back in the mountain coves. "And believe me," she says, "I've been back in many a cove, not to hear the dialect, but to hear the music."
Too bad there is no time for "coving" today. I'd like to hear some dulcimer, some mountain fiddle. I consider asking Karon if she knows the words to "Froggie Went A'Courtin' " (maybe we could harmonize), but instead I ask her about her formal education. It turns out that she had just eight years of schooling before she entered the work force: "I have had exactly as much public school," she says with a smile, "as George Bernard Shaw." As for her religious background, she was reared Methodist but didn't make a commitment to Christ until the age of 42, in her bed at home one night. "What precipitated that?" I ask cautiously.
She takes a deep breath. "What precipitated that? Being driven to the wall by the circumstances and tragedy of life, being driven to the wall so that, at the end of myself, I could then cry out outside my ego, outside my own self-confidence and self-doing."
I smile nervously. This is the moment when any self-respecting interviewer ought to circle and pounce; I should discover and define what central, awesome tragedies have shaped this woman's life and books and precipitated her embrace of Christ. But I resist the temptation. Her suffering will have to go unclassified.
What I do learn is that Jan Karon actually felt a call to be a writer at the age of ten. "For 40 years," she says, "I ignored the call." At 18, she found a job as a receptionist in an advertising agency but didn't limit herself to dictation. For every new ad campaign, she wrote her own copy and pushed it at her boss.
"Wasn't that sort of forward for a young lady in the midfifties?"
She nods. "I've always been forward. My family crest reads, 'Forward, Brave Heart.' "
I believe it. With time and toil, Karon worked her way from receptionist to vice president. She moved back and forth across the country during her advertising years, from New York to San Francisco to Raleigh, somehow raising a daughter in the middle of it all.
"During those years," she says, "I was fighting my calling. I didn't know how to be an author; I was in advertising. At the age of 49 I began to pray that, if God wanted me to write books, he would open doors and show me how." After two years of prayer, she stepped out on faith and moved to Blowing Rock. She quotes Goethe: " 'Whatever you would do, begin it. Boldness has courage, genius, and magic in it.' "
I sigh. Genius, courage, magic? I don't know if I'm up to Goethe so soon after french toast.
"Would you like dessert?" the waitress asks me, looking at my plate still brimming with butter and syrup.
"I think I just had it."
Rain pours down hard, bending the irises half to the ground, spraying up from the path in a shallow, silver mist. We have to speak in bold voices now just to be heard over the downpour, and certainly Karon's voice is bolder than mine. She has an obvious confidence about her. I figure the confidence is part of her personality, but it is grounded in her strong faith, too, and a hard-gained knowledge. She is aware of her achievements but counts them as part of a divine plan; God has ordained her to write.
"Why do so many people get addicted to your books?" I ask. "What makes their appeal so strong?"
"Several things," she says firmly. "First of all, when people pick up a Mitford book, they discover themselves, their value system. Where else can people find their value system represented in today's world —can you find it in Vogue magazine, on Roseanne, watching Geraldo? No. What do you find on the bestseller list? Murder and mayhem. But when people go to Mitford, they go home. It's familiar, and it is consoling. And that's what I work to give my readers, the sense of consolation and hope."
"Do you think that many people these days have really experienced the happiness and coziness of Mitford, or do they just want it?"
"Some of both. There are many people who've grown up in small towns—I get thousands of letters from my fans—they say, 'Mitford is exactly how I grew up, I know these people, they're like family.' I also get letters from city people in very sophisticated places who say, 'I've never lived in a small town, but I've always wanted to. Mitford has become my town.' "
I think about Blowing Rock, about the back streets I had seen that morning on a long walk with my daughter: cats perched on porches, stone steps climbing a hill from one neighbor's house to another. I think about my hometown, too, where you never go to the grocery store without meeting a friend. Apparently a lot of people long for places like these. Maybe that helps explain the popularity of other fictional "worlds"—Avonlea, for instance, or Miss Read's English countryside, or even Mayberry, North Carolina.
"What would you say," I ask, "to someone who longs to belong to a place like Mitford and wonders how to get the real thing—can you find small-town life just by moving to the country?"
"No!" she says emphatically. "And I'll tell you why. Mitford is not there waiting. You have to help make it. If you will read a Mitford book carefully, you will see that everybody is helping Mitford happen. Mitford isn't free. You've got to reach out if you want Mitford. You do not wait for somebody to bring a pie and leave it on your doorstep. You do not wait to be invited to join the country club or the Friends of the Library. You immediately get out into the community. If you're in a new home and you have hardware needs, you go to the hardware store and you start there. You start loving at the hardware store!"
That sounds faintly like an ad slogan: "Start loving at your hardware store." But I know it's true, because I'm actually very fond of my local hardware salesmen. About 20 of them sit all day in a crowded little building with a wooden Indian, and when you need a pipe soldered, they'll practically come to your house and do it for you.
"Ms. Karon, what about the church? What role does it play in creating community?"
"The church is the heart of the community. There's where you go to find Jesus Christ in the flesh in other Christians, there's where you realize that all Christians are not perfect, that all Christians have evil, wicked thoughts just like you have, and they're flawed, they're mortal. But you never say, 'I don't go to church because it's full of hypocrites.' You keep your eyes on Christ, and then you're not so absorbed in the faults and mistakes of other Christians."
"I guess you find your sense of community in Blowing Rock."
"Absolutely. I get it right here, or I wouldn't have it. There's pain everywhere you go; life is a vale of tears in the city, in a small town, in the countryside. God is going to allow some things to happen to us that we didn't pray for and don't want, no matter where we live. Something that people forget is that hard things happen to people in Mitford: there's a heart transplant, there are abused children, there's a thrown-away boy named Dooley; even Father Tim himself had an unholy conflict with his earthly father. Mitford never pretends to be perfect; it's other people who see it as some idyllic setting."
She's right. Though the Mitford books never gloss over or trivialize the sorrows of life, it's hard to carry sorrow away from them; the reader feels, as she herself said earlier, consoled. Part of this is owing to the writing itself. There is nothing gothic about Jan Karon. Though she writes about the rural South, she doesn't linger on slop jars or snake handlers.
More significant, though, is her choice of a hero. Father Tim is a "man of balance," as Karon says, "a Christ figure." He sees human suffering and ministers to the sufferers. If the Mitford stories were told through the eyes of Pauline Barlowe, for instance, a character beaten down hard by addiction and loss, the consolation would come much more slowly.
A writer of faith can only describe the corner of life God has allowed him to see. Not every story can be about a place like Mitford or a man like Fr. Tim Kavanaugh. Like the Bible itself, good Christian writing must include many voices: voices sometimes raised in praise and thanksgiving, sometimes in the record of salvation, and sometimes in sorrow at the horrors of this world.
But Jan Karon, by moving out of exclusively religious bookstores onto national bookseller racks, has shown that the world still pines for the consolation of a Christian world-view. People long for a village with a church at its heart. What remains to be seen is how many of us, with all the demands of modern life upon us, are willing to do more than read about community life and work to make it happen.
Maybe I'll go home and make my neighbor a casserole or take the folks down the road some squash from my garden. In the meantime, my waitress is back.
"Well," she says, "how about that dessert?"
"Hmmm," I say, and glance at Jan Karon. I wonder what Father Tim would recommend.
Betty Smartt Carter is the author of two novels: I Read It in the Wordless Book (Baker Book House) and The Tower, the Mask, and the Grave, a mystery, just published by Harold Shaw.
Have something to add about this? See something we missed? Share your feedback here.
Our digital archives are a work in progress. Let us know if corrections need to be made.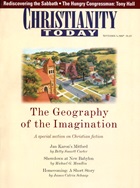 This article is from the September 1 1997 issue.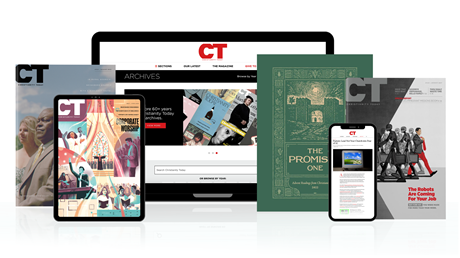 Subscribe to Christianity Today and get access to this article plus 65+ years of archives.
Home delivery of CT magazine
Complete access to articles on ChristianityToday.com
Over 120 years of magazine archives plus full access to all of CT's online archives
Subscribe Now
Postmarked Mitford
Postmarked Mitford