Picture this: A young female student nurse works the midnight shift in a London hospital annex when she meets a young male "house officer" (intern) during a medical emergency. It is summer in England. The young nurse and young doctor slip away during their break to meet outside in the rhubarb patch, illuminated by the moonlight, to read aloud to one another the poetry of Yeats, Browning, and Gerard Manley Hopkins.
And this: A mother of three young children pursues master's degrees in economics and sociology (at night, so as not to be away from the children during the day); later assumes a teaching position at a local university; writes a book in which she upbraids the "physiognomy of hatred" propagated by hard-line Marxist/Leninist esprit breeding at the school. Her book is covered by a leading columnist for the London Times in three consecutive issues; these columns (so she's told) influence both politicians and academics.
And this: A grandmother "lives the life of a truck driver," eating and sleeping out of a 32-ton truck for a week in Poland, having traveled there because her name appeared in the letterhead of a relief organization as a "patron" and she didn't like the idea of "just being a name on the writing paper." She went in the truck convoy to "assess the situation" and to "meet the people."
And this: As nurse, crusader, mother, grandmother, and Christian, she leads a delegation of lawyers, professors, and human-rights workers, on foot, through the line of fire, up the brow of a hill waving a white tablecloth attached to a branch, across the border of Azerbaijan (a former Soviet republic) to "talk to" the Azeris. She had been visiting Christian Armenians in Nagorno-Karabakh (part of historic Armenia relocated by Stalin as an isolated enclave in Azerbaijan) who had been under heavy attack by the Azeris—including ransacking and torching homes, forcibly driving residents off their land, beheading citizens. She wanted to meet the Azeris face to face so they would take her "seriously."
Meet Baroness Caroline Cox, of Queensbury—Lady Caroline to some, and Caroline to her friends, who are just about everyone she meets. ("The title shows God's sense of humor," she says.) While Michael Horowitz was rousing the slumbering conscience of the American evangelical community to the plight of persecuted believers in faraway lands, Caroline Cox was in those lands, crossing borders, riding in jeeps and trucks, delivering medicines to the dying and maimed, buying back children who had been commandeered as slaves; in short, extending a hand of Christian solidarity to those who—in her words—are bereft of aid and advocacy; who are among the most isolated, outcast, and deprived in the world. The ones who told her "we thought the world had forgotten us."
"As indeed it had," she hastens to add.
WHO IS THIS LADY?
Caroline Cox—a deputy speaker in the British House of Lords and (among other things) president of the uk branch of Christian Solidarity International—has found herself in the frontlines of advocacy for persecuted Christians almost serendipitously. It started in the 1980s with the truck trips to Poland ("the truck drivers were gentlemen," she adds) on behalf of the Medical Aid for Poland Fund. This introduced her to the members of the Polish Solidarity movement (and earned her Poland's highest award for a foreigner, the Commander Cross of the Order of Merit). "I was so humbled and inspired by the Polish people's courage and humor and generosity," she says. "They had nothing, but would give everything."
This evolved into her being asked to help organize a human-rights conference in Russia in 1990, which, in turn, aroused the attention of the widow of Andrei Sakharov. Mrs. Sakharov invited her to help organize a human-rights congress in Moscow to commemorate what would have been the seventieth birthday of her deceased husband. At this conference, Lady Caroline chaired a committee looking into human-rights abuses in the ussr, which is when she took a group on a fact-finding mission and how she ended up ascending a hill, crossing the border, waving a white flag. "I thought I'd look up Nagorno-Karabakh on a route map," she says. "But there wasn't a route map. I arrived not knowing where I was going. I had no idea what I was getting into."
What she was "into" amounted to nothing less than helping and comforting those—most of them Christians—who face the worst kind of misery and brutality that could be visited upon the human community. During one of her visits to Karabakh, in a village that had been overrun by Azeri troops, she met a nurse who had lost 14 relatives in the assault and who, hours before, had witnessed the beheading of her son. "I want to say thank you," this nurse said to Lady Caroline. "[The supplies] you brought eased much suffering. Thank you to all [who have] not forgotten us in dark and difficult days." She also met a farmer from the village who had escaped into the mountains during another attack. "Devastated by what he had just witnessed, he saw an apricot tree in blossom and went to it for comfort, as it was so beautiful," she recounts. "Then, to his horror, he saw hanging from a branch the body of a five-year-old Armenian girl, cut in two." The farmer vowed revenge, and later wept, admitting to the baroness that when he had had the chance, he could not keep his vow. "He could not bring himself to harm a child," she said. The farmer told her: "Dignity is a crown of thorns."
Lady Caroline has borne her own crown of thorns more than once. She lost her only sibling, a brother to whom she was very close, to a virulent form of Hodgkin's disease when he was 22 (she was 19). "He was very, very brave throughout his illness and died with tremendous courage. I still miss him," she says. Later, as a nurse, she contracted tuberculosis and became a patient in a London hospital for six months. ("I would have been a much nicer nurse if I had had that experience before I'd ever touched a patient.") And this July, her husband of nearly 40 years—the one with whom she shared poetry in the rhubarb patch—died unexpectedly during bypass surgery.
The book she wrote while at Polytechnic of North London (now University of North London), called The Rape of Reason, caught the attention of famed columnist Bernard Levin, who said it was "the most important book [he's] read for many years." Lady Caroline said she wrote the book because "what I saw happening to students was a violation of their spiritual potential."
SALVATION OF THE WEST
Baroness Cox has traveled extensively all over the world since that first truck trip to Poland, having been seized by a sense of kinship and devotion to the suffering brothers and sisters she has grown to love. Since 1992 she has made 15 trips to Sudan (four in 1997 alone), one of which included a crew from Dateline NBC covering the slave trade. Her advocacy on behalf of the Armenian Christians in Karabakh has managed to focus world attention on their plight. More than once she has come within a hair of losing her life in these situations. While in the open country of Nagorno-Karabakh a few years ago, the jeep she was riding in came under fire from rocket-propelled antitank missiles. One hit just two feet behind them, lifting the rear of the jeep into the air.
"Only where there is great danger can there flourish that which saves," her husband told Caroline once when she was discouraged. "I've hung onto it when I have been distressed," she says. And before each trip she wrestles with intense fear and doubt: "Very often I have shrunk from the prospect of going, thinking Do I really want to get my guts blown out in the deserts of Sudan?"
She finds courage in a verse she was given at her Anglican confirmation: "Have I not commanded you to be strong, of good courage, be not afraid, neither be dismayed, for I, the Lord your God, am with you wherever you may go" (Josh. 1:9). "I hold onto that text in some of the slightly more hairy places I've been."
She says the persecuted church is going to be the "spiritual salvation" of the West, in all its secularism and materialism. "The persecuted are at the core of the ultimate spiritual experiences. They are enduring their Gethsemane. They have found a faith stripped of all the distraction of this world and have found God present with them in the wilderness."
When she was visiting a refugee camp for the displaced in southern Sudan, tens of thousands who had been driven off their land were arriving. It was the rainy season, so they were covered with mud; they hadn't had time to plant their plots of land, so they had no food; they had no shelter; no medicines; many were naked. Nine people trying to get water out of the river that day were eaten by crocodiles.
"Suddenly," she recalls, "we heard the sound of singing from three different directions simultaneously. It was the wonderful sound of joyful singing of psalms and hymns. Three branches of the church were coming in three processions—Episcopalians, Presbyterians, and Catholics. They had taken time out, running from the enemy, to go into their churches to bring precious things. They had their crosses, their banners. And some had crosses made of African reeds. They came from three directions and made a huge circle, and we worshiped together. They have nothing, and yet there was radiance in their faces."
A PLEA
She joined Christian Solidarity International (CSI) in 1990. CSI is an interdenominational and international human-rights organization that provides both aid and advocacy for persecuted Christians (and others, including Muslims, suffering repression). Her role as the British president has enabled her to travel and assess volatile situations throughout the world, extensively and intimately. Her courage and resolve in aiding the suffering church has earned her the affection of the American evangelical community. In 1995 Charles Colson's Prison Fellowship presented her the prestigious William Wilberforce Award for humanitarianism, and Wheaton College invited her to deliver the commencement address this past spring.
When she brings word from suffering brothers and sisters to the churches in the West, on an individual level, she says, "the great majority respond overwhelmingly with tremendous generosity of spirit." But the response of the "church" as an institution, however, has been "patchy." "I sometimes think that there's been such preoccupation with issues at home that people have failed to look out," she says, "and in doing so have denied themselves an incredible spiritual resource—the testimony of the living faith and the joy of the persecuted church.
"One of the things that always humbles those of us who are with the persecuted church is that they may be dying of disease and have no medicine, they may be hungry and have no food, but their first request is always for prayer. Surely all of us can give that. That cannot be too much to ask."
She makes a plea to Western Christians to complement prayer with a commitment. Most people can't go, like she does, but, she says, "Some can! Share your heart and make yourself available." As the Sudanese bishop said in his "cathedral" under a tamarind tree while visiting his people at their real points of suffering ("slavery and nakedness and so on"): "I came. I saw. I heard. I touched. I am enriched."
For others, she suggests that Christians and churches designate a portion of their tithe for the persecuted church, giving to organizations like CSI or others (see box below), which do go and deliver. "I know our churches at home have needs. But we all have electricity. We have heating. We have clothes. We have roofs over our heads. There are those among the persecuted who have nothing; they are dying of starvation, disease, with no medicines, no Bibles. So it is a relative need."
A commander in the Sudan People's Liberation Movement who, as a practicing Catholic, does not want to fight the war, said to Lady Caroline, "Before battle the Islamic fundamentalists shout and chant, 'We will force you to become Muslims whether you want to or not.' The Muslim fundamentalists cannot defeat us. We are firm as Christians, and we will die for our faith. … It is discouraging to see the Islamic fundamentalist government in Khartoum receive material and moral support from other Islamic countries while we receive no support from the Christian world. We will continue in our struggle for freedom even if we are forsaken by Christendom. We will die for our faith, and we will die Christians."
"We're touched by the strength in their faces. The radiance in their love. The purity of their faith," says Lady Caroline. "Only where there is great danger can there flourish that which saves. It's only where these people are suffering in these extreme situations that you actually find that ultimate joy, that peace which passes all understanding, that radiance."
CT will be running "Dispatches from Lady Caroline"—messages from the suffering church—in future issues.
ADDRESSES OF SOME ORGANIZATIONS THAT AID PERSECUTED CHRISTIANS:
Christian Solidarity International, USA
1101 17th Street NW, Suite 607
Washington, D.C. 20036
(540) 636-8907
E-mail: csiusa@rma.edu
Advocates International
9691 D Main
Fairfax, VA 22031
(703) 764-0011/fax (703) 764-0077
E-mail: Advonet2@aol.com
Iranian Christians International
P.O. Box 25607
Colorado Springs, CO 80936
(719) 596-0010
fax (719) 574-1141
Open Doors with Brother Andrew
P.O. Box 27000
Santa Ana, CA 92799
(714) 752-6600
Have something to add about this? See something we missed? Share your feedback here.
Our digital archives are a work in progress. Let us know if corrections need to be made.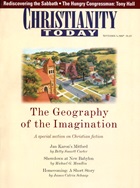 This article is from the September 1 1997 issue.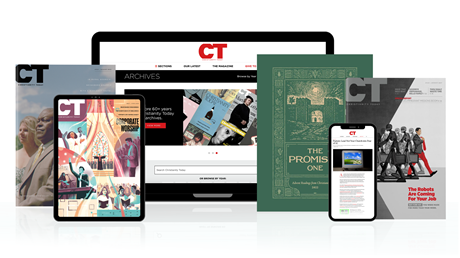 Subscribe to Christianity Today and get access to this article plus 65+ years of archives.
Home delivery of CT magazine
Complete access to articles on ChristianityToday.com
Over 120 years of magazine archives plus full access to all of CT's online archives
Subscribe Now
Through Bombs and Bullets
Through Bombs and Bullets