Fifteen minutes after the bookstore opened at the Christians for Biblical Equality conference near Minneapolis, vendors sold out of the New International Version, Inclusive Language Edition Bible (NIVI), unavailable for retail sale in North America.
"We are finding ways and means of bringing in the NIV Inclusive," said Catherine Clark Kroeger, founder of Christians for Biblical Equality (CBE), which celebrated its tenth anniversary during a three-day meeting on the campus of Bethel College. "Now that they can't have it, everybody wants it." In addition to buying out the bookstore of about 50 copies, nearly 100 people signed a protest letter to Lars Dunberg, president of the International Bible Society (IBS). The letter asked the society to allow licensed publishers to keep in print the NIVI and the NIV, Readers Version, both of which use inclusive language. Second, the letter asked for the IBS to resume "aggressive efforts to update the North American edition of the NIV with gender-accurate language."
The letter says, "As a Bible-believing, evangelical Christian, I urge IBS to stand firm in the midst of pressures from subgroups within the Christian community who would attempt to impress their specific social and theological agendas on Bible translation."
In June, IBS, under growing pressure, announced that it was abandoning efforts to produce for the North American market an updated NIV (CT, July 14, 1997, p. 62). The version would have used inclusive language that translates gender-specific terms from the Greek and Hebrew into inclusive-language equivalents in English. For example, he or man may translated as you, we, or they in instances where the translators believe it is warranted. An inclusive language NIV has been available in the United Kingdom since last year.
Some on both sides of the NIV dispute see the issue as feminism versus traditionalism, but not Stan Gundry, editorial vice president for Zondervan Publishing House in Grand Rapids, Michigan. Zondervan is licensed exclusively to publish the existing NIV in America. "It is not an egalitarian versus complementarian issue," Gundry told CBE members. "It is simply this and nothing more: a translation issue. What is faithful translation?"
In response to the CBE letter, Steve Johnson, IBS director of communications, said negotiations between IBS and Hodder & Stoughton, the British publisher of the NIVI, continue in good faith. But, he said, "If they chose not to [cease publication], we have absolutely no authority to mandate that they do so."
Johnson commented, "If the issue ever resurfaced, it would have to be the church saying to IBS, 'Clearly we are ready for this text; we recognize the need for more accurate interpretation.' It would have to be very evident that the church was unified on the issue."
Johnson said the dispute over inclusive language use "needs to be dealt with among scholars and linguists who can intelligently debate [it] and not have it tried in the court of public opinion."
During a telephone interview, Timothy Bayly, executive director of the Council on Biblical Manhood and Womanhood (CBMW), an organization supporting the complementarian view of gender roles, said his organization "pleads" for the NIVI to be taken off the market because of its improper changes in gender translation. Commenting on CBE's perspective on gender issues, Wayne Grudem, CBMW president, said that although opportunities for mutual dialogue were not frequent, individuals from both groups were in discussions concerning their differences. "We [both] oppose violence and homosexual conduct."
TENTH ANNIVERSARY: During CBE's anniversary celebration, Jeanette Yep, a board member, told the 450 attendees, "We are more than an organization. We're a movement."
In 1987, CBE formed as a dissenting group from the Evangelical Women's Caucus. The split occurred after the caucus approved a resolution a year earlier that recognized "the presence of a lesbian minority" and declared "a firm stance in favor of civil rights protection for homosexual persons" (CT, Oct. 3, 1986, p. 40).
The caucus, which originally lost about 50 percent of its membership in the controversy, is now called the Evangelical and Ecumenical Women's Caucus. It is based in New York and has 300 members. CBE today has about 2,000 members.
Diane Chynoweth, CBE national administrative coordinator, commented that many members belong to churches or work for Christian organizations that do not affirm women in leadership. She said that some women are stigmatized and marginalized for their feminist and egalitarian views.
Chynoweth said, "Until you get hurt, a lot of people don't get interested in [gender issues]." She said many Christian couples call themselves traditionalists. "But if you really looked at their marriage, it's very egalitarian."
RACE AND GENDER: Although CBE has focused on biblical equality in the church and the home, additional emphasis is being directed toward racial issues.
Two years ago, Brenda Salter-McNeil, a black clergy member from Chicago who works with InterVarsity Christian Fellowship, joined the group's board of directors.
Salter-McNeil said that few women are able to focus on gender equality and racial reconciliation simultaneously. "I want to hold those things together. CBE gives me a way to hold those things together and not make the choice of one over the other."
She said black Christians need to take gender equality more seriously. "We're wonderful at calling people away from racism, but often we find that the black church is not as strong in dealing with the issues of gender."
PROMISE KEEPERS: In addition to focusing on church and family, CBE has turned its attention to the Promise Keepers (PK) men's movement. CBE's Priscilla Papers journal, in its spring 1997 issue, critiques PK, with one scholar, Mary Stewart Van Leeuwen, an evangelical psychologist, noting that PK has "embraced a rhetoric of both servanthood and soft patriarchy, a position ambiguous enough to make Christian feminists of both sexes push them for greater clarity."
Kroeger says one of her core concerns, not only with the men's movement, but also with PK-style organizations for women, is that "men are being told to take charge, and women are being told to endure, to suffer."
Chynoweth said, "I believe in biblical equality because it's biblical. This is the way God wants us to work together [in] mutual submission to Christ."
Have something to add about this? See something we missed? Share your feedback here.
Our digital archives are a work in progress. Let us know if corrections need to be made.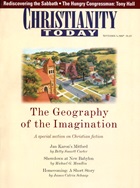 This article is from the September 1 1997 issue.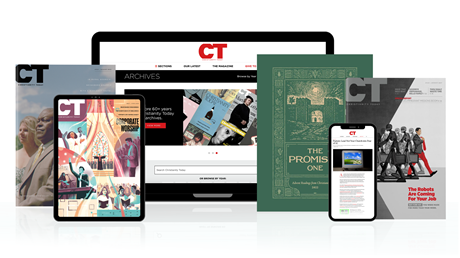 Subscribe to Christianity Today and get access to this article plus 65+ years of archives.
Home delivery of CT magazine
Complete access to articles on ChristianityToday.com
Over 120 years of magazine archives plus full access to all of CT's online archives
Subscribe Now
Gender: Biblical Feminists Press for Gender-Inclusive NIV
Gender: Biblical Feminists Press for Gender-Inclusive NIV