Imad Shehadeh labored for five years to open a seminary in his adopted homeland of Jordan. As he earned his degree in 1990 from Dallas Theological Seminary, the soft-spoken Shehadeh dreamed of opening a graduate school in Amman, the Jordanian capital, to serve as a base for Christians in a region that is more than 90 percent Muslim.
When he returned to Jordan, few endorsed his vision. Authorities in the Muslim country twice shut down Shehadeh for training without government approval. And many Christian leaders found his original doctrinal statement too restrictive.
But things began to change as Jordan's government worked through democratic reforms that liberalized the country.
Realizing he needed to have the government's support, Shehadeh applied again for permission to open a school. The government's Ministry of Culture not only granted approval for the school to open, but also wrote into the school's constitution an article allowing interfaith dialogue with Muslims.
STRATEGIC LOCATION: Today, Jordan Evangelical Theological Seminary (JETS) is in its third year of legal operation. The evangelical school has unprecedented freedoms in a Muslim country. In some Arabic-speaking countries, Muslims who convert to Christianity are in danger of losing their jobs, families, or lives.
By embracing a broad doctrinal statement, the 43-year-old Shehadeh, a refugee, has gained the support of numerous churches. Jordanian leaders from the country's five main denominations are on the seminary board.
Already the school has 28 resident and visiting faculty—half of them from Jordan. Nearly 150 students from nine Arabic-speaking countries—Jordan, Lebanon, Syria, Iraq, Yemen, Morocco, Algeria, Egypt, and Sudan—have been accepted to study at the school.
The interdenominational school offers undergraduate and graduate-level training, JETS does not have the governmental or access restrictions of other Christian schools in the Mideast.
Shehadeh says the Middle East is experiencing unprecedented growth in the number of evangelicals. Yet there are not enough leaders to follow up new believers. Often churches are small, and local leadership has little theological training. But JETS is training 45 Iraqi students to return to a country with only a handful of seminary-trained pastors. JETS students are eager learners. Last year, students started three dozen home groups in an effort to gain experience in church planting.
REACHING INDIVIDUALS: Jordan's freedoms, its central location in the Middle East, and its peace with Israel since 1994 have all been of strategic importance for JETS.
Nowhere is that seen more clearly than in the life of its students. For example, Rumail Yousef, an Iraqi electrician by trade, remained in Iraq while thousands of his countrymen fled after the Gulf War when United Nations sanctions began to cripple the country's economy. In the midst of economic woes, Baghdad's main evangelical church began to grow. From a core of 25 saints, the church now boasts attendance of 800 on Sundays.
Burgeoning growth meant a greater need for trained leadership, so in 1993 the church sent Rumail away to study theology before returning to help pastor the flock. But his visa to Egypt, where he had applied to study in the Presbyterian seminary in Cairo, never came. After a year's wait, he applied to study at the Baptist seminary in Lebanon, but authorities in that country also turned him away. So Rumail applied for admission in the bachelor's program at JETS. He saw no other alternative.
"JETS can give me the best training I could get for ministry here in the Middle East, so God opened this door for me," says Rumail, who is being encouraged by professors to stay and finish a master's degree before returning to Baghdad.
Rumail is not alone. Behind impoverished Iraq, the second-highest percentage of JETS students come from war-torn Sudan. For these students, study in Beirut or Cairo is difficult because of political tensions. The hope is that most will return to minister in their own cultures. Because Jordan has friendly relations with both Sudan and Iraq, students can more easily come for training. JETS's reputation with Jordan's security forces means that students can obtain coveted student residence visas.
EXTENSION PROGRAMS: The idea of an evangelical seminary in the Muslim-dominated Middle East may seem incongruous. Yet, there are at least 15 evangelical theological education institutes in the region, including seminaries, Bible schools, and extension learning programs.
Jordan is assuming a leadership role. Since 1981, the Program for Theological Education by Extension (PTEE) in Amman has trained more than 1,000 Christians in Jordan, Syria, Lebanon, Egypt, and Iraq in Bible and theology. Through local churches, PTEE fills a crucial role in reaching potential leaders who cannot study in an institution due to location or cost.
"The issue isn't competition with schools like JETS," says PTEE executive director Richard Hart. "The issue is access. Our courses can help Christians identify gifts in ministry calling, which can lead to further training." PTEE is also less expensive: a class costs $2, while one course at JETS is 20 times as much.
JETS and PTEE are founding members of a new group called Middle East Association for Theological Education. meate is trying to help its members share experiences with one another and the international community. "We're aware of what is happening internationally," says Hart. "Arab theological education can stand on its own—it has something to say to the West."
Jordan's openness has come under King Hussein, who has been in power since 1952. His younger brother—and designated successor—Prince Hassan has pushed Muslim-Christian relations to a new level with the opening of the Royal Institute for Inter-Faith Studies. The institute has established a working relationship with JETS, and Shehadeh has contributed an article to their journal on the topic "Do Muslims and Christians have the same God?"
CHALLENGES REMAIN: Limited space and finances are a problem for JETS. "We could easily accept a lot more students if we had the space, the faculty, and administrators," Shehadeh says. Last summer, JETS had 130 applicants; only 11 could be admitted because of limited capacity.
JETS is meeting in rented quarters and needs $2.5 million to buy land and build new facilities. In February, the Indianapolis-based Overseas Council (OC) announced a $95,000 gift to JETS.
"When the door opened in Russia we were ready," says OC U.S. board chair Norm Miller. "We ought to be thinking about the same type of response in the Middle East."
JETS is young and faces many challenges. While the local church is encouraging, Arab believers have been unable to assume much financial support. Graduates will soon outnumber pastoral opportunities. Still, with an unreached population in the region of 200 million, the need for what JETS can help fill is waiting to be met.
"The home of the early church is the most needy mission field today," Shehadeh says. "We want to see a strong, vibrant church across the Middle East."
Have something to add about this? See something we missed? Share your feedback here.
Our digital archives are a work in progress. Let us know if corrections need to be made.
This article is from the April 6 1998 issue.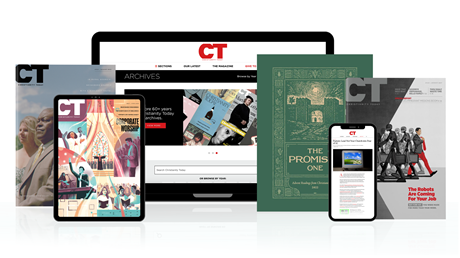 Subscribe to Christianity Today and get access to this article plus 65+ years of archives.
Home delivery of CT magazine
Complete access to articles on ChristianityToday.com
Over 120 years of magazine archives plus full access to all of CT's online archives
Subscribe Now
Jordan: Jordan Emerges As New Hub for Training Pastors
Jordan: Jordan Emerges As New Hub for Training Pastors