For Fidelity: How Intimacy and Commitment Enrich Our Lives, by Catherine M. Wallace (Alfred A. Knopf, 172 pp.; $22, hardcover). Reviewed by John Wilson.
The uncanny timing of the movie Wag the Dog, which was released just before the Monica Lewinsky scandal broke, occasioned a good deal of comment. (The New Yorker summarizes the film thus: "President, in closing weeks of re'lection campaign, succumbs to zipper problem; spin doctor, to divert attention, simulates war with Albania.") There must also have been some discreet celebration in the halls of Alfred A. Knopf at the timing of For Fidelity: How Intimacy and Commitment Enrich Our Lives, published at the end of February. If you are dissatisfied with editorials and columns and other vehicles for hit-and-run punditry, you will find in Wallace's book a thoughtful and thought-provoking argument for sexual fidelity.
A onetime professor of English at Northwestern University with a specialty in literary theory, Wallace—as the flap copy informs us—"set aside her scholarly career … to stay home full-time with newborn twins and a two-year-old, all three of whom are now in high school." In addition to full-time child-rearing, she has obviously continued to read omnivorously; her case for fidelity draws on sources as various as the poet Samuel Taylor Coleridge and the philosopher Alasdair MacIntyre, as well as on her own experience as a young girl, a teenager, and a wife and mother, all set in the context of her strong Christian faith.
It is a shame, then, that very early on, Wallace makes a move that immediately narrows her audience. In the first chapter, right after she affirms that "sexual fidelity is a practice intrinsic to the happiness of a happy marriage," Wallace pauses and addresses the reader thus:
Before we go any further, however, let me answer a question that I suppose is on every reader's mind by this point. What about gays and lesbians? Specifically, what about gays or lesbians, sexual fidelity, and marriage? Do I use the term "marriage" in some exclusive sense?
Actually that question wasn't in my mind, at least, until Wallace raised it. She goes on to say that no, she doesn't use the term "marriage" in "some exclusive sense" (by "exclusive," she means the sense in which the term has always been used), and yes, her argument for fidelity applies equally to homosexuals. The way she characterizes those who disagree with her—those who believe that homosexual unions are clearly condemned by Scripture—is highly tendentious and seems calculated to drive such readers away.
Similarly, in a later chapter, Wallace's facile dismissal of Catholicism ("I left the Roman Catholic church after a copy of Ehrlich and Ehrlich, Population, Resources, Environment: Issues in Human Ecology made its way from hand to hand in my undergraduate Jesuit college") seems designed both to discourage Catholics from reading further and, more important, to curry favor with the same audience who would applaud her view of homosexuality.
These gestures are at odds with Wallace's routine mode of operation, which is anything but facile. Indeed, it would be a pity if readers who disagree with Wallace about homosexuality simply stopped reading her book—just as it would if gay and lesbian readers refused to attend to Wallace's case for fidelity.
It is rare indeed to find a book about sexuality that is neither sleazy nor clinical, neither saccharine nor joyless. And a Christian sex book, too, that you wouldn't be embarrassed to be caught with. For Fidelity is such a book: worth reading, worth arguing about, worth reading again—even if it is warmly endorsed by the Right Reverend John Shelby Spong.
Excerpt"Does Daddy use condoms?"
I stopped grinding coffee beans and looked across the dark, November-morning kitchen at my eight-year-old son, who had set aside his raisin toast with peanut butter. The kitchen smelled of cinnamon and peanuts and coffee.
"Mark says—Mark says the teacher says if you don't use condoms then you could both get sick and die. So we want to know. Does he? Every time?"
I looked down from that level, blue-eyed gaze, wishing I could eat coffee beans like peanuts, straight from the little bag. Apparently Mark had been talking to his brother about his fifth-grade "sex ed" course, sharing his fears about orphanages in their endless brotherly small talk after lights out. When a kid has totally uncool parents, when his parents were probably nerds when they were kids, a kid needs to ask these questions. A kid can't count on parents like that to know the important stuff—not even when Daddy is a professor in the medical school downtown.
Have something to add about this? See something we missed? Share your feedback here.
Our digital archives are a work in progress. Let us know if corrections need to be made.
This article is from the April 6 1998 issue.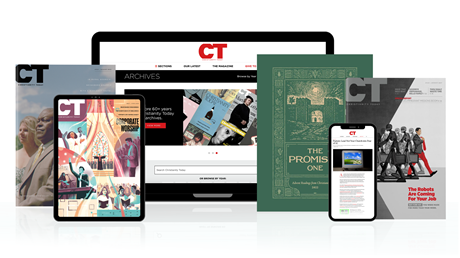 Annual & Monthly subscriptions available.
Print & Digital Issues of CT magazine
Complete access to every article on ChristianityToday.com
Unlimited access to 65+ years of CT's online archives
Member-only special issues
Subscribe
Real Sex
Real Sex