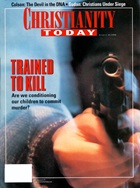 This article is from the August 10 1998 issue. Subscribers can read all of CT's digital archives.
Systematic Theology, Vol. 3, by Wolfhart Pannenberg (Eerdmans, 640 pp.; $49, hardcover). Reviewed by Donald G. Bloesch, emeritus professor of theology, University of Dubuque Theological Seminary. His book Jesus Christ: Savior and Lord (InterVarsity) is the fourth volume in a projected seven-volume systematic theology.
In this third volume of his much-acclaimed Systematic Theology, Wolfhart Pannenberg gives an in-depth treatment of the doctrines of the church, the sacraments, and the kingdom of God. He presents a high view of the church, regarding it as the locus of the Holy Spirit's action in relating those who believe to Jesus Christ, but he is adamant that the church not be confounded with the kingdom of God. The church is an anticipation and sign of the perfect fellowship of love that belongs to the eschatological consummation. The church does not build the kingdom, nor does the church control the salvific action of the Spirit in the preaching of the Word and the celebration of the sacraments. In a Barthian manner, Pannenberg steadfastly holds that God alone builds his kingdom, but the church can witness to this fact. He is deeply critical of liberation theology for calling Christians to bring in the kingdom through revolutionary political action.
The catholic side of Pannenberg's thought is particularly prominent in his discussion of the sacraments. He vigorously defends baptismal regeneration and the real presence of Christ in Communion. "In baptism there takes place our regeneration by the Holy Spirit." He also contends in a way that will invite criticism from evangelicals that, without baptism, faith in the gospel "is not yet saving faith in the full sense." At the same time, he is convinced that baptism without faith ...
1
There's More to Church than Proclamation
There's More to Church than Proclamation