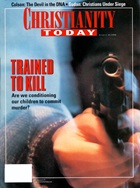 This article is from the August 10 1998 issue. Subscribers can read all of CT's digital archives.
Child-rearing is but a distant memory to most married couples well into their retirement years. But Nathaniel Odom, 83, and his wife, Zady, 73, are busy attending Boy Scout meetings, participating in parent-teacher conferences, and leading vacation Bible school.
Seven years ago, Nathaniel, a retired Chicago-area builder, and Zady, who worked as a school-bus driver for 20 years, adopted three siblings: Sable, 5; Ronald, 2; and Theo, two months. By that time, they had already raised six sons, then between ages 26 and 36, all of whom had married and had children of their own. Three years later, the Odoms adopted two-year-old Diamond.
The Qdoms' interest in adoption began after they had been unable to have children their first eight years of marriage. The couple adopted a four-month-old boy from Chicago Foundlings Home in 1955. They then had four biological sons, followed by another adopted son.
"After they were grown up, the nest was pretty empty," says Zady Odom, who, like her husband, had seven siblings.
By the time Sable, Ronald, and Theo joined the Odoms in their Glen Ellyn, Illinois, home, the couple had raised ten foster children in addition to their six sons. They did not intend to adopt the trio of siblings, but after nearly three years of providing foster care, they decided to make it permanent when no other families came forward. "It's so sad to see children begging to be adopted," says Odom. "It's something about us, when we get a child, we just can't let go."
Odom says she and her husband are simply trying to live out their faith by caring for children who have no other caregivers. "It's our way of paying back some of the blessings God has given us," she says.
"Some people think because you are old, you don't have ...
1
Empty Nesters Undertake Second Parenthood
Empty Nesters Undertake Second Parenthood