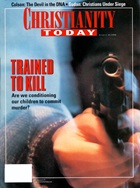 This article is from the August 10 1998 issue. Subscribers can read all of CT's digital archives.
While some of his 13-year-old friends are having fun this summer behind home plate in shorts and T-shirts, Mitchell Johnson is behind steel bars in an orange jump suit at the Craighead Juvenile Detention Center near Jonesboro, Arkansas. In jail since March 24, Johnson, accused along with an 11-year-old boy of shooting and killing four classmates and a teacher in the worst episode of schoolyard violence in American history, awaits trial on murder and weapons charges.
Johnson's youth pastor, Chris Perry, is one of the few outside the prison system granted access to him, even though it is limited to 30-minute intervals through a thick glass barrier. Last fall, Johnson attended the youth group at Central Baptist Church for about two months and showed a growing openness to Christian faith. But Perry saw no warning signs indicating that trouble lay ahead.
LOOKING TO THE FUTURE: When Perry, 37, arrived at the scene after the shootings, he was welcomed as a familiar face, not as an outsider. For years, Perry has sought to be a visible presence as a youth pastor in all areas of the community. "It's very important to build meaningful relationships with the community, the police, the judicial community, the schools," Perry says. "When a crisis strikes, a friend has access that a stranger doesn't."
Since the shooting, Perry has motivated his youth group attendees to see themselves as a buffer within the public-school system, encouraging them to break out of their church subculture and be more intimately involved in the life of their schools.
"I have a heightened sense of the responsibility of the youth group to be a spiritual immunity system on campus for when a little evil hops in," says Perry.
In the aftermath of the killings, the youth ...
1
Our digital archives are a work in progress. Let us know if corrections need to be made.
What a Jonesboro Youth Group Learned
What a Jonesboro Youth Group Learned