Kordell Richardson's mother, a devout Baptist, taught her children never to accept a handout. But when Richardson separated from her husband more than 20 years ago she faced a dilemma. She suffered from asthma, had two young girls at home, and a third was on the way.
A neighbor encouraged Richardson, of Battle Creek, Michigan, to apply for welfare assistance, and she began receiving a monthly stipend through Aid for Families with Dependent Children (AFDC). "They helped me all right—they helped me get in such a big mess," Richardson recalls.
"There was nothing else I could do at that time," she says. "I was pregnant, I couldn't work."
From the start, Richardson says she strived to become self-sufficient. She found a babysitter for her girls and took piecemeal jobs. "Every time I would make a little money, thinking I could safely get off welfare, I got dragged back into it." Richardson tried numerous government-conceived strategies to wean her family from public aid. "It was a dead-end situation," she says. "They always had some program, but it didn't last long enough for you to really benefit, or it closed down."
In 1995, Richardson moved to Lansing, Michigan, where she qualified to rent an apartment at a government-subsidized rate of $8 a month. Her Section 8 caseworker, Mary Ann Harkema, directed the local affiliate of Love in the Name of Christ (Love INC), a community clearinghouse of area churches that links laypeople with neighbors in need.
Harkema encouraged Richardson to obtain work experience through volunteer opportunities. Eventually Richardson landed a paying job, but she told Harkema, "I'll go crazy 'cause I'm going to have some money now, and I'm going to spend, spend, spend." Harkema introduced Richardson to Quality Living, a Love INC 36-week, biblically based life skills class conducted by South Church of the Nazarene in Lansing. She went from welfare to being a homeowner in two years. Richardson, baptized in October, is now a budget counselor in the program at South Church.
"If they can get a handle on a budget, they can get in control of something in their lives," Harkema says. The Lansing Love INC, one of about 100 affiliates nationwide, helps support the Quality Living program in a dozen area churches. In all, 125 families in Lansing have gone through the program, which places churches in a mentoring relationship with families transitioning from welfare to work. Only 10 percent have dropped out.
"True compassion is living with someone, loving, and being close to someone during their ups and downs over a long period of time," Harkema says.
Richardson knows that South Church's help enabled her to break free from welfare. "They didn't just say, OK, this is how you do it," she says. "They were my friends."
WILL CHURCHES FILL THE BREACH? Richardson's metamorphosis has come in the midst of an upheaval in the federal welfare system. Two years ago, Congress passed legislation that ended welfare as America has known it since the New Deal (CT, April 7, 1997, p. 46).
Welfare-reform legislation has been a tremendous success if measured solely by reduction in the number of welfare cases. But when it comes to reducing the number of people trying to escape a lifestyle of poverty, reform has a ways to go. And willing churches have a historic opportunity to help poor people across the board, meeting their spiritual needs as well as their need to earn a living.
The radical overhaul of the system has been based partly on the assumption that faith-based assistance to the poor could not only provide a buffer, but help transform lives far more effectively than the government ever could.
"Society is saying in a way it hasn't for decades that we need help from people of faith," says Evangelicals for Social Action (ESA) president Ron Sider.
The Personal Responsibility and Work Opportunity Act of 1996 replaced AFDC —by then an entitlement to one out of seven American families—with block grants to the states called Temporary Assistance to Needy Families. States are given the freedom and responsibility to design their own programs within certain limited federal guidelines, one being that adults receiving benefits must get a job within two years of receiving aid.
Across the country, caseloads are down, and churches and ministries have taken the lead in many areas in moving people from welfare to work (CT, Sept. 7, 1998, p. 21). But many weaned from welfare rolls still are without jobs.
In Oregon, caseloads have fallen from 42,700 four years ago to 19,300. Some of that decline may be due to a robust economy, analysts say, but studies indicate that welfare reform is likely the major factor.
Many critics of welfare reform note the decline in welfare recipients, but claim that there has also been a dramatic increase in homelessness. The U.S. Conference of Mayors a year ago indicated that homelessness had risen 12 percent, in part because of welfare reform.
"A lot of those families that are leaving welfare are not necessarily leaving because they found a job," says Wendell Primus, director of income security for the federal government's Center on Budget and Policy Priorities. Surveys indicate that only 30 to 60 percent of the families who have left welfare are actually earning money, Primus says.
"The feds have never required the states to do much more than say, By how many has your caseload been reduced?" says Anita Beaty, director of the Atlanta Task Force on Homelessness. "That's the goal—reduce the caseload, reduce the caseload." A true gauge of welfare reform is, rather, how many people are attaining a living wage, Beaty says.
FINDING WORK IS KEY: Finding a job, any job, is the first step toward self-sufficiency, says Lisa Van Riper, executive director of Putting Families First (PFF), a privately financed foundation that places South Carolina welfare families in mentoring relationships with churches and other community groups.
Established in 1996 when Gov. David Beasley authorized the use of $200,000 of his private inaugural funds, PFF has contributed to a 40 percent reduction in South Carolina's welfare role. Around 28,000 welfare families have been required to move toward employment within two years. Fewer than 400 have been terminated for lack of a job, says Van Riper.
"We have 27,600 people in South Carolina who have gotten jobs," Van Riper says. "Our ultimate goal is restoration of a living wage, but it starts with the restoration of a personal work ethic and responsibility—if you have those two, you will get to a living wage." Through PFF's direction, churches form a partnership team to mentor a family for one year, helping meet material, emotional, and spiritual needs, and encouraging them through a two-year transition to build a resume and enhance job skills.
Van Riper says PFF finds that for people to reach a point where they can trade in their benefits for a job, it takes at least $9 an hour, which is more than many entry-level jobs pay. "If they will pay in their monthly stipend check, we counter with health care, transportation, and food stamps, and they can still stay in Section 8 housing," she says. "We don't just pull the rug out and say, Hey, you've got an entry-level wage; bye."
CHARITABLE CHOICE DEBATE: The government's new welfare-to-work emphasis largely complements the philosophy of the Denver Rescue Mission. The 106-year-old mission has a six-month to two-year spiritually based program for women, New Life Rehabilitation, that includes counseling, training in basic life skills, and academic and vocational education.
The program enabled Lynn Harrington, who had been on welfare for five years, to obtain a high-school equivalency degree and qualify to become a medical assistant.
"Without welfare reform I might still be sitting on my butt and not doing anything with my life," Harrington says.
Of special interest to faith-based organizations is the "charitable choice" provision of the federal welfare reform law (CT, Dec. 11, 1995, p. 65), authored by U.S. Sen. John Ashcroft (R.-Mo.). It encourages states to contract with faith-based organizations to provide federally financed welfare services while protecting their religious character.
Whether because of lack of knowledge, confusion, or apprehensions about the law, few religious organizations have taken advantage of it, says Joe Loconte, a welfare reform expert at the Heritage Foundation in Washington, D.C. Many are concerned that charitable choice will lead to significant dependence of the church upon the state.
"The great strength of Ashcroft's legislation is that it codifies this respect for the religious convictions of faith-based agencies and it recognizes in law that the religious dimension to life—what these groups bring—is important and significant," Loconte says. "But I think that as groups begin to get significantly involved in government money, then they're going to run into trouble." Opponents of charitable choice, such as Washington, D.C.-based Americans United for Separation of Church and State, say that it violates the Establishment Clause. But charitable choice is embraced by a broad stream of evangelicals, from the Family Research Council (FRC) to ESA.
Charitable choice's primary strength, says ESA's Sider, is that it allows faith-based organizations to hire people according to its own standards and beliefs—a major sticking point for Americans United, which contends that this amounts to federally financed employment discrimination.
"One of the main things that charitable choice has done is it has helped to build relationships between the [government] human services community and the faith community, even if the faith community is choosing not to formally partner," says FRC director of community outreach Deanna Carlson.
Sider believes that faith-based organizations should not fear a relationship with the government. "It's neurotic to think that we're going to be swept in by the secular forces if we go the route of charitable choice," Sider says.
FAITH PLAYS A ROLE: A close church-state relationship has been crucial to the success of Michigan's welfare reform, which began five years ago under Gov. John Engler. In 1996, Good Samaritan Ministries (GSM) in Holland, Michigan, contracted with a state program aimed at no unemployment, Project Zero.
Through the help of GSM and other faith-based groups, Ottawa County last year became the first in the nation to move every able-bodied welfare recipient into a job.
While GSM receives government funding, the churches it mobilizes, trains, and supports do not. GSM's network of more than 90 churches represents a broad array of Christian beliefs, from Pentecostal to Roman Catholic.
GSM director Janet DeYoung says, "We try to help churches be sensitive to where families are in their spiritual journey, to listen to the questions that they are asking."
Betty Williams, director of the Women's Christian Life program at the Los Angeles Union Rescue Mission, says her clients must be willing to receive Bible instruction and attend church, because it is essential to the program.
"If we received government funding we would not be able to do that," Williams says. "Those women who make serious changes reinforce what the Bible says—change happens on the inside." The charitable choice provision, in fact, states explicitly that funds going directly to religious organizations cannot be used for sectarian worship, instruction, or proselytizing. Efforts are under way in Congress to give taxpayers credits or special deductions for contributing directly to a group of their choice that is helping fight poverty.
TAKING THE FIRST STEP: "For a church to get involved helping people make the transition off of welfare, you don't need a government contract," says Kevin Hunter, director of Vision Northwest, a domestic ministry of World Vision in Federal Way, Washington. "The need is not for the technical services—the state does a pretty good job providing those. What they need is a relationship, somebody to help walk them through the rocky road, up and over the barriers and down through the valleys of the setbacks and the emotional damage."
Last year, a Denver homeless shelter evicted Janice Hannon and her two sons after they had used their maximum 30 days. They moved to a $190-a-week hotel frequented by prostitutes and drug addicts. Though she worked both a day and a night job seven days a week, Janice could not come up with enough cash to pay for a deposit and advance rent on an apartment.
On weekends she left then 12-year-old Ryan and 5-year-old Scotty alone, instructing them to push a chair up against the door for added security.
Hannon unsuccessfully sought help from several agencies in an effort to obtain enough money for an apartment. Finally, Hannon learned about Pros with a Purpose, which recruits church groups to adopt homeless, working families with children under 16. The organization, which this year came under the direction of the Denver Rescue Mission, paid the first month's rent and security deposit for an apartment.
"The manager knew we were coming from a motel and didn't do a credit check —he knew we wouldn't pass," Hannon says. Members of the church team came over each month to help with her budget. "I would still be homeless if not for them."
Del Maxfield, president of the Denver Rescue Mission, warns that many of the people to whom his group ministers face enormous and complex problems that cannot be addressed simply through informal relationships and short-term programs. Both church and government officials sometimes have difficulty understanding that, he says.
A belief that persists in ministry to the poor is that "if you could sweep all the street guys in off the street into a chapel and give them a good message and have them all come forward to the altar, it would mean the end of homelessness," Maxfield says. "That is the single biggest spiritual myth that ever happened in our work.
"These folks walk back out the doors and face some of the most difficult, practical, social, political, and every other kind of problem on the face of the earth," Maxfield says. "And if we say, Here you have Christ, and you can walk out the door and your problems are solved; what we've done is just given them a piece of paper armor."
In 1987, the Denver Rescue Mission designed the first five-phase, two-year program in the nation. "It was almost unheard of that you would keep anybody beyond a maximum of 120 days," Maxfield says.
NATIONAL SUMMIT IN FEBRUARY: How will churches respond to a call for help by government that essentially amounts to reclaiming its historic role in social ministry? "We're so trapped in our materialism and our self-centered narcissism that not many of us will do it," Sider says.
Maxfield agrees. "We can't get churches to respond," he says, despite the mission's $9 million budget and outreach to thousands of people.
He finds much more success in recruiting individual Christians to ministries such as Pros with a Purpose, which has pulled together 100 groups from churches since the beginning of the year.
"The vast majority of churches are doing very, very little and just beginning to say, Yeah, we've got to do something," Sider says. "And they don't know how to do it; so one of the most important things right now is work with local congregations."
ESA is launching Network 935, a program to provide tools for local churches that want to combine evangelism with social concern.
Increasingly, socially conservative churches are dialoguing with their more liberal colleagues on ministry to the poor and finding a basis for agreement and cooperation.
"The heart is there to help their neighbor," the FRC's Carlson says of conservative evangelical churches. "On the practical side, they need some assistance in creating an infrastructure where they can actually help the poor, whereas the liberal churches seem to have that infrastructure, but maybe the heart isn't there as much as it used to be."
In February, church leaders will have a fresh opportunity to examine ways to debate additional welfare reform measures. Call to Renewal, the Washington, D.C.-based organization directed by Sojourners head Jim Wallis, will convene the National Summit on the Churches and Welfare Reform February 1-3. Participants will include the National Council of Churches, the National Association of Evangelicals, the U.S. Catholic Conference, the FRC, and World Vision.
Sider says, "The conservatives are sort of getting what they wanted on welfare reform and are now realizing that it's more in the court of churches and volunteer organizations: We asked for it; we had better put up or shut up."
Have something to add about this? See something we missed? Share your feedback here.
Our digital archives are a work in progress. Let us know if corrections need to be made.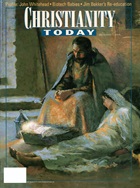 This article is from the December 7 1998 issue.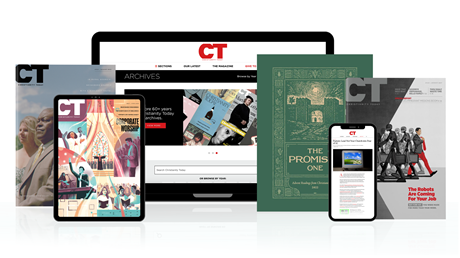 Annual & Monthly subscriptions available.
Print & Digital Issues of CT magazine
Complete access to every article on ChristianityToday.com
Unlimited access to 65+ years of CT's online archives
Member-only special issues
Subscribe
Read These Next
Trending

American Christians Should Stand with Israel under Attack

While we pray for peace, we need moral clarity about this war.

From the Magazine

I Studied Christianity with the Hope of Debunking It

A decade later, I became a Christian.

Editor's Pick

Don't Miss These African Christmas Hits

Jam out this season to highlife, Afrobeats, jazz, a cappella, R & B, rap, dance, and hip-hop artists from Nigeria, South Africa, and more.
After the Revolution
After the Revolution