Some years ago I cared for a nine-year-old boy with a deadly brain tumor. I have never known a child with that tumor to survive more than a year. One of my partners had the difficult task of telling his parents the diagnosis and prognosis. This doctor had told them the whole truth and nothing but. I know his style—patient, thorough, compassionate.
Young Kyle went through radiation treatments. With that and the help of steroids, most of his symptoms went away. About a month after the treatment ended, I repeated the mri to see where things stood. The pattern of black and white and gray said that nothing had changed. How much nicer it would have been if all the sinister shadows had disappeared, if only for a little while. How, I wondered, would I tell the family this?
Kyle was in the room when his mother asked the results. "I have some good news," I told her. "The tumor has not progressed." Well, my hopeful spin was true—half true. But neither had the tumor gone away.
That evening Kyle's mother and I were guests on a local television talk-show. Kyle was there, too, sitting between us in a spiffy three-piece vested suit. At the end of the interview, his mother said directly to the camera, "I have to tell you what happened today. Today Doctor Komp told me that my baby is going to be okay. There was another doctor we called 'Doctor Gloom and Doom,' but Doctor Komp told me my son would be okay."
How could I correct her in front of her son, in front of the television audience? I smiled weakly, regretting that I had so softened the news that she had drawn that incorrect conclusion.
When Kyle died, the family did fine, even with the less euphemistic doctor they called "Gloom and Doom." But I've been thinking about my choice of words ever since.
There is so much bad news in this world that seems to beg to be softened, especially in the field of medicine. This verbal softening-up process intends to console the hearer, but more often it comforts the euphemizer rather than the "euphemizee."
Euphemizing risks the dissolution of the truth, and sometimes it covers up danger.
One morning in Chicago I set off early from my hotel to mail a package and met two friendly police officers standing on the street corner. I asked them if there was a post office nearby.
"Whew!" said one cop shaking his head. "Not around here."
"Where's the nearest post office?" I wondered aloud, looking to his partner who might be more informative.
"Not within walking distance," his partner answered. "About six blocks that way," he said, waving his hand in the direction somewhat vaguely south.
"Not within walking distance," both officers repeated. "ups will be open at 10:00 a.m. Why don't you just wait?"
Why wait when six blocks is not too far to walk? Having the time and needing the exercise, I set off past handsome banners that proclaimed "Illinois Medical District." The flags pointed to the illuminated crisp medical towers of South Ashland's Bedpan Alley.
There were many churches along my route to the post office. Bullet-shaped holes marred the simple glass cross on a Lutheran house of worship. A sign was broken off another church, but her boarded doors still proclaimed her watchword: "As for me and my house, we will serve the Lord." Hard to serve God on South Ashland, it would seem. Hard to come within walking distance.
My path took me down the streets of Cook County's encatchment area. Encatchment area—that's medspeak for the 'hood that fills the bedpans of this Chicago Hope. When I was a young doctor, Cook County had 3,000 active beds. Today fewer than 500 beds remain open for the sick of South Ashland who are sicker now than they have ever been before. I wondered whether visiting nurses need police escorts here as they do in the neighborhood that surrounds New Haven's Pill Hill where I work. It's not easy to serve those who have been managed-cared out of those 2,500 other beds.
"Not within walking distance" was the policeman's way of saying to me, "You shouldn't walk there." But the people who live on South Ashland walk there every day. As I strolled past an old brownstone house on that nippy autumn day, a young working woman in stilettoed heels and micro-miniskirt shouted final instructions to her latchkey son before moving toward a shiny new Lincoln Town Car blasting gangsta rap music at the curb. The people of South Ashland live within walking distance of poverty and prostitution and crime.
Not within walking distance is a way we can use words to stand at a distance from truth, when truth is too uncomfortable. A euphemism is one way, but there are other wordy ways to separate ourselves from that which is truthful but painful.
With euphemisms and passive voice, it's nobody's fault. No-fault syntax, says John Leo, is crucially important when issuing vague, no-apology regrets (Charlestown Daily Mail, Feb. 11, 1997).
We don't slice our hospital budgets these days. We participate in patient-focused operational redesign. Patients don't die in our midst. They just expire. Following their expiration, we don't send them to the morgue. We discharge them to Brady. A dead body isn't a corpse either. It is the remains.
I like what Hannah More said about precision with words. "Let us fortify our virtue by calling things by their proper names" (Religion of the Heart, Paraclete, 1996).
Sasha is a recent college grad who had hoped by now to have found a high-paying engineering job. Instead, he's hoisting trays at the Chowder Pot and is mighty, mighty eager to please.
"Did the Shrimp Florentine meet with your satisfaction, Ma-dam?" he purrs to me. Ma-dam beams back her approval as she reaches for her Visa Gold.
My wallet falls open, revealing the photo of a sweet-faced baby, my little Crumb Bunny. Praying for a better tip, Sasha seizes the moment and coos, "Your daughter?" (Well, not unless Sarah and Elizabeth move over for another late-life miracle!)
"No," I explain. "My granddaughter."
Sasha bows respectfully from the waist, "You must be very proud."
I am proud. And in a way, I am Crumb Bunny's "grandmother"—albeit an honorary and not a biological one. At my hospital a few years back, someone who didn't know that I was her doctor mistook me for one of her grandmas. In all the excitement that day about the bone-marrow donation that was arriving from England to save the child's life, someone interpreted my loving enthusiasm as an emblem of relationship.
Is it a lie, really, for me to perpetuate this warm, cozy myth of kinship? More a half-truth than a lie, it's a proud piece of puffery. Perhaps even literary license. Certainly not as black as sin. Surely my tender words of appreciation for a fragile young life won't poison the entire world. What difference does it make after all, I tell myself, if a childless, middle-aged woman embroiders a harmless piece of dining-room brocade?
The strangest thing about half-truths is how easy it would be most times for us simply to tell the whole truth. That day at the Chowder Pot I convinced myself that Sasha had no real interest in hearing my answer to his question. He was only making chit-chat, I concluded, just warming me up for a better tip. Does a brilliant young engineer cleverly disguised as a menial waiter really want to hear about me? Perhaps it is not Sasha but I who don't want to invest the time in the truth.

Euphemizing risks the
dissolution of the truth,
and sometimes it
covers up danger.

Awhile back I spoke to a group of women physicians who gathered to discuss the impact of their Christian faith on their personal and professional lives. One doctor came to that conference with her young baby. At the opening banquet, that tyke made quite a hit. Weary after a long work week, we now had a special reason to relax and smile together.
"Children are important to all of us," I told that audience of professional women, "even for those of us who will never be biological moms." Then I told these women doctors a story I had never told anyone else before.
One of the things a woman doctor learns early in her education is to put away her tears, even when the normal response would be to cry. "It's not very professional." "Big boys don't cry." "I'm tired of crying." Name your own tear-stopper. But the most important day for us can be the day that we reclaim our canceled tears. For me, that date came soon after I came back to Christian faith at the age of 40. I wanted to learn how to pray, so I asked a hospital chaplain to be my guide.
Toby caught me off guard when he encouraged me to ask God for a gift, the deepest desire of my heart. Right there, on my knees, I began to weep, but I still held back from being honest with God.
"No! No! I can't!" I insisted. Toby encouraged me to look into Jesus' eyes. "Tell Jesus about the deepest desire of your heart."
I resisted for the longest moments. Then, I told Jesus that I wanted a child.
There are those who might say that God never answered my prayer that day. I'm 58 years old and "barren," as King James English puts it. Perhaps God has never fulfilled my heart's desire in the way that I envisioned, but my prayer bore fruit at that conference when I told those women doctors the story of my recaptured tears.
The next afternoon, other women wept and shared deeply the wounds of their own hearts. Unlike the courtroom where the judge sternly warns witnesses to control their emotions, we gave each other permission to cry.
A beautiful young mother mourned as she told the story of her infertility, then later the crib death of her lovely, new adopted child. She and her husband were devastated by their double loss. More tears poured down her cheeks when she confessed her jealousy of that other mother whose baby stole the show at our opening dinner. Then, other women took off their smiley masks as well, and we all were healed as we listened to each other's true stories.
Back at the Chowder Pot, I should not have crossed over the line from fact to fantasy with Sasha. I'm not at all certain that he would have heard what I had to say, but I don't really know that for a fact. I should just honestly have said, "This is the child I always wished that I could have had." That is the truth. I love my little Crumb Bunny with all of my heart.
If I had told Sasha that truth instead of my charming little puffed-up lie, who knows what desires of his own heart might have had the opportunity to rise to the surface? His own longings might have been translated into healing words or reconciling tears.
Diane M. Komp is professor of pediatrics at Yale University School of Medicine. This article is taken from Anatomy of a Lie, by Diane M. Komp. Copyright © 1998 by Diane M. Komp. Used by permission of Zondervan Publishing House.
Have something to add about this? See something we missed? Share your feedback here.
Our digital archives are a work in progress. Let us know if corrections need to be made.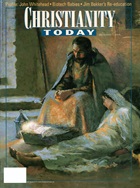 This article is from the December 7 1998 issue.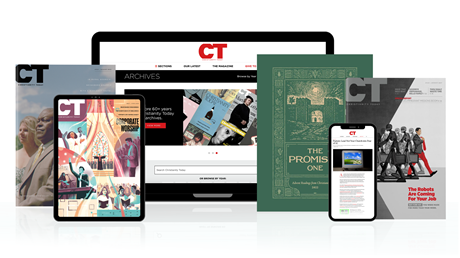 Annual & Monthly subscriptions available.
Print & Digital Issues of CT magazine
Complete access to every article on ChristianityToday.com
Unlimited access to 65+ years of CT's online archives
Member-only special issues
Subscribe
Spinning the Truth
Spinning the Truth