Shortly after Bob Beckett learned that the Hemet, California, property he planned to occupy had been a transcendental meditation hot zone, he pulled out an area map and marked the spot.
His finding eventually turned into a concerted, ongoing probe into the dark, spiritual underside of the desert community, southwest of Palm Springs. Beckett, who later planted a church in the city, believes that this spiritual reconnaissance—which he now recognizes as spiritual mapping—provided the fuel for focused prayer that not only unleashed church growth, but has begun to transform Hemet's social fabric.
Beckett's report was one of a half-dozen success stories presented to 400 participants from 31 countries at the first International Consultation on Spiritual Mapping in Tacoma, Washington, in November. Other descriptions of transformation came from Kenya, Nigeria, Colombia, Ecuador, and Guatemala, where Christians claim that a breaking of a territorial spirit's power over their country resulted in unprecedented church growth and the end of 36 years of civil war (CT, Feb. 3, 1997, p. 76).
A PRAYER TOOL: Spiritual mapping is a term coined in 1991 by the Tacoma meeting's organizer, George Otis, Jr., but enthusiastic proponents say it is really the reprise of an old practice that can help propel the church toward fulfillment of the Great Commission.
Spiritual mapping, says Otis, president of the research agency the Sentinel Group, is nothing more ethereal than creating a spiritual profile of a community based on careful research. It is a tool, he says, for intelligent prayer aimed at opening spiritually blind eyes to the gospel.
Otis poured seven years of global research into his new book, The Twilight Labyrinth: Why Does Spiritual Darkness Linger Where It Does? (Chosen Books). He has identified 15 "transformed communities," of which 14 incorporated spiritual mapping. Two factors present in all 15, Otis says, are "persevering leadership" and "united prayer." Commitment is the key, he says. "God didn't move in Hemet until Bob bought a burial plot in the city."
Otis has developed a 28-stage scale to measure the progress of a community from the "spiritual beachhead" phase to "spiritual breakthrough" to "spiritual transformation." Spiritual mapping does not begin until stage nine, Otis points out. "When you reach that point you have a core of intercessors in a community really petitioning God for a visitation," he says.
"LESS FLAKY": Though it still raises many eyebrows among evangelicals, spiritual mapping is gaining broader acceptance, as evidenced by the AD 2000 United Prayer Track's Spiritual Mapping Division, which Otis heads. United Prayer Track coordinator C. Peter Wagner teaches a class on spiritual mapping at Fuller Theological Seminary, which is capped by a field trip to Hemet guided by Beckett.
"There's a lot less flaky stuff in 1997 than in 1990," Wagner says. "We're on a learning curve."
Many of spiritual mapping's detractors have less of a problem with spiritual mapping than with its most common applications, "strategic-level warfare"—defined by Wagner as discerning and praying against territorial spirits assigned to a community—and "identificational repentance."
John Dawson's bestseller Taking Our Cities for God (Creation House, 1989) promoted identificational repentance as a way of breaking Satan's hold on a city and bringing reconciliation through confessing and repenting of community sins.
CAUTION URGED: Biola University Talbot Theological Seminary professor Clinton Arnold, author of Three Crucial Questions About Spiritual Warfare (Baker Books, 1997), finds no biblical basis for taking an aggressive posture against high-ranking evil powers, and he is cautious about a leader repenting for sins in which he did not participate. But Arnold does see value in spiritual mapping "to guide intercessors" as they pray for the lost.
Greg Boyd, author of God at War: The Bible and Spiritual Conflict (InterVarsity, 1997), cautions that there is no clear New Testament precedent for strategic-level warfare. "That doesn't mean you need to rule it out, but it does mean you've got to be careful about excesses," says Boyd, a professor at Bethel College in Minnesota. "I've seen this get real wacko, where people are rebuking a demon over Minnesota. It's better to spend more time on things that have clear precedent."
Otis places the emphasis of spiritual warfare on battling strongholds of the mind rather than of geographical locations, though he does believe that places can become strongholds when they become focal points for deceptive practices. "People who begin spiritual mapping with a focus on trying to identify and name prevailing territorial spirits are likely to get sidetracked," he says.
GAINING ACCEPTANCE: Otis predicts that by the end of the century spiritual mapping will become mainstream. Most of his teaching and training is with evangelicals, whom he finds generally more responsive than charismatics. Still, many evangelical leaders are concerned that this may be a passing fad. Otis says spiritual mapping is especially needed now because Satan will increase his resistance to the church as it moves toward fulfillment of the Great Commission.
"The 1990s are not the 1790s," Otis says. "God is very wise and very resourceful, and he brings to his church different emphases, different methodologies, different strategies to commend the gospel to the prevailing culture."
In 1998, Otis's Sentinel Group, Wagner's Global Harvest Ministries, and Ted Haggard's Christian Information Network plan to move into the high-tech World Prayer Center on the grounds of Haggard's New Life Church in Colorado Springs (CT, May 20, 1996, p. 78). Spiritual mapping will be central to the operation of this "electronic nerve center to connect the intercessors and let each other know what they're hearing from the Holy Spirit," Wagner says.
Have something to add about this? See something we missed? Share your feedback here.
Our digital archives are a work in progress. Let us know if corrections need to be made.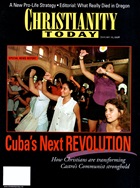 This article is from the January 12 1998 issue.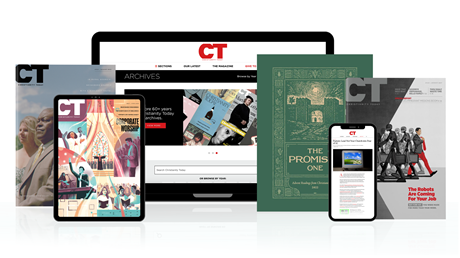 Subscribe to Christianity Today and get access to this article plus 65+ years of archives.
Home delivery of CT magazine
Complete access to articles on ChristianityToday.com
Over 120 years of magazine archives plus full access to all of CT's online archives
Subscribe Now
Spiritual Mapping Gains Credibility Among Leaders
Spiritual Mapping Gains Credibility Among Leaders