In 1991, Frederick Chiluba, as Zambia's newly elected evangelical president, declared the southern African country of 10 million a "Christian nation." He promised to fight corruption and to infuse biblical values into the country's political life.
But today, outspoken critics—increasingly including some evangelicals—say the 54-year-old Chiluba is vindictive against political opponents and tolerates corruption within the government.
Critics see a wide gap between Chiluba's religious rhetoric and his political practices. "Chiluba is saying good words but doing evil deeds," says Akashambatwa Lewanika, who served in Chiluba's cabinet in 1991 and is now an opposition leader. "He is proclaiming universal Christian love, but persecuting [the opposition] with personal hatred and vicious vengeance."
Chiluba has come to his own defense. When the Zambian National Assembly opened in January, Chiluba said, "My government has clearly demonstrated its determination to change the face of this country for good and the better."
VINDICTIVE POLITICS? Critics cite Chiluba's treatment of 73-year-old Kenneth Kaunda, who led the country for its first 27 years, as evidence of vindictiveness.
Kaunda, irked by a Chiluba-endorsed law that barred him from running in the 1996 elections, mounted an international campaign to discredit Chiluba's rule. On several occasions, Kaunda's statements appeared to incite public disorder. In August, Kaunda suffered injuries in a confrontation with police, and he claimed Chiluba had plotted an attempt on his life, a charge the president has denied.
Then, in October, Kaunda predicted that an "explosion" would rock the country. A few days later, some soldiers seized the country's radio station and claimed they had toppled Chiluba because of government corruption and chaos. The dissidents held the radio station for three hours and attacked the homes of top military officers, but the army quickly subdued them.
Afterwards, Chiluba invoked state-of-emergency powers, which allow police to arrest and detain suspects for 28 days without a court hearing. Police arrested 90 opposition figures allegedly linked to the coup. On Christmas Day, police surrounded Kaunda's residence and whisked him to prison.
"People are upset and disillusioned because they don't know who will be arrested next," says Nevers Mumba, an evangelical leader who had been a confidant of Chiluba but now leads the opposition National Christian Coalition. "What has happened is humiliating to this nation."
After international pressure, Chiluba released Kaunda, but placed him under a gag order and house arrest. Police cut off Kaunda's phone lines, fenced his residence with barbed wire, and camped outside his house.
During his own reign, Kaunda had arrested Chiluba, who became a Christian in jail. Now, Chiluba insists he is upholding the country's constitution, not seeking revenge. "You cannot break the law and expect to stay free," he says of Kaunda's actions.
CORRUPTION TOLERATED? Chiluba is also criticized for failing to control his money-hungry ministers, who drive expensive cars and own choice land. Mumba claims the country's political system is a haven for corrupt officials, an accusation that has been growing the longer Chiluba is in office (CT, April 3, 1995, p. 94).
Still, some evangelicals are solidly behind Chiluba. "He has the interest of the nation at heart," says Joshua Banda, vice president of the Assembles of God, the country's largest evangelical group. "He has brought about an enhancement of democratic ideals in the nation." Chiluba worshiped at Banda's church the Sunday after Kaunda's arrest.
Some critics contend that Chiluba has kept key Christian leaders in tow by doling out cash. Human-rights activist Ngande Mwanajiti says church leaders only make public comments "when appealing for funding from the president for their churches."
Church leaders also shy away from directly challenging Chiluba because they fear losing privileges. Chiluba's government issues diplomatic passports to top clergy, but Mumba's was withdrawn when he criticized Chiluba's government.
FUTURE VISION: Christian leaders say Chiluba has not been effective in assuring that when he leaves office the country's citizens will have a firm grounding in Christian ideas and ethics.
Until late last year, church leaders assumed that Chiluba's then vice president, Godfrey Miyanda, would be Chiluba's successor. Miyanda, a retired general and a Christian, is popular in evangelical circles. But Chiluba stunned the Christian community when he dropped Miyanda from the vice presidency and offered him the politically low-profile post of education minister.
Besides Chiluba, Miyanda was the only visible Christian in the ruling Movement for Multiparty Democracy (MMD). Miyanda does not have enough clout in the MMD to clinch the presidential nomination without an endorsement from Chiluba. And Christians fear the next president may care little about Christian values.
Banda says he is consoled by the preamble to the country's constitution, which says Zambia "shall be a Christian country." Backed by such a statement, Christians can pressure the government to uphold Judeo-Christian values, Banda says. "But this is a matter for serious prayer."
Have something to add about this? See something we missed? Share your feedback here.
Our digital archives are a work in progress. Let us know if corrections need to be made.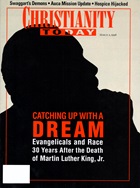 This article is from the March 2 1998 issue.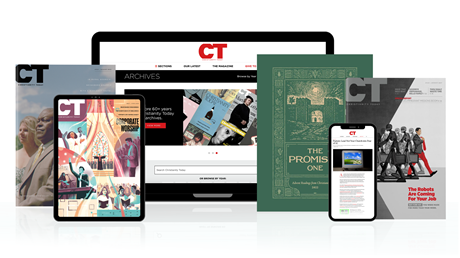 Annual & Monthly subscriptions available.
Print & Digital Issues of CT magazine
Complete access to every article on ChristianityToday.com
Unlimited access to 65+ years of CT's online archives
Member-only special issues
Subscribe
President Disillusions Christians
President Disillusions Christians