Christian couples with high-risk pregnancies, often due to biotech fertility treatments or a fetal illness, may find themselves facing an agonizing decision, not just an eagerly awaited birth.
When their physicians intensively use fertility drugs and in vitro fertilization, the chance of a multiple conception increases dramatically. In facing the complexities of gestating and birthing triplets or even octuplets, physicians often advise would-be parents to "selectively reduce" the number of living embryos in order to give the others a better chance at life. And even in the more common instance of twins, some physicians recommend aborting one of the fetuses when medical complications arise.
For Scot and Patty Shier of Los Angeles, who faced the question of selective reduction, the promise of having their own baby became a perilous journey through high-tech bioethics.
After more than four years of infertility, the Shiers sought help at a fertility clinic. Because Patty had scarring from a ruptured appendix in childhood, in vitro fertilization—in which eggs and sperm are mixed in a petri dish and the resulting embryos are implanted in the womb—was their only hope for having their own children.
The Shiers, members of the 2,000-member Hope Chapel in Hermosa Beach, say they prayed for God's will in the situation. But not only did several in vitro attempts fail, two adoption attempts also fell through. So they decided for one last attempt. Concerned that job stress might be part of the problem, Patty, a software support technician, took a leave of absence and waited for a call from the clinic. When the phone rang on July 4, 1995, she quickly sensed a different result. The disappointing news of a negative pregnancy test had always been administered by the clinic's sympathetic nurses. This time the doctor was on the line. Yes, she was pregnant. But the doctor did not sound happy, saying Patty should prepare for multiple births.
Twins! Patty thought. Maybe triplets. That would be a lot of work, but after all, she and Scot really wanted a family, and families are work.
The couple went for the first ultrasound examination at six weeks in utero. Nurses crowded into the room, and the doctor started counting.
One. The nurses smiled. Two. The nurses were still happy. At three, the nurses' beaming dissipated. By four, they quietly filed out of the room. At the five count, the doctor blurted, "We have to talk about selective reduction."
ROOM FOR WOMB MATES: Selective reduction, or multifetal pregnancy reduction, would mean that at around 11 weeks' gestation, a specialist would insert a needle into a fetal heart and inject potassium chloride, causing immediate death.
The stakes for multiple birth are high. There are many genuine risks for infants who have numerous womb mates, mostly resulting from premature birth. The at-risk group has a higher percentage of problems ranging from respiratory infections to cerebral palsy.
Statistically, larger women do better with higher-order multiple births, such as quintuplets. But Patty was only 5 foot 4 inches and weighed 115 pounds.
The doctor told the Shiers he did not believe in abortion, but they had no other choice. If the Shiers did not selectively reduce, the physician said, not all the babies would survive birth. Nevertheless, Patty refused to allow such a procedure. The doctor rejected the Shiers' request for a referral to a physician who would try to deliver all the babies—unless they also agreed to see two doctors who practiced selective reduction.
Scot, a stockbroker and former Air Force aeronautical engineer, worried about Patty's health. He called a Hope Chapel minister for advice. "I knew God would not want me to take a life," Scot says he decided after counseling and prayer with the pastor. "We were on the right track."
The couple never went to either reduction specialist, but made an appointment instead with a Christian perinatologist who specialized in high-risk pregnancies.
At week 8, before they visited the perinatologist, Patty lost one of the fetuses as they drove to church one night. Patty recalls having a great peace of mind despite the loss. Shortly afterward, the perinatologist started a very detailed ultrasound, identifying the offspring as Baby A, Baby B, Baby C, Baby D, and Baby E. Apparently Baby E had been an unnoticed sixth.
After that, Patty's pregnancy progressed well, which the Shiers attribute to constant prayer by their friends and other Foursquare church members. She did not require hospitalization until the twenty-seventh week. When Joshua, Jonathan, Rachel, Hannah, and Sarah came into the world on January 23, 1996, they had the best birth status to date for quintuplets in the United States. They were born at 34 weeks, with no defects, and a minimum birth weight of 3.5 pounds each. When the quints came home, 35 women from Hope Chapel acted as volunteers to help feed and care for them, and provided meals for the first six months.
IN GOD'S HANDS: Multiple pregnancies do not always end in triumph, even when biotech methods are avoided. Chad and Britta Bergacs of New Mil ford, New Jersey, found out in 1997 that they were expecting twins, after more than two years of trying. During an ultrasound at 17 weeks, the doctor found a tumor on one twin, whom the parents had named Joshua.
Several doctors recommended aborting Joshua to give the other twin, Matthew, a better chance. The Bergacs refused, deciding to leave it in God's hands.
Then the doctors offered another option: cesarean section, if the twins could just make it to 28 weeks without complications. Afterward, surgeons said, they could operate on Joshua and re move the tumor. Britta agreed to partial bed rest, living with her in-laws so she could receive treatment in Philadelphia. But by 28 weeks, Joshua began to show the effects of his tumor. The night before the operation, both twins died. "My husband and I were devastated," Britta recalls. "But, we have never thought twice about giving both our boys a chance. We don't have to explain to a remaining son why we aborted his brother." The Bergacs have joined the waiting list for an adoptive child.
"We have never thought twice about giving both our boys a chance."
Doctors also told Robert and Nicole Klan of Bethel Park, Pennsylvania, to "reduce" their triplets, two boys and a girl. The advice is routinely dispensed at just over five weeks, when a fertility-drug pregnancy is confirmed—but before there is any indication of medical complications.
The Klans, who are Baptists, turned down the initial advice, but doctors renewed the appeal at 17 weeks when an ultrasound showed that the two boys had defects. An amniocentesis test suggested that only one of the boys had a defect—spina bifida.
After agonizing for several days, the parents refused to "reduce" him. "Eventually we realized that God did not make mistakes," Nicole recalls. "He would work it out for our good and his glory." When Trisha, Jonathan, and Jaden were born in September 1997, Jaden had no mobility from the hips down. In August, the triplets celebrated their second birthday. Jaden gets around by using arm braces, which his mother considers a miracle.
IS BIOTECH AN OPTION? Is high-tech fertility a legitimate option for Christians? Gilbert Meilaender, professor of Christian ethics at Valparaiso University, thinks not. "Parents, including Christian parents, need to get a grip on this overwhelming desire to have their own child. If this is what it takes, then that desire should be repressed," he says.
Meilaender is troubled by the tendency for children to become the products of a process and for parents to become victims when things go wrong with the process. "But the real victims are the children, who are often born with considerable defects or get fetally reduced," he says. "It's all too easy to think [as a parent] that, because I have to agonize over this, I am the one who is being victimized."
But William Dodds, a Christian Re formed physician who practices at Michigan Reproductive and In Vitro Fertilization Center in Grand Rapids, Michigan, disagrees. "I think it is important for Christian physicians to be involved with reproductive medicine," he says. "Christians can help shape what should be done. Christians can help couples make decisions that are in concert with Christian principles."
Dodds also believes that it is possible to perform assisted reproductive techniques in a Christian manner with a very high respect for human life. "I see these as just techniques," he says. "In and of themselves, I don't think they're wrong."
Dodds opposes research on embryos and discarding embryos. "Our principles are that once an egg is fertilized it is a human life and respected as such," he contends. While he is legally required to tell couples of their right to selectively abort children in higher-order pregnancies, he does not advise them to do so.
He also feels that the risk of multiple births is actually greater with fertility drugs, in which the number of eggs released may be unpredictable, than with in vitro fertilization, in which the number of embryos implanted at a given time can be controlled.
But fertility is big business. The reputation of clinics depends on "success rates," says Gene Rudd, a former obstetrician-gynecologist who is associate director of the Christian Medical and Dental Society.
To enhance their standing, Rudd says, clinics use techniques that increase the risk of multiple births, and then often offer the couple selective reduction if a large number of embryos are successfully implanted. According to Rudd, 75 percent of all multiple gestations in the United States today are due to high-tech techniques: 35 percent to in vitro fertilizations and 40 percent to fertility drugs.
"In in vitro fertilization, they take lots of eggs, fertilize them all, and take four, five or six and implant them, knowing that their success rate is higher," he says. In the high-tech reproductive world, one embryo has a 12 to 15 percent success rate. Four embryos give a 50 percent chance of one live baby.
When clinics compete for money and success rates, they are pressured toward fertilizing and implanting more embryos, Rudd says. Clinics view a live birth of twins as a score of two, even if the twins started out as quintuplets—so long as the parents accept reduction.
What if patients tell a clinic that they only want to fertilize and implant two or three eggs, because they did not think they could handle an instant family of four or five? "There's the rub," Rudd says. "Clinics don't want to do that. They would do it if the couple insisted. But often, they don't offer that alternative to patients."
Joe McIlhaney, president of the Austin, Texas-based Medical Institute for Sexual Health, says both patients and physicians often insist on going ahead because the patients who turn to advanced reproductive technology have typically gone through years of infertility. "There's a sense of 'Anything we can do to get pregnant is worth it,'" he says.
It is the same story with fertility drugs such as Metrodin and Pergonal. McIlhaney, an obstetrician-gynecologist for 28 years, bluntly states that most of the multiple pregnancies "don't need to happen." He suggests that a doctor should monitor egg follicles that ripen and skip cycles when fertility drugs have caused large numbers to ripen at once (the condition necessary for multiple babies to be conceived).
Christian couples need to realize that avoiding ethical dilemmas may take a little longer, cost more, and involve additional discomfort, says William Cutrer, an obstetrician-gynecologist and associate professor of Christian ministries at Southern Seminary in Louisville, Kentucky.
Cutrer believes that couples should refuse to implant any embryo they do not expect to carry to term. He also recommends against having embryos frozen in liquid nitrogen, in case future attempts are needed. What will be done with ten frozen embryos if the couple has already had triplets?
"If you only fertilize three eggs a cycle, you don't have ten more in the freezer to try next month," he says. "You have to go and reharvest eggs, so that would be expensive. But you avoid the ethical quagmire." He doubts that a couple's chances of taking home at least one baby are harmed by ethical caution.
There are now about 100,000 human embryos in liquid nitrogen tanks around the United States, McIlhaney says. Generally, they are discarded after five years. There is increasing pressure to use them for research, although some are exploring embryo adoptions (see "Embryo Adoption," p.63).
WHO IS IN CONTROL? Women who have struggled for years with infertility have trouble picturing themselves with even one child, let alone a large, instant family. Looking back, Nicole Klan recalls that she never really anticipated triplets, although multiple births are listed as a possibility on fertility drug labels.
And Scot Shier, father of quintuplets, was assured by the fertility doctor that the Shiers would be fortunate if one of their six or more in vitro embryos actually made it to birth.
Even without modern interventions, older women are more likely to have multiple births than younger women, Rudd says. And now, when more women delay pregnancy until middle age and seek assisted re production, the numbers rise.
But will a Christian couple have the opportunity to follow an ethical approach? Louise Bijesse of Stony Brook, New York, was shocked when her obstetrician suggested reduction of her triplets, who were healthy and born without any disabilities last year.
Individual Christians and churches provide lots of support and moral advice, but referrals to Christian medical help and awareness of specific risks lag far behind.
For example, the Christian Medical and Dental Society does not provide a list of fertility clinics that follow Chris tian principles, because it has no way of ensuring professional competence.
Cutrer does not feel it is necessary for Christians to seek out Christian doctors or clinics. "That's not as important as knowing what the procedures are and what you believe. The clinics will generally work with the patient. They couldn't care less about the Christian ethical point of view, but they are willing to limit the number of eggs that are exposed to sperm, limit the number that are reimplanted, so the patient really can control that aspect of care."
Clergy usually do not know the ethical dilemmas that Christian couples risk, says Robert Evans, president of the California-based Veritas Christian Research Ministries, which provides bioethics seminars in churches. Too often, he says, counseling focuses on the issue of whether couples should pursue assisted reproduction at all and ignores critical details.
But does the problem lie in the critical details or in a critical shift in thinking? Meilaender, for example, is skeptical of efforts to set up the procedures in order to avoid selective reduction. He believes that, while such efforts are well meant, they may miss the point of the problem. "The very fact that we have this technology helps all of us to think of children as our personal project," Meilaender says. "I think we don't even realize how much the Christian community has bought a general attitude toward having children."
LINGERING DOUBTS: Those Christians who opt for selective reduction do not seem to find it the easy way out. One woman, identified only as "Rebekah," posted a message to Hannah's Prayer, a Web-based resource for Christian couples struggling with infertility (www.hannah.org). Faced with a move overseas, she opted to have her triplets reduced to twins and now longs for her "little lost triplet."
"I pray that I will be forgiven by God and would like to get the word out to anyone who is considering selective reduction that scars left by such a procedure last far longer than a difficult pregnancy," she writes.
Theresa Burke, founder of Rachel's Vineyard, which conducts post-abortion retreats, remembers a couple pressured by doctors to reduce their quadruplets to twins and then experienced much grief and guilt.
Infertile couples are especially fragile, she says. "They value the life and they've struggled to conceive. So when a child is created because of all their efforts, they want to keep them." Her retreat enabled the couple to name their lost babies and grieve for them.
Despite their high-tech story, now that the quints are three years old, the Shiers behave like any traditional large family: They buy economy sizes, and Scot proudly hails his wife as the queen of garage-sale shopping. "She never pays more than a dollar for their clothes," he says. Patty often thinks about their sixth baby. "I will look around and all five children will be with me, and I think one of them is missing. In a sense, one of them is missing." She has thought about the pressure she faced for selective reduction: "I wish that we had done a better job of investigating clinics. There's got to be Christian fertility doctors out there. There just have to be."
Have something to add about this? See something we missed? Share your feedback here.
Our digital archives are a work in progress. Let us know if corrections need to be made.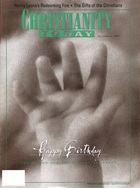 This article is from the December 6 1999 issue.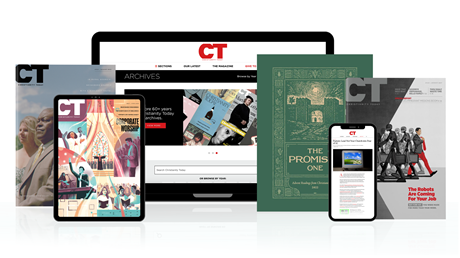 Annual & Monthly subscriptions available.
Print & Digital Issues of CT magazine
Complete access to every article on ChristianityToday.com
Unlimited access to 65+ years of CT's online archives
Member-only special issues
Subscribe
No Room in the Womb?
No Room in the Womb?