"Honduras, always relatively helpless, has now been reduced—fragmented—into a country of islands…. The whole geography has changed … it is Dante's own news story … a page from some fantastic da Vinci sketchbook, combining the sweep and scale of apocalyptic catastrophe with every engineering complication imaginable."
With an artist's eye, William Swetcharnik describes above the aftermath of Hurricane Mitch in an e-mail account that miraculously escaped the communications tangle only a few days after the havoc. The painter first visited Honduras in 1992 as a cultural exchange lecturer sponsored by the United States Information Agency. In 1995, Swetcharnik received a prestigious Fulbright grant—his second—to research indigenous resources for handmade art materials and to conduct workshops for artisans and artists in a country where a gallon of hardware paint costs as much as a typical campesino earns as a month's wages. The nine-month Fulbright project expanded to two years, then four. The project now affects hundreds of Hondurans, but it is sponsored primarily by the sale of Swetcharnik's still lifes and portraits to Central and North American clients.
Beauty from mud
During his initial visit, Swetcharnik was so astounded by the level of poverty he saw that he abandoned his successful artistic career to found LAARP, the Latin American Resource Project. "It began to dawn on me," says the softspoken, bespectacled artist, "that we artists tend to put too much value on the power of art to affect people, and too little value on how our own lives affect those with whom our art puts us in contact." In 1995, William and his wife, Sara, a sculptor, decided to leave their renovated Maryland studio barn, a supportive rural fellowship, Christian colleagues in the arts, and his East Coast clientele for the uncertainty of life in Central America.
Now that the Honduran countryside and infrastructure have been destroyed, with many civic services interrupted indefinitely by Mitch, LAARP may be in jeopardy. Despite this very real threat, the Swetcharniks have turned their shared artistic expertise to a material that has become ubiquitous to the region—mud. William, who has researched every imaginable substance (including mud) that can be used to make homemade paints, began reorganizing LAARP staff trainees—with a half-dozen stranded in his own home by the floods—for a new project within a week of the disaster.
Collecting different colors of earth from various regions churned up by the hurricane, LAARP hopes to redistribute the materials to teams who will create community murals and designs commemorating the lives of those lost. The genesis of the "mud project" was actually in 1996 when William spearheaded a renaissance of community mural painting on the faades of buildings, using colors mixed from indigenous mud, minerals, and floral resources. With the help of regional education boards, Swetcharnik helped transfer this culturally ancient practice to the city, coordinating one hundred participants from ten different schools to compose 17 murals in the historic district of the capital city of Tegucigalpa. These works celebrated Honduras's ethnic diversity, its ancient and indigenous Mayan culture, and exotic native animal species. Other art projects exposed the problems of abandoned street kids and children at social risk, delineating on city walls bold public protests against child abuse.
Bread, blankets, and art
In 1997, Swetcharnik focused on rural projects in the mountains of western Honduras, working with artisans and art teachers to paint murals that highlighted their cultural patrimony. These built on a tradition that existed prior to the arrival of Spanish conquistadores in which the campesinos decorated their houses with birds, flowers, and geometric motifs made with native earth colors. Unbelievably, the colors are still available in certain prized caves, and range from rich reds to yellow ochres to soft violets, even including sea greens, marine blues, and turquoise—all made from Honduran soils.
Swetcharnik's initial interest in the process of making art materials was primarily aesthetic. Except for his contemporary concepts, his painting style is often barely distinguishable from that of Flemish painters like Vermeer or Van Eyck, with enamellike surfaces and purely realistic accuracy. Such artists, who relied on traditional formulas that were closely guarded, had to make their own pigments from scratch, grinding them from minerals such as lime or iron oxides, stones—like lapis lazuli—and plants. To keep the pigments adhered to any surface, glues made of egg whites or boiled out of bark, roots, or animal parts had to be added. It is only since the late 1800s that artists could simply run down to an art supply store and find all they needed in prefabricated tubes of paint, and pretreated canvases or mass-produced papers.
Many might wonder—with skepticism—how art could begin to address the recent devastation of Mitch. Swetcharnik, who has a long history of art ambassadorship in the tradition of Rubens and Van Dyck, maintains that while we instinctively respond to the need for bread, blankets, and housing, the arts should not be overlooked. "People in crisis need something for their soul also—to overcome the trauma and give them a vision for a future worth building toward," he says. "They need music to lift their spirits and beauty to fill their eyes instead of the cries of babies and photos of devastation. Art is the medium by which a culture comes to terms with tragedy, whether through the lamentation of Jeremiah or a Vietnam Memorial."
To learn about LAARP, see the Web site at www.hood.edu/academic/art/laarp, or contact the Swetcharniks at e-mail: swetcharnik@hood.edu; or write to Swetcharnik Studio, 7044 Woodville Road, Mt. AIry, MD 21771.
Have something to add about this? See something we missed? Share your feedback here.
Our digital archives are a work in progress. Let us know if corrections need to be made.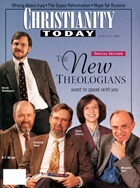 This article is from the February 8 1999 issue.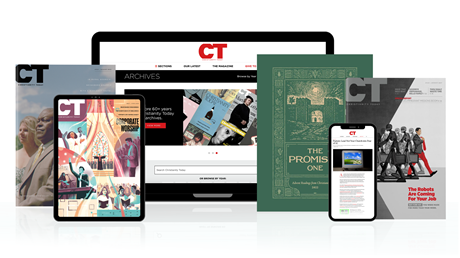 Subscribe to Christianity Today and get access to this article plus 65+ years of archives.
Home delivery of CT magazine
Complete access to articles on ChristianityToday.com
Over 120 years of magazine archives plus full access to all of CT's online archives
Subscribe Now
Muddy Murals
Muddy Murals