Let love be genuine; hate what is evil, hold fast to what is good; love one another with mutual affection; outdo one another in showing honor. Do not lag in zeal, be ardent in spirit, serve the Lord. Rejoice in hope, be patient in suffering, persevere in prayer. Contribute to the needs of the saints; extend hospitality to strangers.

Bless those who persecute you; bless and do not curse them. Rejoice with those who rejoice, weep with those who weep. Live in harmony with one another; do not be haughty, but associate with the lowly; do not claim to be wiser than you are. Do not repay anyone evil for evil, but take thought for what is noble in the sight of all. If it is possible, so far as it depends on you, live peaceably with all. Beloved, never avenge yourselves, but leave room for the wrath of God; for it is written, "Vengeance is mine, I will repay, says the Lord." No, "if your enemies are hungry, feed them; if they are thirsty, give them something to drink; for by doing this you will heap burning coals on their heads." Do not be overcome by evil, but overcome evil with good.


—Romans 12:9-21, NRSV
In Romans 12 Paul preaches his own version of the Sermon on the Mount. In 13 short verses he turns out 30 instructions, all of them meant to put flesh on the bones of Christ's one commandment of love. Paul had good reason for going to so much trouble. The church in Rome was splitting apart in at least two different ways. Inside, by conflict between Jewish and Gentile Christians. And outside, by conflict between Christian and non-Christian Romans. There were black eyes and bad feelings all over the place. Marcus went to the midweek service so he would not have to sit in the same room with Clovis on Sunday; Lucius was so mad at both of them that he had quit coming to church at all; and Chloe had just bought herself a pit bull to keep her pagan neighbors from cutting through her yard.
It was a mess, all the way around. People said they believed that God was love. They said they believed in the power of goodness—at least until someone crossed them. Then goodness and love fell pretty much by the wayside and retaliation turned out to be what they believed in after all. If you have ever been on the receiving end of a really grievous wrong, then you know how your mind works.
This is wrong, you tell yourself. I am in a lot of pain here. This should not have happened to me. Someone should pay for this. Evildoers must be stopped, and if I don't do it, someone else will get hurt. It's not my nature, but I will strike back. I will fight fire with fire. God is a God of justice, after all, and what has happened to me is not right, not by any reckoning.
That is how it usually works. Then the lawsuit is filed, the insult is returned, the line is drawn, and the cold war begins, full of stony silence and clenched teeth. Because something deep down inside of us believes that we will be annihilated if we do not fight back.
Where there's a will
I still remember my nephew Will's first birthday party. He was as round and bald as a Buddha at that point, still hovering on the verge of speech. Never out of his parents' sight, he was a typical only child—used to being the center of attention—only he was not spoiled yet, because he had not yet learned how to manipulate love for his own ends. He just thought everyone was loved the way he was, and he gave it away as fast as he got it.
There was only a handful of us there that day—Will's parents, aunts, and grandparents, plus his godparents and their seven-year-old son, Jason. After the cake and the singing and the presents were all over, Will let us know how pleased he was by doing his new dance for us—a shy twirling in place that he had invented several days before with lots of fancy arm work.
We were all circled around him admiring his dance when Jason simply could not stand it anymore. He charged through the circle, put both of his hands on Will's chest, and shoved. Will fell hard. His rear end hit first, then his head, with a crack. He looked utterly surprised at first. No one had ever hurt him before, and he did not know what to make of it. Then he opened up his mouth and howled, but not for long. His mother hugged him and helped him to his feet, and the first thing Will did was to totter over to Jason. He knew Jason was at the bottom of this thing, only since no one had ever been mean to him before he did not know what the thing was. So he did what he had always done. He put his arms around Jason and laid his head against that mean little boy's body; and at that moment, all my Christian conviction went right out the door.
"I will buy him a BB gun for his next birthday," I thought. "Iron knuckles. A karate video for toddlers." It just about killed me to think how that sweet child would have to learn to defend himself; but it was either that or eat dust on the playground the rest of his life, with some bully's foot on the back of his head.
Only, according to Paul, Will was right and I was wrong. "Do not repay anyone evil for evil," he wrote to the Romans, "but take thought for what is noble in the sight of all." What Will did to Jason put an end to the meanness in that room. What I wanted to do to Jason would only have multiplied it. Paul's advice is idealistic, impractical, and dangerous to one's health; but there it is: "Do not be overcome by evil, but overcome evil with good."
Conquering the enemy within
All I can figure is that Paul had incredible faith in the power of love, faith that most of us either do not share or are not eager to test. He seemed to understand that the real enemy is not whoever pushes us down in the middle of our dance but whatever it is inside of us that wants to leap up and push back. Evil is never satisfied with controlling one side of a situation. Its goal is to infect everyone involved—the victim along with the bully, the plaintiff along with the defendant, the offended along with the offender. When everyone has his or her dukes in the air and there is a loaded gun in every household (did you know that is a city ordinance in Kennesaw, Georgia?), then the enemy will have won, because the whole point is to recruit the good guys by making them believe they are stopping the bad guys.
That is not how to do it! Paul says, "Bless those who persecute you; bless and do not curse them." Because the moment you curse them, you join them; and however good it may feel at the moment, it is still a surrender. The only way to conquer evil is to absorb it, Paul says. Take it into yourself and disarm it. Neutralize its acids. Serve as a charcoal filter for its smog. Suck it up, put a straitjacket on it, and turn it over to God, so that when you breathe out again the air is pure.
It is an incredible dare, and Paul apparently knows that very few of us will accept it unless there is something in it for us, so he adds a little bonus near the end. "If your enemies are hungry, feed them; if they are thirsty, give them something to drink; for by doing this you will heap burning coals on their heads." Nice talk, Paul. Convince us to care for our enemies by telling us how much it will hurt them if we do!
I don't know what that crazy sentence is all about. Martin Luther thought it meant that those who are converted by love "burn against themselves" once they have discovered what they have been missing. All I know is that the first half of the sentence renders the second half harmless. People who come upon their enemies in a weakened state and who resist the temptation to take advantage of them—who help them instead, giving those who have hurt them food and drink—those people are already out of danger. By the time they have packed the picnic basket and filled the Thermos with pink lemonade, I guarantee you they will have forgotten about the burning coal part. "Do I not conquer my enemy," said Abraham Lincoln, "by making him my friend?"
Breaking the cycle
There is nothing sentimental or the least bit easy about any of this. There is not even a guarantee that it will work, but one thing is for sure: When we repay evil with evil, evil is all there is, in bigger and more toxic piles. The only way to reverse the process is to behave in totally unexpected ways—blessing the persecutor, feeding the enemy, embracing the bully—breaking the vicious cycle by refusing to participate in it anymore.
That is what love is, Paul says: not a warm feeling between like-minded friends but plain old imitation of Christ, who took all the meanness of the world and ran it through the filter of his own body, repaying evil with good, blame with pardon, death with life. Call it divine reverse psychology. It worked once, and it can work again, whenever God can find someone else willing to give it a try.
From God in Pain: Teaching Sermons on Suffering (Abingdon), by Barbara Brown Taylor, who holds the Harry R. Butman Chair in Religion and Philosophy, Piedmont College, Demorest, Georgia.
Have something to add about this? See something we missed? Share your feedback here.
Our digital archives are a work in progress. Let us know if corrections need to be made.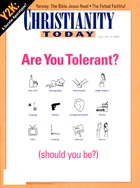 This article is from the January 11 1999 issue.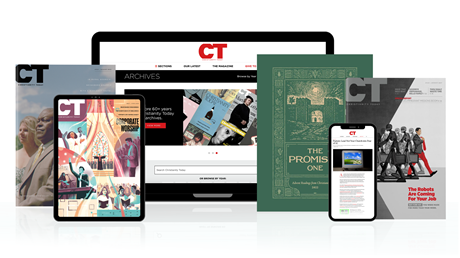 Annual & Monthly subscriptions available.
Print & Digital Issues of CT magazine
Complete access to every article on ChristianityToday.com
Unlimited access to 65+ years of CT's online archives
Member-only special issues
Subscribe
It's Hard to Hug a Bully
It's Hard to Hug a Bully