While we were still weak, at the right time Christ died for the ungodly. … But God proves his love for us in that while we still were sinners Christ died for us.
—ROMANS 5:6,8, NRSV
In 1996 James Van Tholen, then 31, and his wife, Rachel, moved to Rochester, New York, where Jim became pastor of a Christian Reformed Church. Members of the church found themselves drawn to Jim's ministry, especially to his preaching, which gleamed with biblical intelligence and humane understanding.
Then, the unthinkable occurred: in the late winter of 1998, physicians identified and surgically removed a liposarcoma from behind Jim's right knee. Within weeks Jim had another tumor behind his chest wall, and then spots on both femurs and one kidney. Recent tests confirm cancer up and down Jim's spine, with the result that he now thinks about how he moves, always conscious of the risk of spinal cord compression (and paralysis).
From March until October, Jim struggled to recover from surgery and to absorb forms of chemotherapy that offered no cure but could prolong his life somewhat. By October, the chemotherapy had suppressed Jim's cancer enough that he was able to return to his pulpit.
What follows is the sermon Jim preached from Romans 5:1–11 on the morning of his return, October 18, 1998. As the members of the congregation listened to their young preacher's sermon, they understood something about dying and rising with Christ that they hadn't known just that way before.
—Cornelius Plantinga, Jr.,
dean of the chapel at Calvin College
and a former teacher of Van Tholen's at
Calvin Theological Seminary.
This is a strange day—for all of us. Most of you know that today marks my return to this pulpit after seven months of dealing with an aggressive and deadly form of cancer. Now, with the cancer vacationing for a little while, I am back. And of course I'm glad to be back. But I can't help feeling how strange this day is—especially because I want to ignore my absence, and I want to pretend everybody has forgotten the reason for it.
But we can't do that. We can't ignore what has happened. We can rise above it; we can live through it; but we can't ignore it. If we ignore the threat of death as too terrible to talk about, then the threat wins. Then we are overwhelmed by it, and our faith doesn't apply to it. And if that happens, we lose hope.
We want to worship God in this church, and for our worship to be real, it doesn't have to be fun, and it doesn't have to be guilt-ridden. But it does have to be honest, and it does have to hope in God. We have to be honest about a world of violence and pain, a world that scorns faith and smashes hope and rebuts love. We have to be honest about the world, and honest about the difficulties of faith within it. And then we still have to hope in God.
So let me start with the honesty. The truth is that for seven months I have been scared. Not of the cancer, not really. Not even of death. Dying is another matter—how long it will take and how it will go. Dying scares me. But when I say that I have been scared, I don't mean that my thoughts have centered on dying. My real fear has centered somewhere else. Strange as it may sound, I have been scared of meeting God.
How could this be so? How could I have believed in the God of grace and still have dreaded to meet him? Why did I stand in this pulpit and preach grace to you over and over, and then, when I myself needed the grace so much, why did I discover fear where the grace should have been?
I think I know the answer now. As the wonderful preacher John Timmer has taught me over the years, the answer is that grace is a scandal. Grace is hard to believe. Grace goes against the grain. The gospel of grace says that there is nothing I can do to get right with God, but that God has made himself right with me through Jesus' bloody death. And that is a scandalous thing to believe.
God comes to us before we go to him. John Tim mer used to say that this is God's habit. God came to Abraham when there was nothing to come to, just an old man at a dead end. But that's God for you. That's the way God likes to work. He comes to old men and to infants, to sinners and to losers. That's grace, and a sermon without it is no sermon at all.
So I've tried to preach grace, to fill my sermons up with grace, to persuade you to believe in grace. And it's wonderful work to have—that is, to stand here and preach grace to people. I got into this pulpit and talked about war and homosexuality and divorce. I talked about death before I knew what death really was. And I tried to bring the gospel of grace to these areas when I preached. I said that God goes to people in trouble, that God receives people in trouble, that God is a God who gets into trouble be cause of his grace. I said what our Heidelberg Catechism says: that our only comfort in life and in death is that we are not our own but belong to our faithful Savior, Jesus Christ.
I said all those things, and I meant them. But that was before I faced death myself. So now I have a silly thing to admit: I don't think I ever realized the shocking and radical nature of God's grace—even as I preached it. And the reason I didn't get it where grace is concerned, I think, is that I assumed I still had about forty years left. Forty years to unlearn my bad habits. Forty years to let my sins thin down and blow away. Forty years to be good to animals and pick up my neighbors' mail for them when they went on vacation.
But that's not how it's going to go. Now I have months, not years. And now I have to meet my creator who is also my judge—I have to meet God not later, but sooner. I haven't enough time to undo my wrongs, not enough time to straighten out what's crooked, not enough time to clean up my life.
And that's what has scared me.
So now, for the first time, I have to preach grace and know what I'm talking about. I have to preach grace and not only believe it, but rest on it, depend on it, stake my life on it. And as I faced the need to do this I remembered one of the simplest, most powerful statements in the entire Bible.
You may have thought that the reason for my choice of Romans 5 lay in the wonderful words about how suffering produces endurance, and endurance produces character, and character produces hope. Those are beautiful words, true words, but I'm not so sure they apply to me. I'm not sure I've suffered so much or so faithfully to claim that my hope has arisen through the medium of good character. No, many of you know far more about good character than I do, and more about suffering, too.
It wasn't that beautiful chain with character as the main link that drew my attention to Romans 5; instead, it was just one little word in verses 6 and 8. It's the Greek word eti, and it has brought comfort to my soul. The word means "yet" or "still," and it makes all the difference between sin and grace. Paul writes that "while we were still weak Christ died for the ungodly." He wants us to marvel at the Christ of the gospel, who comes to us in our weakness and in our need. Making sure we get the point, Paul uses the word twice in verse 6 in a repetitious and ungrammatical piling up of his meaning: "Still while we were still weak, at the right time Christ died for the ungodly."
I'm physically weak, but that's not my main weakness, my most debilitating weakness. What the last half year has proved to me is that my weakness is more of the soul than the body. This is what I've come to understand as I have dwelled on one question: How will I explain myself to my God? How can I ever claim to have been what he called me to be?
The center of my story—our story— is that the grace of Jesus Christ carries us beyond every cancer, every divorce, every sin, every trouble that comes to us.
And, of course, the scary truth is that I can't. That's the kind of weakness Paul is talking about. And that's where eti comes in—while we were still weak, while we were still sinners, while we were still enemies of God, we were reconciled with him through the death of his Son. I find it unfathomable that God's love propelled him to reach into our world with such scandalous grace, such a way out, such hope. No doubt God has done it, because there's no hope anywhere else. I know. I've been looking. And I have come to see that the hope of the world lies only inside the cradle of God's grace.
This truth has come home to me as I've been thinking what it will mean to die. The same friends I enjoy now will get together a year, and three years, and twenty years from now, and I will not be there, not even in the conversation. Life will go on. In this church you will call a new minister with new gifts and a new future, and eventually I'll fade from your mind and memory. I understand. The same thing has happened to my own memories of others. When I was saying something like this a few months ago to a friend of mine, he reminded me of those poignant words of Psalm 103:15–16: "As for mortals, their days are like grass; they flourish like a flower of the field; for the wind passes over it, and it is gone, and its place knows it no more." For the first time I felt those words in my gut; I understood that my place would know me no more.
In his poem "Adjusting to the Light," Miller Williams explores the sense of awkwardness among Lazarus's friends and neighbors just after Jesus has resuscitated him. Four days after his death, Lazarus returns to the land of the living and finds that people have moved on from him. Now they have to scramble to fit him back in:
Lazarus, listen, we have things to tell you. We killed the sheep you meant to take to market. We couldn't keep the old dog, either. He minded you. The rest of us he barked at. Rebecca, who cried two days, has given her hand to the sandalmaker's son. Please understand—we didn't know that Jesus could do this.
We're glad you're back. But give us time to think. Imagine our surprise. … We want to say we're sorry for all of that. And one thing more. We threw away the lyre. But listen, we'll pay whatever the sheep was worth. The dog, too. And put your room the way it was before.
Miller Williams has it just right. After only a few days, Lazarus's place knew him no more. Before cancer, I liked Williams's poem, but now I'm living it. Believe me: hope doesn't lie in our legacy; it doesn't lie in our longevity; it doesn't lie in our personality or our career or our politics or our children or, heaven knows, our goodness. Hope lies in eti.
So please don't be surprised when in the days ahead I don't talk about my cancer very often. I've told a part of my story today, because it seemed right to do it on the first day back after seven months. But what we must talk about here is not me. I cannot be our focus, because the center of my story—our story—is that the grace of Jesus Christ carries us beyond every cancer, every divorce, every sin, every trouble that comes to us. The Christian gospel is the story of Jesus, and that's the story I'm called to tell.
I'm dying. Maybe it will take longer instead of shorter; maybe I'll preach for several months, and maybe for a bit more. But I am dying. I know it, and I hate it, and I'm still frightened by it. But there is hope, unwavering hope. I have hope not in something I've done, some purity I've maintained, or some sermon I've written. I hope in God—the God who reaches out for an enemy, saves a sinner, dies for the weak.
That's the gospel, and I can stake my life on it. I must. And so must you.
Have something to add about this? See something we missed? Share your feedback here.
Our digital archives are a work in progress. Let us know if corrections need to be made.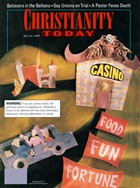 This article is from the May 24 1999 issue.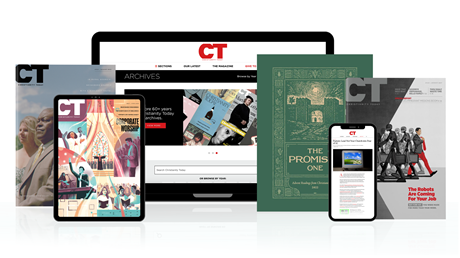 Annual & Monthly subscriptions available.
Print & Digital Issues of CT magazine
Complete access to every article on ChristianityToday.com
Unlimited access to 65+ years of CT's online archives
Member-only special issues
Subscribe
Surprised by Death
Surprised by Death