In case you haven't heard, the movies found religion this week this month. Dogma, a primer in Roman Catholic theology for 20-somethings raised on Scooby Doo, and The Messenger, the second of three Joan of Arc films due out in a 12-month span, premiered this week. Bringing Out the Dead, hailed by critics and rejected by audiences, explicitly deals with spiritual exhaustion and redemption. Add to that the success of Trinity Broadcasting Network's film The Omega Code. Even the latest effluent Saturday Night Live-based film focuses on a Catholic student.
As Hollywood goes, so goes the magazine industry (Quick, name three magazines that didn't put either Tom Cruise or Nicole Kidman on their cover this summer). And so, when religion is big at the box office, you can bet it'll make its way to the newsstand too.
Books & Culture vs. New York Times Magazine on Paul Schrader
Okay, okay, I'll admit it. We're a magazine, too, and our eyes turn to Hollywood about as much as anyone else's for its role as cultural barometer. In July, our sister magazine Books & Culture took a look at former Calvin College student Paul Schrader, who wrote Taxi Driver, Raging Bull, The Last Temptation of Christ, and Bringing Out the Dead. "Has any other artist of Schrader's generation rendered so uncompromisingly the somber Calvinist vision of human depravity?" asked Calvin College professor Roy Anker in the article.
Turns out that Schrader doesn't see himself that way. "[My characters] aren't dark," he tells The New York Times Magazine in its October 24 issue. "I've always been interested in people, perfectly intelligent people, who seem to have some sort of grasp on life but go around acting in a self-defeating way because they are expressing some neurosis—either sexual or spiritual." What Schrader got from his Calvinist upbringing, he says, wasn't an acute sense of man's total depravity, but the sense "that somewhere there is a place where things actually make sense." Go figure. Also of note, Schrader argues with other critics who say he's expressing a modern bleakness. "There's nothing particularly 1999 about this," he says of his work. "The Bible is full of dark characters." (The New York Times Magazine article is no longer free online, but can be purchased inexpensively by searching for "The Art of Darkness" at http://archives.nytimes.com/archives)
The New Yorker loves Joan, but not the movie
The Messenger: The Story of Joan of Arc, is, by all accounts, a rotten movie. (See today's review by Peter Chattaway, or our Monday article by Ron Maxwell.) The November 15 issue of The New Yorker takes its own shots at the film ("The actress-model Milla Jovanovich, [director Luc] Besson's ex-wife, plays Joan with bug-eyed frenzy. 'She's nuts,' one of her comrades-at-arms says. Amen"). But writer Joan Acocella, the magazine's dance critic, is more concerned with why we've been obsessing over Joan for the last five hundred years, and why our fascination with her has only increased since the nineteenth century.
There's no single reason, it turns out, except that her story is so amazing, so dramatic, so full of noble questions, that various factions have been able to use her as a rallying figure ever since her martyrdom. She is not just a martyr for the French, but for the Protestants, for those pushing the United States to enter World War 1, for Fascists, for feminists, for cross-dressers, etc. In the article, titled "Burned Again," Acocella gives a history of Joan's cult and an extensive (for a five-and-a-half page article) rundown of her pop-culture portraits. Her favorite? "Joan the Maid," a two-part 1994 French film directed by Jacques Rivette. (The New Yorker doesn't put its articles online. You'll have to go the library to read it.)
Silent Bob speaks to the Chicago Tribune—and everyone else
The big religion movie of the month, of course, is Kevin Smith's' Dogma. Surely you've heard by now of all the controversy: how the Catholic League and others have staged protests, how Smith has been receiving hate mail for months before its opening. In an attempt to drum up more publicity (in addition to all the free publicity he gets from the protests), and in an attempt to assure potential audiences that the movie isn't as bad as some critics are indicating, Smith has been making the media rounds for weeks. One of the more interesting interviews appeared in the November 7 Chicago Tribune. Right off the bat, Smith makes trouble for himself, answering the question "What would you say is the best movie about religion?" by naming The Last Temptation of Christ and Monty Python's The Life of Brian. Both films were heavily picketed and protested. I wonder if he was joking. But Smith denies the suggestion that he's milking the protests for publicity value: "You would think that with the [stuff] we've gone through that it's something we court: We sit around a table and go, 'Okay, how do we milk the press for this one.' But you'll never meet a guy who's less interested in stirring up a storm than myself."
Then there's this gem from the man who plays the mostly mute sage Silent Bob in his own films: "There's no better story of redemption than a guy who was a sinner who suddenly finds Christ or faith and is no longer a sinner."
Smith also says he's "boggled" that more blatantly anti-Christian films, like Stigmata, went by unmentioned by church watchdogs. "Here's a movie that flat out attacks the Catholic church and says the church is lying, that they're sitting on a secret gospel ... in which Christ says, 'Don't build a church. Split a tree and there I am. Lift a rock and there I am.' And they'll go to such great lengths to keep this quiet that they'll kill people over it. The cardinal is there strangling Patricia Arquette, and I'm the bad guy?"
Smith suggests that the reason his film has received more attention is because it's a comedy, so Christians "will immediately assume that [I'm] mocking them, which isn't really the case." He also suggests that part of the brouhaha occurred because the film was originally to be tied to Disney. I have another idea: Smith allowed an early draft of the script to float around the Internet. It was extremely easy to get. So for more than a year before the film came out, Christian media critics could arm themselves with direct quotes from the film. Then the film was delayed, then delayed again, then delayed again. What could have been flash-in-the-pan criticism was drawn out for months. How do I know this? Because I was one of those critics. More than a year ago I wrote an early preview of the film for Books & Culture using that Internet draft. By the way, the movie is a lot better than the script. (You'll pay $2.50 to read "A Practicing Catholic on The Religious Storm of 'Dogma' " at the Chicago Tribune archives.)
Kevin Smith vs. Bob Larson on Politically Incorrect
If the Catholic League was loud in its criticism of Dogma, Christian publicity hound Bob Larson was downright intolerable in his November 10 appearance with Kevin Smith on ABC late-night talk show Politically Incorrect. "This is Satan meets South Park," he said of the film.
Smith, however, turned the other cheek, calling his film "a ribbing," not an attack on the church. In his defense, he offered, "Anything that's going to speak about faith to an audience that doesn't really think about faith or go to church anymore, even if you're doing it in a potty-mouth fashion, isn't the end result what matters the most?"
Larson disagreed, and even suggested that Smith may know some evil spirits personally. "You know what? There's a real demon named Loki," said the self-proclaimed expert on demons, cults, and the paranormal "I'm interested in knowing, how did you come up with that name, because there is a demon named that."
"Contrary to what you may believe," Smith replied, "I read sometimes."
And indeed, he proved it. After a long-winded rant by Larson, Smith turned the tables, showing he did his homework. "You have to know the benefit of letting people see something for themselves before making a judgment call. Plenty of people know, like, that you perform exorcisms and they don't see it, and they're like, 'He must be a kook.' But if they saw you in action, you would like them to see you in action 'cause they'd see the power of healing, of faith." Not even host Bill Maher had known about Larson's exorcism claims, recently called into question by various Christian media sources.
George uses Dogma to attack the church for real
Bob Larson's words on Politically Incorrect are far from the stupidest comments made about the Dogma controversy. That honor falls to the current issue of George magazine, which, in its attempts to write a timely article about the Catholic League, ends up downright anti-Christian. In "Mr. Smith in Hell," writer Sharon Waxman implies that Christians have such a stranglehold on Hollywood that a film like The Last Temptation of Christ (in the words of one exec) "would probably not get made today." Apparently she and the exec missed Stigmata. She also apparently missed The Red Violin, but she has no qualms incorporating it into her rant:
"These days, there is such a growing hypersensitivity, kind of weird conservatism, [Lions Gate copresident Mark Urman] says, recalling an incident when a newspaper in the South refused an ad for the film The Red Violin because it included the image of a woman's bare back (ironically, the film had no sexual content).
The comment is strange on so many levels. For one, Waxman indicates that it would be strange for a paper to reject the image of a woman's bare backside if the film itself contained no sexual content. But actually, the film had quite a bit of sexual content—one major section of the film revolved around a violinist who played best during intercourse.
Still, the article does offer at least one insight into Smith's theology. In Catholic grade school, Smith was taught by a nun that when Jesus called Simon Peter Rock, "he was ribbing him. He knew Peter would deny him. That's when Christ came alive for me—when I discovered he had a sense of humor."
Ted Olsen is Online Editor of Christianity Today and ChristianityToday.com
Related Elsewhere
Previous Amassed Media articles:
There Be Gold in Them Thar Fills, Claims Charisma (Nov. 10)
Amy Speaks, but Doesn't Have Much to Say (Nov. 8)
Why The New Republic Likes Millennialism (Nov. 3)
Have something to add about this? See something we missed? Share your feedback here.
Our digital archives are a work in progress. Let us know if corrections need to be made.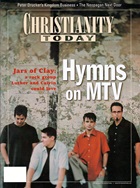 This article is from the November 15 1999 issue.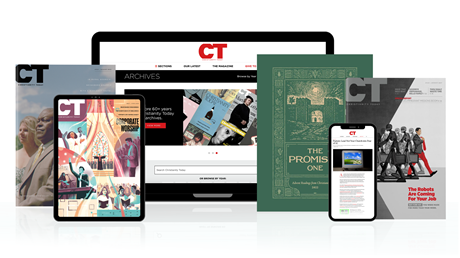 Annual & Monthly subscriptions available.
Print & Digital Issues of CT magazine
Complete access to every article on ChristianityToday.com
Unlimited access to 65+ years of CT's online archives
Member-only special issues
Subscribe
Amassed Media: Hooray for Holywood
Amassed Media: Hooray for Holywood