Eight years after the New York Giants and the Buffalo Bills knelt in a huddle for public prayer at the end of Super Bowl XXV, the wall of separation between God and the National Football League has all but washed away. The blend of faith and football has not only attracted fans and foes alike, but put preachers on the playing field and running backs in the pulpit.
Evidence of the relationship between God and the gridiron is everywhere: players such as Deion Sanders, Reggie White (now retired), and Eugene Robinson identifying themselves as born-again believers; chapel services in nearly every NFL club dressing room before games; public, midfield prayers after games; and churches turning to Super Bowl Sunday as a day for halftime evangelistic outreach. It may sometimes be difficult to see where religion ends and regulation play begins.
Players may use public Christianity to enhance their good-boy images, and the church may use Christian players to enhance its message that even tough guys can believe. The blurring of roles, and the suspicion of mutual exploitation by players and their pastors, has raised the question whether sports and spirituality genuinely belong in separate realms, not stirred together.
MYTH OF CELEBRITY? The mass appeal of professional football has attracted the attention of churches trying to make Christianity culturally relevant to seekers. And the power of celebrity in American culture shows no sign of dimming.
A testimony from Christian NFL greats Reggie White or Mike Singletary can draw those who might ordinarily not sit through a Sunday-morning sermon. "Statistics show that young people in horrible numbers have turned away from the church and yet they still watch television and are influenced by newspapers and magazines and the Internet," says Wendel Deyo, former Cincinnati Bengals chaplain and president of Athletes in Action (AIA), a Lebanon, Ohio-based ministry of Campus Crusade for Christ. "If we can capture their attention long enough for them to hear, then we've accomplished our objective. The issue is [the players] have visibility, and that visibility provides an opportunity for more people to hear the gospel."
During the past 41 years, professional football has come from behind as an "also ran" in professional sports to the very top of public interest. The Super Bowl is now broadcast in 170 countries, carried live by the BBC and even is translated into Navajo for tribal fans in Arizona. While stadium attendance has its ups and downs (in 1997 it hit an eight-year low), television interest in the game has never been stronger, with the league raking in at least $17.6 billion under a 1998 pact that gave games to ABC, ESPN, CBS, and Fox over the course of eight years.
In describing the popularity of sports evangelism, Wheaton College sociology professor Jim Mathisen says "the Christian community has bought into the larger cultural myth" surrounding professional athletes.
Mathisen and Tony Ladd, head of Wheaton College's athletics department, are coauthors of Muscular Christianity: Evangelical Protestantism and the Development of American Sports (Baker Book House, 1999). Ladd says the 150-year interaction between evangelicals and athletes has not always been cordial. Ladd notes that pitcher-turned-evangelist Billy Sunday left professional baseball in part because of the culture of the profession.
Things began to change in the early 1970s, when evangelist Billy Graham was named grand marshal of the Tournament of Roses parade, which preceded the annual college football game in Pasadena, California.
In turn, Graham and other evangelists more frequently included athletes' testimonies as part of their crusade meetings, renewing what Graham had learned in his first Charlotte, North Carolina, crusade with runner Gill Dodds: having a popular sports personality can boost attendance and response.
While the Ladd and Mathisen book notes the more recent intertwining of. professional sports and evangelism, Ladd says there is a not-so-subtle difference between the amateur accomplishments of a dedicated collegian and the multimillion-dollar salaries of today's pros. Where the amateur was lauded for dedication, the pro may be admired for worldly success as much as anything.
"Some Christians try to suggest professional sports builds character," Ladd says. "On a professional level, sport is a business, and yet we carry over the myth [from amateur athletics] into that professional arena."
Despite the worldly example that comes from admiring men who earn small fortunes for tossing a ball, Christians cling to their celebrity role models. "With the cultural assumption that athletes should be role models, the Christian community has, alongside that, its own star system," Mathisen says. "We still think that somehow evangelicals have a right to be heard if [Reggie] White and [Mike] Singletary are two of us. It's a merging of the two star systems. I think, sociologically, it's a reflection of our marginalization, our sense of inferiority. We're still not sure we're accepted by the big boys and girls. Maybe that [celebrity affiliation] will help us."
Deyo, who has labored long in the NFL vineyard, disclaims any interest in a "star system" but admits that the quarterback who says he lets Jesus call the plays of his life can be an attractive person to many inside and outside the church.
"Behind that is the fact that they have a great amount of influence. Our conviction is that if you know Christ, you'll want to make him known," Deyo says.
Ladd, however, worries that such ministry may come as an extension of the "spectator culture" that has many reclining in easy chairs to watch games, rather than participate in exercise themselves. Christians may decide to sit on the sidelines and watch, Ladd says, and let the star athletes run the evangelistic plays. Deyo disagrees, saying the persona of a Christian athlete can inspire other Christians to tackle evangelism with renewed fervor.
"If we can capture the platform that an athlete has, we can cultivate the community at large," Deyo says. "For Christians, it gives them opportunities for evangelism. It not only affirms their faith, but gives them reasons to be bolder in the marketplace."
ODD TEAMMATES: The sight of football players from opposing teams meeting on the field and kneeling in prayer after a game gives a prime-time boost to Christianity. But such public displays also draw criticisms from those both inside and outside evangelicalism.
"If God gives one team the victory, then what kind of judgment does that show on the loser?" says Henry Brinton, pastor of Calvary Presbyterian Church in Alexandria, Virginia, and an admitted football fan. "It's not that I'm a football prude. I enjoy the game, but I believe in a separation of God and gridiron. I believe God is with us in our best efforts, but God does not necessarily bless everything we do."
The post-game midfield prayer session leaves Cris Collinsworth, formerly with the Cincinnati Bengals, a professed evangelical and Fox sports commentator, a bit cold. "I struggle with the on-field prayer for some reason and have a tough time explaining it," Collinsworth told CT. "Maybe it is because I am very private about my beliefs. My family and I go to church every week, but somehow that post-game huddle leaves me feeling uncomfortable."
By contrast, Athletes in Action's Deyo says the post-game prayers represent fellowship and not flash. "When you see guys praying after the game, they pray because they're brothers in Christ," Deyo says. "It's one of the few times they're able to be together during the season with a common bond and a common stake."
Those outside evangelicalism hold a different view. "Many of us worship a god, but just wish these Sunday afternoon football players could leave the sermons to Sunday morning services," thundered Adrian Wojnarowski, a sports columnist for the Bergen Record in New Jersey. "They can save themselves the humiliation of hypocrisy, save us an unsolicited class."
WHEN A PLAYER FUMBLES: Wojnarowski delivered his scathing comments—which were echoed by sports commentators in Toronto and other cities—after the much-publicized January arrest of Atlanta Falcons free safety Eugene Robinson on a misdemeanor charge of soliciting an undercover police officer for sex. The charge was wiped clean after Robinson—who on the Falcons' Web site advertises that he is "a Christian who just happens to play football"—agreed to participate in a pretrial "diversion" program in March.
On the morning of his arrest, Robinson had received the Bart Starr Award from AIA, given annually to the player whose life is deemed to "best [exemplify] outstanding character and leadership in the home, on the field, and in the community." Robinson returned the award after his release on bail.
The dilemma for a Christian celebrity like Robinson is that when he sins, he is in the spotlight. The church's response can be to turn from its fallen hero, to suspend book contracts and speaking engagements.
After explaining himself to his teammates and fans, and taking a pay cut this year from $1.8 million to $1 million, Robinson appears to have recovered from his ordeal and received the forgiveness of his supporters. "My situation dispels the myth that all Christians are goody-two-shoes, straight-laced and self-righteous," Robinson told the Atlanta Journal-Constitution in June. "This throws some humility in there, and it makes people realize that I suffer from human frailties like everybody else."
So far, Robinson has received the support of his colleagues in Atlanta, while other Christian NFL veterans have also rallied behind him. Mike Singletary, a previous Bart Starr Award recipient, says the church needs to support Robinson and not gossip about him.
"I have to look at my own life and say, sometimes I'm not too far from that myself," Singletary says. "Instead of pointing the finger at him, I have to pray for him."
LOCKER ROOM MINISTRY: Multi million-dollar contracts and life in the public eye create unique challenges and temptations for professional football players who are Christians. Ministries such as Pro Athletes Outreach, Champions for Christ, Fellowship of Christian Athletes, and AIA attempt to minister to players and their families.
To combat any misuse of a sports figure, AIA's Deyo insists that his group is as much involved in discipling players as promoting them. "We not only want to project this influence but protect who the athlete is and who he stands for," he says. "Athletes get prostituted; people pay for their services with little regard for their needs. Most of what we do with AIA is behind the scenes, meeting needs and ministering to the players."
Deyo maintains that athletes who are at once idolized by and isolated from their public need the work he began in NFL locker rooms in 1974.
"Once they make it to the pinnacle of their profession, they begin to realize there's something significant missing," he says. "People pay to see them perform, ask for their autographs. They begin to live a different lifestyle because of the culture."
Because of the heavy demands on players, on and off the field, Deyo believes many professionals—when they can be reached—are ripe for the gritty brand of evangelism AIA offers. "We found virtually from the beginning to have 50 to 70 percent of the players involved in a chapel program, or a high percentage of guys coming out for Bible study. Across the league, there's always been very favorable results," he says.
How favorable those results have been is a subject for some discussion. While scoffers such as columnist Wojnarowski have always been around, Singletary says it is equally dangerous to have the church promote a professional player without investing in discipleship.
"I just think that in the final analysis, the athlete that's out there who really understands what he has come to believe and knows who is Jesus Christ and has been discipled, he can walk forward and take or leave all of the other stuff," Singletary says. "Others who have no foundation can feel manipulated. Jesus was never about that."
WINNING GAMES AND SOULS: Even as professional sports transformed Sunday into a day of play instead of rest, some Christian athletes and leaders are trying to develop a twin focus in the public's mind—not only on the game of football, but on the game of life as well.
Yet not every church leader endorses this dual method. "We're talking about Sunday, the Sabbath, the day of rest, the Lord's Day, and what we see on Sunday afternoons is nothing short of warfare," Pastor Brinton says. "What I think is most interesting about what is going on, on the national scene, is how suddenly all of these warlike activities are being tied to religious devotion."
And yet part of football's popularity among Christians is its battle and athletic imagery reminiscent of biblical allusions to "running the race with perseverance" and wearing "the full armor of God."
Mathisen and Ladd connect the warfare imagery to the early days of the Greek Olympics, when pagan worship and sport were combined—which strains at the concept of a day of rest, something evangelical athletes adhered to until the late 1950s.
Deyo defends Sunday play as an extension of the kind of lives Christians are supposed to lead: "[The players have] gone to chapel and had an opportunity to hear the Word of God and worship their Lord. They've begun to worship their Lord out on the field. Whatever we have as our occupational calling, we're to do our work heartily unto the Lord and not unto men."
Beyond the playing field and locker room and attuned to the work of winning souls, Christian fans in family rooms around the nation have become a secondary resource for sport-based evangelistic outreach and ministry opportunity. Evangelistic groups are marketing kits that churchgoers can use to turn a Super Bowl halftime into an hour of decision for sin-sick souls. Meanwhile, perhaps the most successful Christian outreach program that is both church-based and sport-focused is the Souper Bowl of Caring, started in 1990 by teenagers at Spring Valley Presbyterian Church in Columbia, South Carolina. The program, which collects $1 contributions on Super Bowl Sun day, has raised about $7 million for local feeding ministries and other community-based projects. For 1999, 11,300 churches took part, raising $2.5 million. Under program guidelines, 100 percent of the offering goes to ministry.
Brinton says he finds the Souper Bowl Sunday collections of food and money praiseworthy, noting the problematic use of athletics as a metaphor for Christian living. "On the one hand, I think that football can be seen as somewhat reflective of spiritual warfare, which is something every Christian is going to face. So there is a sense in which it reflects a certain muscular type of Christianity that is going to be attractive to men," Brinton says.
"Where it can mislead is in giving the impression that God is always allied with the strong, the successful and the winners of the world, where in fact the Scriptures tell us that God often uses the weak to shame the strong."
For Deyo, the greater goal is to have athletes reflect a positive role model and point people toward Christ. "Our passion is that when people look up to athletes and football players, they find the football players looking up to God."
Have something to add about this? See something we missed? Share your feedback here.
Our digital archives are a work in progress. Let us know if corrections need to be made.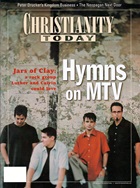 This article is from the November 15 1999 issue.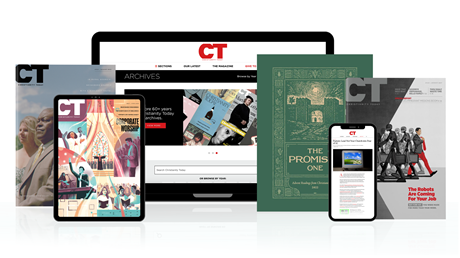 Annual & Monthly subscriptions available.
Print & Digital Issues of CT magazine
Complete access to every article on ChristianityToday.com
Unlimited access to 65+ years of CT's online archives
Member-only special issues
Subscribe
God on the Gridiron
God on the Gridiron