Suspense thrillers made their mark at the box office this weekend as The Bone Collector snapped up first place, Double Jeopardy crossed the $100 million barrier, and The Sixth Sense surged past Jaws to become the twelfth-biggest moneymaker ever. However, Christian critics preferred to focus this week's energies on discussing issue-laden new films The Insider and Being John Malkovich.
The Bone Collector ($17.2 million)
Christian opinions were sparse for The Bone Collector, which features Denzel Washington as a paralyzed forensics specialist who teams up with a rookie cop (Angelina Jolie) to catch a serial killer. Graphic violence earned the film low marks overall, although Paul Bicking of Preview found the film otherwise "suspenseful" and "engrossing." He was kinder than most mainstream critics, who blasted the film as an "utter absurdity" (Roger Ebert, Chicago Sun-Times) with "plotholes so large they have their own ZIP codes" (Tony Toscano, KUTV-CBS).
The Bachelor ($8 million)
Finishing a distant second was The Bachelor, a romantic comedy starring Chris O'Donnell as a commitment-phobe with only 24 hours to find a bride in order to collect a $100 million inheritance. Christian reviewers objected to the film's lightweight treatment of marriage, with Mary Draughon of Preview calling it "a mockery of a sacred ceremony" and the United States Catholic Conference taking issue with a priest willing to marry a couple on a moment's notice. Mainstream reviewers objected to the film's complete lack of humor.
House on Haunted Hill ($7.8 million)
Losing more than half its audience and straggling into third place was the spooky-mansion horror flick House on Haunted Hill, which both Christian and mainstream reviews agreed was a waste of celluloid. (Christian Spotlight on the Movies critic Gabe Rodriguez pointed to its lack of sexual content as a refreshing plus.)
The Insider ($7 million)
The fourth-place finish of The Insider was below expectations, considering the film's nearly unanimous praise from both mainstream and Christian critics, but the movie's 47 percent increase in business from Friday to Saturday indicates that positive word of mouth is spreading. The movie is a fact-based story about the battle that 60 Minutes producer Lowell Bergman (Al Pacino) and whistle-blowing scientist Jeffrey Wigand (Russell Crowe) fought against tobacco companies and CBS to get their story out. It has received some of this year's highest praise within Christian circles, aside from some cautionary remarks about the film's bad language and its somewhat ham-handed depiction of tobacco companies. ("If the new film The Insider is to be believed," writes The Phantom Tollbooth's J. Robert Parks, tobacco executives "smirk way too much.") The film is drawing praise for upholding integrity, truth, and selflessness while never skirting the incredible human toll on those involved in complex ethical issues. Peter T. Chattaway of ChristianWeek calls the film "a morality tale, told with uncompromising sensitivity, that actually embodies a clear moral vision." David Bruce, who runs Hollywood Jesus, says the film asks the questions "What is more important, family or truth? Can one be silent and keep one's integrity? How much of a role does money play in preventing true justice?" Jeffrey Overstreet, editor of Green Lake Reflections, calls The Insider a war movie. "The big strikes are lawsuits. The battlefields are men's consciences. And the heroes are putting themselves on the front lines for the sake of telling the truth. The casualties? Integrity and reputation. Family. Lifestyle. Futures and dreams."
Double Jeopardy ($4.5 million)
Ashley Judd's Double Jeopardy managed to stick around in the top five for a seventh consecutive week, despite the influx of similar competition this weekend in the thriller genre. Judd plays a woman who serves six years in prison after her husband stages his own murder, then tries to kill him for real when she is released. Christian reviews have been mixed for this film, citing the film's immoral revenge theme as a minus, but its ability to entertain as a plus.(See our earlier coverage here for further analysis.)
Rounding Out the Top Ten
Sixth place went to The Best Man, which stars Taye Diggs as a novelist whose new book is circulated the week before his best friend's wedding and reveals some of his friends' sexual pasts. The movie has been generally well-received for its high entertainment value and the inclusion of a Christian groomsman who is flawed but respected. MovieGuide compliments the movie for "extolling the virtues of religious commitment and marriage" and for quoting "biblical truths to which even the non-Christian characters react positively." But he, like most of the Christian reviewers, warn of the film's many crude sexual elements.
Taking seventh place is American Beauty, a dark comedy about a suburbanite father who commits wildly selfish acts in a quest to discover purpose in life. Christian critics have divided over whether the movie is celebrating the selfish behavior depicted in the film or demonstrating that selfishness holds no rewards. Reviews have similarly divided for tenth-place finisher Fight Club, which follows a yuppie who abandons his consumerist lifestyle to start an underground bare-fisted fighting circle. Reviews debate whether the movie is celebrating a nihilistic view or showing that nihilism holds no answers. Commentary on The Sixth Sense, which took eighth place this week, has likewise focused on how literally audiences are supposed to take what they see on-screen. The movie, in which a psychologist tries to help a young boy who sees into the spiritual realm and encounters dead people, has received much criticism for portraying communication with the dead. Other Christian critics have viewed the movie as a metaphor in which communication and fearless love are extolled. (For deeper coverage on these films, see last week's Film Forum.)
Strong word of mouth kept Music of the Heart buoyant at the box office this weekend, earning a ninth place finish. This inspirational film from Wes Craven tells of a violin instructor who fights to keep alive her program for teaching music to elementary students in Harlem. Most Christian critics have embraced the film as a strong, moral story with "a solid message to never give up on a good cause" (Hillari Hunter, guest reviewer for Christian Spotlight on the Movies). Steven Isaac of Focus on the Family lists dozen positive themes the movie promotes, including "Struggle for what's good and wholesome. Be strong on the inside, even when the outside crumbles. Never quit just because the going gets tough. ... Work hard. Discipline yourself. Live your dreams."
Beyond the Top Ten
Christian critics devoted a lot of ink this week to Being John Malkovich, a surrealistic comedy about a puppeteer (John Cusack) who discovers a portal into the brain of John Malkovich and starts charging people $200 to control the notoriously quirky actor for 15 minutes at a time. Reviews lauded the film's wild and witty script, offbeat visuals, and daring performances, but focused mostly on the deeper questions that the film raises. Each critic seemed to have a different spin on the film's metaphor: David Bruce (Hollywood Jesus) finds that the movie illustrates God's goodness. "It is a profoundly spiritual and theological story ... about the restraint of God. We are not puppets on strings controlled by some manipulating tyrant god. God allows us to be ourselves." Jason Murphy, guest reviewer for Christian Spotlight on the Movies, focuses on its exploration of identity. "What makes me me? If I were in John Malkovich, would I still be me? So many people are unhappy with their lives, and given the chance, would love to be someone else. (The grass is always greener ... )" Focusing on the film's social statements is J. Robert Parks of The Phantom Tollbooth, who considers the film "a sardonic commentary on the emptiness of American life (particularly the workplace) and our worship of celebrities." Green Lake Reflections' Overstreet considers the film's sexual implications: "It's Alice in Wonderland for this decade; its heroes crawl down rabbit holes into a world of gender role and sexual identity conflicts. ... What happens when the voyeuristic visitors to Malkovich enter into intimate moments? ... What happens when a woman visits Malkovich's mind?"
Two critics weighed in with new reviews on the end-time thriller The Omega Code this week, which as has so far received tenuous support from Christian reviewers. Most critics had been embracing the injection of biblically minded themes into the nations theaters but distancing themselves from the film's violence, low production values, and muddled theology. (For previous comments on this film, read last week's article here.) Doug Cummings of the Movies & Ministry Web Resource argues that the film is a step in the wrong direction for Christian moviemaking. "There's a difference between making films that promote Christian truth and making films for a particular segment of the population who subsequently feel it's their Christian duty to buy tickets. The Omega Code is not about entering our culture and becoming 'salt and light to the world,' but about capitalizing on built-in audiences and emphasizing the cultural rift that exists between church and society." Evan Dickens of Ncubator was encouraged that "our little low-budget films can make an impact in the general market," but doubted the film would change lives: "The average viewer who knows nothing of God or the Bible or the end-times is going to see this movie and really have no idea what to do with it."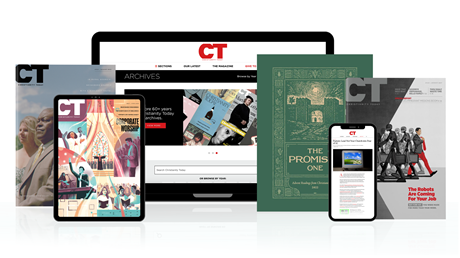 Annual & Monthly subscriptions available.
Print & Digital Issues of CT magazine
Complete access to every article on ChristianityToday.com
Unlimited access to 65+ years of CT's online archives
Member-only special issues
Subscribe
A Bone to Pick
A Bone to Pick