"Nationwide, the number of adults being baptized as Catholics is up by as much as 10 percent this year, and the number of Catholic adults who were baptized as infants but who are just now receiving First Communion and being confirmed is rising slightly faster," reports The Boston Globe. Though the article doesn't mention specific statistics, it says many of these converts are coming from Protestantism.
"I feel ridiculed, humiliated, raped," Francisco Santana tells the Miami Herald. Santana, the paper says, "has been a personal religious advisor to the Miami Gonzalez family and a key player in negotiations with the U.S. government." But other religious leaders in the community are no less bombastic. "They say in the Scripture that a shadow fell on Jerusalem when Jesus was crucified," pastor Humberto Cruz says. "A shadow has once again fallen, this time on our city." Fortunately, not all pastors equate Elián's removal with the crucifixion of the Son of God. Emilio Vallina, for example, was content with saying, "This is all part of God's plan."
The Air Force inspector general is investigating charges that Brig. Gen. Lorraine Potter, Air Force deputy chief of the chaplain service, said, "African-American chaplains are good pastors and preachers but cannot do staff work." Another source says the inspector general is also looking broadly into whether the chaplain service discriminates against African Americans.
Winnipeg-based standup comedian Al Rae takes a look at a few boxes worth of Christian stand-up videos. He finds Nazareth Rizkallah offensive and racist (for the record, ChristianityToday.com Weblog has never heard of him), and Phil Snyder "borderline," but Chonda Pierce is "a real comic … a comedic and religious natural." Still, as a whole, Rae isn't a big fan of the Christian comedy circuit: "Hearing the stories—'testimony' is the preferred term—and viewing the dozens of Internet sites that celebrate Christian comedy, it all starts to sound cliché."
The United Christian Forum for Human Rights says a motor scooter deliberately ran down three nuns in Haryana, India. One was seriously injured.
The Association of Teachers and Lecturers says television shows like Buffy are heightening interest in "satanism, blood-letting and wicca" among children. A survey commissioned by the group found that 54 percent of children between the ages of 11 and 16 were interested in the occult and the supernatural. Nearly one-quarter said they were "very interested." But if Christian children were asked if they are interested in the supernatural, how would they respond? How would you?
Focal Point, a Christian charity in South Wales, hired an actor to play a crucified Jesus on Good Friday. But the effect was too real for some passersby, who called for an ambulance. "I don't agree with this sort of thing being forced on people, especially children," said one critic in The Times. "I saw one young lad crying. It was very realistic." (see also The Guardian's report.)
Steven Curtis Chapman won six of the Gospel Music Association's annual awards, including Artist of the Year. Michael W. Smith's "This Is Your Time" won Song of the Year, and Sixpence None the Richer was awarded Group of the Year. See a full list of winners at DoveAwards.com
"I began myself to feel the powerful nature of that corruption, because within moments, of course, I could have established my ability to access that material and moved on, but I found myself lingering with a sense of fascination over it," Desmond Swayne tells The Times. "I felt profoundly the words of St Paul when he said: 'Your enemy, the Devil, is a roaring lion walketh about seeking whom he might devour.'" Swayne is now calling for more Internet restrictions.
Cardinal Francis George preached on the freedom of the Resurrection, and how Christians "are called to be free, in our constant giving, our sacrificing of ourselves for others." Bob Barron of Catholic Family Radio went for an "in your face" sermon about "Jesus the warrior, not Jesus the ethical teacher. The powers of the world will always be arrayed against God. The Gospel is one great argument and struggle." Norval Brown, pastor of the Fourth Street United Methodist Church in Aurora, used the message of the empty tomb to conclude, "I have got to empty myself of everything that is of this world, everything that is not God-centered." Jeff Sweitzer, pastor of Country Evangelical Covenant Church, preached on costly grace: "Grace doesn't cost us anything, but it cost Christ everything." Apart from the staff reporter's comment about how the sermons have nothing to do with "cold hard facts or … reasoned opinions," it's a fine article.
Archbishop of Canterbury George Carey has dismissed his four theological advisers, who regularly met to counsel the Church of England head on controversial issues such as women priests, homosexuality, the authority of the Church, and the doctrine of Hell, reports The Times. "There is a different personal style now involved as to how the Archbishop obtains information and shares theological insights," says Carey's spokesman.
Related Elsewhere
See our past Weblogs: April 24 April 19 | 18 | 17 April 13 | 12 | 11 | 10 April 6 | 5 | 4 | 3 March 31 | 30 | 29 | 28 | 27 March 24 | 22 | 20 March 17 | 16 | 15 | 14 | 13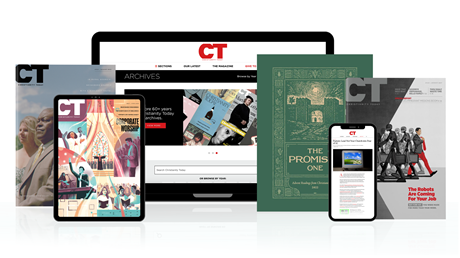 Subscribe to Christianity Today and get access to this article plus 65+ years of archives.
Home delivery of CT magazine
Complete access to articles on ChristianityToday.com
Over 120 years of magazine archives plus full access to all of CT's online archives
Subscribe Now
Adult Converts to Catholicism Up 10 Percent
Adult Converts to Catholicism Up 10 Percent