Billy Graham's alma mater is changing its mascot "as a matter of principle," says Wheaton College President Duane Litfin. "I came to realize that those [Crusades] were not very happy episodes in Christianity. They are not something we want to glorify." The college is currently undergoing a search for a new mascot. Suggestions include the Cherubs, Eagles, Flames, Lions, Sojourners and Whirlwind. (Wheaton's Web site has a letter from Litfin announcing the mascot change, comments from other college-related personnel supporting the change, and a mascot nomination form).
China, high on defeating U.N. criticism, continues religious persecution
One of the bigger stories we missed last week in the ChristianityToday.com Weblog was China's defeat of a U.S. resolution to censure the country for religious and political repression. It was the tenth year in a row that the United Nations failed to act on such a measure, but this year's lobbying by Secretary of State Madeleine Albright and other major American officials was particularly intense (see articles on the defeat in The Washington Post, The New York Times, and The Los Angeles Times, among other news sites). Since then, China has apparently upped its crackdown on religious dissidents; 100 members of the Falun Gong movement were arrested in Tiananmen Square Tuesday.
"Lieutenant General Omar Hassan al-Bashir, the president of the republic, late yesterday night directed the general command of the armed forces to stop all air bombing operations in the south of the country except in self-defence and in operations areas," reported al-Sharia al-Siyassi (id in a Reuters wire story). See ChristianityToday.com's latest Sudan coverage here.
Augustin Misago, the first Roman Catholic bishop ever to be charged with genocide (he denies charges that he caused three priests and several children to meet their deaths by denying them shelter), has been given two weeks to rest. He has not been attending proceedings, reportedly due to high blood pressure.
Eberhard Bethge, Dietrich Bonhoeffer's closest friend, editor, and biographer, died of pneumonia March 18 at his home in Bonn, Germany. Bethge was a leader in Bonhoeffer's anti-Nazi Confessing Church and was arrested for being a part of Bonhoeffer's attempt to kill Hitler.
Yesterday's ChristianityToday.com Weblog noted how a Welsh crucifixion display sent observers racing for an ambulance. The Jesus in that display was fine, but an actor playing Judas in Italy wasn't so lucky. In a Passion Play scene where Judas commits suicide, 23-year-old Renato Di Paolo apparently lost his footing and accidentally hanged himself.
As noted earlier in ChristianityToday.com Weblog and Christianity Today, the Canadian Christian college has been embroiled in a four-year battle with the British Columbia College of Teachers. The association refuses to accredit the school because of its stance on homosexuality. As the Supreme Court of Canada considers the case, The Washington Post weighs what's at stake: "If the Supreme Court sides with the College of Teachers, it could effectively bar religion-based universities in Canada from training all students seeking to become licensed professionals. It could also open the door for teacher certification boards to begin inquiring into the religious beliefs of individual teachers and applicants, civil liberty advocates say. A victory for Trinity Western, on the other hand, would be a rare setback for Canada's sweeping human rights codes, which not only ban discrimination on the basis of race, religion, gender, nationality or sexual orientation, but also any speech deemed to be unduly critical of such groups."
An Argentinian school barred a pregnant 17-year-old from classes after it discovered she was pregnant. But the education ministry and a local court said the school had no right to do so, and rather than comply with the official orders to allow her to attend, the school shut down for a week. Finally, a bishop stepped in and told the school to reopen and allow the high-school senior to finish her education. Classes resumed over Holy Week.
Related Elsewhere
See our past Weblogs: April 25 | 24 April 19 | 18 | 17 April 13 | 12 | 11 | 10 April 6 | 5 | 4 | 3 March 31 | 30 | 29 | 28 | 27 March 24 | 22 | 20 March 17 | 16 | 15 | 14 | 13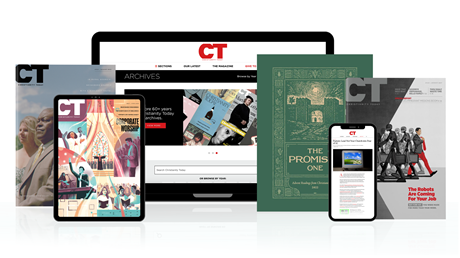 Subscribe to Christianity Today and get access to this article plus 65+ years of archives.
Home delivery of CT magazine
Complete access to articles on ChristianityToday.com
Over 120 years of magazine archives plus full access to all of CT's online archives
Subscribe Now
Wheaton College Crusaders No More
Wheaton College Crusaders No More