"With God, all things are possible," but with the 6th U.S. Circuit Court of Appeals, not all state mottoes are legal. The court ruled 2-1 that the Matthew 19:26 reference "must be seen as advancing, or at a minimum, showing a particular affinity for Christianity" as Ohio's motto. "Simply put, they are an endorsement of the Christian religion by the State of Ohio," wrote Judge Avern Cohn. "No other interpretation in the context of their presence in the New Testament is possible." Judge David A. Nelson dissented, saying he found little difference between Ohio's motto and the national "In God we trust." Ohio Gov. Bob Taft says he "will do everything within my power to uphold and defend the motto of our state." (Read the decision here or see local coverage in The Columbus Dispatch, the Cincinnati Post ( two stories), The Cincinnati Enquirer, Cleveland's The Plain Dealer, the Akron Beacon Journal, and Toledo's The Blade).
In a Holy Week article, Peter Carnley (who will be installed this week as the primate, or head, of Australia's Anglican Church) criticized Christians who believe Jesus is the only way to God. "When St Luke wrote that there is salvation in no-one else, save Jesus Christ alone, he was not just comparing Jesus with other alternative religious leaders and rival religious systems," he wrote. "Indeed, if he had a vague idea of the existence of India at the fringes of his world, he probably had no idea of the existence of China at all, let alone of the teachings of the Buddha or Confucius. Mohammed was, of course, yet unborn. The modern question of 'other religions' was for Luke miles away, centuries off." He also implied that Christ was not necessarily physically resurrected, but that it doesn't matter anyway. Carnley's positions have alarmed more orthodox Anglicans in the country, especially in the conservative Sydney Diocese. At least two church leaders in the diocese will boycott the installation, reports the Sydney Morning Herald.
The bill, which creates the legal framework for "civil unions" between same-sex couples, will be signed by Gov. Howard Dean any day now. See our editorial on defining marriage here.
"The Supreme Court appeared ready today to overturn Nebraska's ban on what the state calls partial-birth abortion, on the ground that the law potentially applies to many more abortions than the specific late-term procedure that Nebraska now says is all it intended to outlaw," writes The New York Times's Linda Greenhouse. "But it was not clear from the argument today whether the justices, six of whom support the underlying right to abortion, would go further and rule that a state cannot, even by a more finely tuned statute, make it a crime to use a particular method to terminate a pregnancy."
Asked if they agree "that through the life, death and Resurrection of Jesus, God provided a way for the forgiveness of my sins," 69 percent of Canadians said yes. Those between the ages of 18 to 34 differed only slightly from those 35 and older. "Where they get it from is a bit of a mystery," writes Michael Valpy for The Globe and Mail (which commissioned the study with the Canadian Television Network), noting that few Canadians—especially youth—attend regular church services. "It will be good news—maybe—for Canada's mainstream churches, which increasingly voice fears that an entire generation could be largely beyond their reach, oblivious of the Christian stories and the Christian church's teachings."
An earlier ChristianityToday.com Weblog item noted that the church, which worships using the jazz great's music, was facing a doubling rent and would have to close. It is, in fact, moving. It needs $20,000 to find a permanent home, but will share space with another church in the meantime.
After the Chicago White Sox got into a brawl with the Detroit Tigers when both teams' pitchers repeatedly took aim at batters, White Sox manager Jerry Manuel was ejected. Manuel, known for his Christian beliefs (though sometimes misidentified as a Buddhist—that's former Bulls coach Phil Jackson, folks), sees no inconsistency between his faith and his team's rules-breaking pitching. "In biblical times there was war, bloodshed, anger at injustices," he told the Chicago Tribune after his ejection. "I aim to stay within the rules as much as possible, but sometimes the arena you're in dictates what's going on." He earlier told the paper, "The Christian lifestyle I pursue is competitiveness to the utmost. I can't be small in the game because of my beliefs. I must be the most competitive warrior out there because I'm representing something I think is higher than what someone else is bringing into battle."
The evangelistic campaign to present the gospel to all U.S. prisoners over a five-year period got underway Easter Sunday, greeted by an Associated Press article on the effort. Operation Starting Line is backed by Prison Fellowship, the Billy Graham Evangelistic Association, National Black Evangelical Association, Campus Crusade, the Navigators, Walk Thru the Bible, the American Bible Society, Promise Keepers, and several other Christian organizations. See our September 6, 1999, editorial " Go Directly to Jail" for more information.
The skull of Pope Benedict XIII (d. 1423)—actually one of the antipopes who ruled from Avingnon, France, during the Great Schism of the Western Church—has been stolen from a Spanish museum. Benedict was deposed by the Council of Constance on July 26, 1417, which eventually concluded the schism, but he still claimed to be pope until his death. Roman Catholics still don't consider him a true successor to Peter, so there's actually two historical figures with the title Pope Benedict XIII (the latter lived from 1649 to 1730). Anyway, the schismatic Benedict's skull was the only part of his remains left. The Associated Press article doesn't mention any motive for the robbery.
Related Elsewhere
See our past Weblogs: April 26 | 25 | 24 April 19 | 18 | 17 April 13 | 12 | 11 | 10 April 6 | 5 | 4 | 3 March 31 | 30 | 29 | 28 | 27 March 24 | 22 | 20 March 17 | 16 | 15 | 14 | 13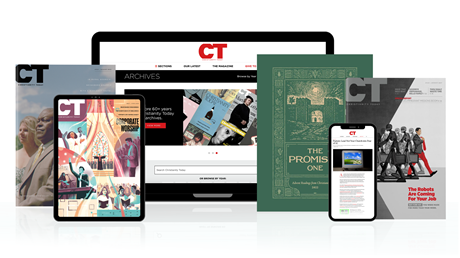 Annual & Monthly subscriptions available.
Print & Digital Issues of CT magazine
Complete access to every article on ChristianityToday.com
Unlimited access to 65+ years of CT's online archives
Member-only special issues
Subscribe
Ohio's Motto 'With God All Things Are Possible ' Ruled Unconstitutional
Ohio's Motto 'With God All Things Are Possible ' ...