"The justices did not seem particularly interested in either Boy Scout policy or the future of gay rights," writes New York Times Supreme Court reporter Linda Greenhouse. "Rather, what clearly concerned the court were the implications of ruling for one side or the other. If the Boy Scouts cannot exclude gays, can they still exclude girls, the justices wanted to know. Would a Jewish social group be forced to accept non-Jewish members, or a gay organization to include heterosexuals?"
Yesterday's ChristianityToday.com Weblog noted that the leader of Australia's Anglican church, Peter Carnley, was under fire for an article he wrote challenging both Christ's resurrection and Christ's uniqueness as the only way to reconcile with God. Though we mentioned early criticism of Carnley had come from within the Sydney diocese, the criticism has gotten much louder. R.H.Goodhew, Archbishop of Sydney, has called Carnley's article "unhelpful and misleading. Even more to the point, his comments could be construed as flying in the face of the doctrine expressed in … the Thirty Nine Articles of Religion and … the Book of Common Prayer. It might also be seen as placing some limitation on the universality of the Nicene Creed's statement: 'Who for us men, and for our salvation came down from heaven.'" The response has garnered heavy media attention around the country (see The Australian, and The Age). The diocese's Web site has Goodhew's response, a letter to the clergy in his diocese on the matter, and " A background news article for overseas visitors" that will be very helpful for American readers.
Since the pope, while in the Holy Land, said the Catholic Church "is deeply saddened by the hatred, acts of persecution and displays of anti-Semitism directed against the Jews by Christians at any time and in any place," T. R. Reid says it's time for Christians to never repeat the "complete distortion of history" that Jews were largely responsible for Jesus' crucifixion. "Everything we know about the Roman government of Judaea and about Pontius Pilate himself tells us that this scenario is probably bunk," says the Post's London correspondent (he echoes a Boston Globe columnist noted in the ChristianityToday.com Weblog last week). "The church has a full year until the next Good Friday. That should be time enough to rewrite the 'passion' and live up to the pope's bold pledge in Jerusalem." Less than a year to drop John 18-19 (not to mention Matthew 26-27, Mark 14-15, and Luke 22-23) from the biblical Canon? No problem, T.R. We'll get right on it.
"I would far rather people come to belief in the living God through Judaism than have no spiritual home at all," Richard Harries, Bishop of Oxford and chairman of the Council of Christians and Jews, tells The Times. "Looking at people's spiritual needs, I see a category of people who are natural monotheists and who cannot believe Christian claims about Jesus but who would love to have a spiritual home. While New Age religions offer some spiritual insights, Judaism offers a tradition, a way of believing and behaving that has been tried and tested for nearly 4,000 years." The Times is careful to add, "The bishop said that he had not been tempted to convert." (See more coverage by the BBC.)
Harvey Cox, professor at Harvard Divinity School, played Pontius Pilate. His colleague, Allen Callahan, was the prosecuting attorney. Defending Jesus was Alan Dershowitz (yes, that Alan Dershowitz, from the teevee and the O.J. Simpson trial, though he's done other stuff, too). It was all part of a classroom exercize for Cox's and Callahan's "Contemporary Interpretations of Jesus" class, and was apparently cut short by the bell—a mock trial in more ways than one, apparently. (Other examinations of Jesus' trial include Craig S. Keener's article for Christian History and Darrell L. Bock's for Christianity Today.)
"I've gone to the police and they do nothing about [harassment]," Avi Mizrachi, leader of a messianic congregation in Tel Aviv, tells The Washington Times. "Once I had a landlord who was religious. He ordered me out of the house. And then he punched me. One of my friends, Yaacov, has been beaten on the streets for handing out tracts."
"It's unseemly and it shows a lack of respect," says Ener Glotario, priest at Barranquilla's Holy Trinity Church.
Related Elsewhere
See our past Weblogs: April 27 | 26 | 25 | 24 April 19 | 18 | 17 April 13 | 12 | 11 | 10 April 6 | 5 | 4 | 3 March 31 | 30 | 29 | 28 | 27 March 24 | 22 | 20 March 17 | 16 | 15 | 14 | 13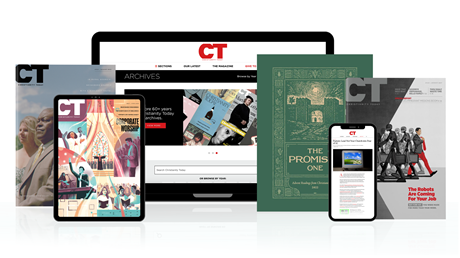 Annual & Monthly subscriptions available.
Print & Digital Issues of CT magazine
Complete access to every article on ChristianityToday.com
Unlimited access to 65+ years of CT's online archives
Member-only special issues
Subscribe
Gay Issue Second to Organizational Identification in Supreme Court Questioning
Gay Issue Second to Organizational Identification ...