Just over a month ago, on March 18, theologian and biographer Eberhard Bethge died at age 90. Most of what we know about Dietrich Bonhoeffer comes from Bethge's books, one of which was recently re-released in revised form. Most of what we know about Bethge is that he wrote about Bonhoeffer—all six of my Web searches on Bethge's name turned up only bylines.
A few more details on Bethge's life are available. He was born in Warchau, near Magdeburg, in 1909. He attended several universities, receiving a Doctor of Divinity degree, before attending the secret Finkenwalde Seminary where Bonhoeffer taught the doctrines of Germany's Confessing (anti-Nazi) Church. He became Bonhoeffer's close friend and confidant, and he also married Bonhoeffer's niece, Renate.
Though a member of the Resistance, Bethge was drafted to serve in the German army during World War II. He was later arrested, along with dozens of other resisters, after the failed attempt to kill Adolf Hitler on July 20, 1944. After the war he spent several years as pastor for the same German-speaking congregation in England that Bonhoeffer had served in 1933-35. He also held various academic posts and lectureships, including stints at Harvard Divinity School, Chicago Theological Seminary, and Union Seminary in New York. He continued to give lectures until a year before his death.
Bethge is best known as the author of the definitive biography Dietrich Bonhoeffer: Man of Vision, Man of Courage. (A new version, Dietrich Bonhoeffer: A Biography, has just been released by editor Victoria J. Barnett, who corrected some translation errors and added material from the German edition—notably on Bonhoeffer's childhood—that had never appeared in English.) Bethge also collected and edited Bonhoeffer's Letters and Papers from Prison (most of the letters were addressed to him) and the unfinished effort Bonhoeffer considered his main life's work, Ethics. More recently, Bethge edited Friendship and Resistance: Essays on Dietrich Bonhoeffer.
In 1991 Bethge wrote an article for Christian History titled "My Friend Dietrich." Reflecting on his former companion's work, he admits that "the language, concepts, and thought paradigms of this man are a half century old and older. … We find in him no answers to many of our most pressing questions." Yet even after 45 years, Bethge still discovered new insights in his friend's words:
"I am truly familiar with Bonhoeffer's letters to me from Tegel [prison]. However, in some places, whether from instinct or fear, I had perhaps long overlooked things."
His letter on July 21, 1944, the day after the failed uprising, is perhaps my favorite. [Bonhoeffer had learned through a radio broadcast that Hitler had survived the assassination attempt.] It contains a kind of account by Bonhoeffer about his life—which was to end by impending execution, an act of revenge by Hitler meant to be a death of disgrace. I had never really pondered what Bonhoeffer wrote there: 'For this reason I thankfully and peacefully reflect on things past and things present.' For a long time I overlooked the words, 'and things present'! This 'things present' was, of course, the failure of that uprising the day before. 'Things present' meant the shattering of all hope for himself, for the church, and for Germany. It meant the gallows, in shame. Why then did he write, 'I thankfully and peacefully reflect on … things present'?
"Because only when the July 20 assassination attempt failed was it revealed to all the world that Bonhoeffer and his friends, in any case, did not stand on the side of the murdering Devil. They stood rather on the side of the God-forsaken victims. As a German, Bonhoeffer had felt guilt-laden connections to his nation's murder of the Jews. At last the terrible time of increasing guilt was over. The time of complicity with the perpetrators had ended."
Bethge is survived by Renate, a son, and two daughters.
Elesha Coffman is Assistant Editor of Christian History.
Related Elsewhere
For information on ordering Christian History's issue on Bonhoeffer (issue 32), visit the Christian History Store.
See an obituary of Bethge in The Boston Globe.
Some more information on Bonhoeffer and Bethge are available in "Bonhoeffer's Life Together And The Christian University," by Dan Caldwell, Chair of the Council on International Studies and Professor of Political Science at Pepperdine University.
Bethge's biography of Bonhoeffer is available at the Christianity Online Bookstore.
More Christian History, including a listing of events that occurred this week in the church's past, is available at ChristianHistory.net. We also strongly encourage you to subscribe to the quarterly print magazine.
Christian History Corner appears every Friday at ChristianityToday.com. Previous Christian History Corners include:
When Is Easter This Year? | It may be hard to tell when Easter will fall, but it was even harder for the church to create its calculations. (April 20, 2000)
Coming Soon to a Bookshelf Near You | Christianity Today's annual book awards contain some choice history selections (April 14, 2000)
The Original 'Charitable Choice' Program | Transferring authority over Native Americans from the military to the church was a nice idea, but it failed. (Apr. 7, 2000)
Donne on Death | Poet John Donne's "morbid tendencies" were neither unfounded nor without an attendant hope. (Mar. 31, 2000)
Heaven Can't Wait | Mass suicides, like last week's in Uganda, may be a newer tactic, but the temptation to predict, even force, the coming of kingdom bliss is not. (Mar. 24, 2000)
Forgive and Remember | Pope John Paul II's apology was unprecedented, but not entirely unique. (Mar. 17, 2000)
Modernism's Moses | Harry Emerson Fosdick, one of the century's most controversial Christians, devoted much of his life to fighting fundamentalism. (Mar. 10, 2000)
The Man They Made a Monkey | William Jennings Bryan won the battle but lost the war against teaching evolution in the schools. (Mar. 10, 2000)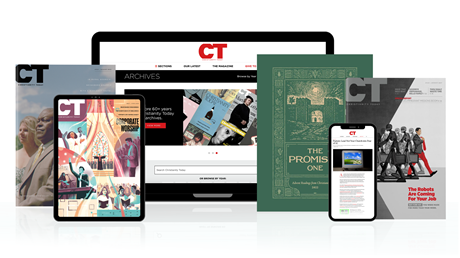 Annual & Monthly subscriptions available.
Print & Digital Issues of CT magazine
Complete access to every article on ChristianityToday.com
Unlimited access to 65+ years of CT's online archives
Member-only special issues
Subscribe
Dietrich's Friend Eberhard
Dietrich's Friend Eberhard