Boy Scout protests fizzle
It was supposed to be a massive show of unity against the Boy Scouts of America's ban on homosexual scout leaders. Rallies were planned at 36 Boy Scout offices in 21 states (or 40 cities in 19 states, depending on what paper you're reading). But what if you threw a protest and nobody came? Only half a dozen showed up for a Houston march. Even San Francisco only had 30 protesters—about the same as Washington, D.C. And at Boy Scout headquarters in Irvine, Texas, only a dozen gay activists demonstrated. The New York Times, which usually jumps at any opportunity for gay-related news, doesn't even mention the protests in today's paper—and it's a relatively slow news day.
Borno, Nigeria's northeasternmost state, is the latest Nigerian state to adopt the strict Islamic law—despite an agreement with the federal government that it would not do so. As in other states, Christians are protesting the decision.
Gary Paul Karr may not have been found guilty of kidnapping or killing the famed atheist, but under Texas's "three strikes" law, the four counts of extortion and theft jurors did find him guilty of are enough to send him away for life. Still, the jurors don't think justice was done. "Gary Karr is right that he got the short end of the stick," said jury foreman and attorney Hector Rodriguez. "We kept wondering why we didn't have [former O'Hair employee David] Waters on trial. We didn't buy the prosecutor's story that Karr was a kidnapper or a killer. Most of us weren't convinced the O'Hairs are even dead." (See also the Associated Press coverage of Karr's sentencing.)
Remember last week's story about Ten Commandments book covers in Chicago and elsewhere? An atheist group in Grand Prairie, Texas, is distributing atheist book covers with a quotes about the separation of church and state and a message from Madalyn Murray O'Hair. Yes, from that Madalyn Murray O'Hair. You know, when someone is serving life in a case connected with the five-year-old disappearance of your figurehead, maybe it's time to find a new figurehead. On a related note, the San Francisco Chronicle's Jon Carroll challenges Chicago public schools CEO Paul Vallas's comment that the Ten Commandments are "certainly universally accepted."
The move comes in response to hundreds of abuse lawsuits by former students of church-run Canadian schools. Everyone—clergy and non-ordained staffers—will have to go through criminal background checks every three years. Some clergy aren't pleased. "It is more than a little ironic that a left-leaning, establishment-challenging outfit like the United Church of Canada is now turning to the local policeman for assurance that its personnel are OK," says John Moses, minister at Montreal's Erskine and American United Church.
Sixty academics and practitioners are meeting in Nairobi for a spiritual warfare conference, which is sponsored by the Lausanne Committee for World Evangelization and the Association of Evangelicals in Africa. The "Deliver Us From Evil" discussions meetings are focusing on such hotly debated issues as territorial spirits, the role of psychology and medicine in spiritual warfare, and theological contextualization. Most of the papers delivered are already available online at the Lausanne Web site. Marguerite Kraft argues that Western emphasis on secularism harms efforts abroad: "The theological abstractions of the West often have very little relevance to life as people of other societies experience it." A. Scott Moreau praises recent emphasis on territorial spirits for "tak[ing] Satan and the powers more seriously than traditional Western approaches" and "focus[ing] on the power of prayer rather than planning and strategy." But, he adds, some common teachings fall "dangerously close to what could be called Christian magic." The weeklong, invitation-only conference concludes today.
Two million Catholic youth showed up in Rome last weekend for World Youth Day—the largest crowd the city has seen in recorded history. And for four Latin Americans, it was a perfect cover. Dressed as religious pilgrims with fake "World Congress of Catholic Youth" credentials, the men tried bringing several pounds of cocaine into Europe. They were busted.
See our past Weblog updates:
August 21 August 18 | 17 | 16 | 15 | 14 August 11 | 10 | 9 July 27 | 25 | 24 July 21 | 19 | 18 | 17 July 13 | 12 | 11 | 10 July 7 | 5 | 3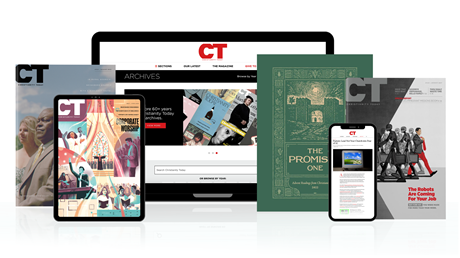 Annual & Monthly subscriptions available.
Print & Digital Issues of CT magazine
Complete access to every article on ChristianityToday.com
Unlimited access to 65+ years of CT's online archives
Member-only special issues
Subscribe
The Itty-Bitty Protest Against Scouting
The Itty-Bitty Protest Against Scouting