Fifteen people have drowned this summer in the lake where Jesus walked. Officials blame the waterline, which has dropped dramatically. "The low level of the lake means that the bathers have to walk a much longer way to reach the water in order to take a dip or swim," says Zvi Ortenberg, the government official in charge of the lake. "The problem arises when they reach the water and go in as far as, say, their chest, as many would in normal circumstances, and then suddenly there is a shelf or ridge where the water is much deeper."
The Eastern Orthodox Church canonized Hungary's King Saint Stephen I as the country celebrated his founding of the country 1,000 years ago. It's the first time that the Eastern Orthodox have canonized someone already a saint in the Roman Catholic Church since the Great Schism in 1054 (Stephen I was elevated to sainthood by the Roman Catholic Church in 1686). "This reflects that Hungary, committed to the beliefs and conviction of Saint Stephen, wishes to be a bridge between the East and the West, the Eastern and the Western Church," said Hungarian President Ferenc Madl. Less than 1 percent of Hungary is Eastern Orthodox.
Is every newspaper required to run a " Promise Keepers still going, but smaller" story when the rallies come to town? This weekend PK is in Massachusetts, and it's The Boston Globe's turn to look at what went wrong, and why Bill McCartney's group is back.
That's right. Gone are the days when Bible camp meant work detail, cold gruel, and whippings for falling asleep during Lamentations memorization. Now summer camps actually try to keep kids interested while educating them. What a novel concept! Apparently the problem is that "normally the sixth-graders don't think this [religious] stuff is cool," in the words of one mom. A true shocker.
"Your front page report of a Christian priest's house … states that no foul play was suspected," writes a Times reader. "In which case, why have you chosen to give this piece of non-news such prominence? Would you similarly highlight such an incident befalling a priest of any other community, or indeed any lay citizen?" The paper responds, "The point is well taken. We regret this contretemps and assure our readers that we shall be vigilant and not repeat the error in future." The Times of India has given a lot of play to violence against Christians in that country, though Christian leaders in India tell ChristianityToday.com that The Hindu newspaper gives the fairest treatment of the situation.
U.S. District Judge Marvin J. Garbis ruled earlier that Columbia Union College was not eligible for state funds because it is "pervasively sectarian." But the Supreme Court recently rejected the "pervasively sectarian" test and Garbis is back with a ruling in favor of the school. But he says it wasn't the Supreme Court that changed his mind, it was the school. "The evidence does not … establish that it is pervasively sectarian. The primary goal and function of Columbia Union College is to provide a secular education even though it has a definite and strong secondary goal to teach with a 'Christian vision.' " Really? The school's Web site calls it "a Christian community of spiritual, cultural, athletic and career opportunities." (See the Associated Press' story and the Center for Individual Rights' now-outdated site summarizing the case, with reprints of past related news articles.) The decision should be available here eventually.
In related education news, Forbes has an interesting article about Los Angeles accountant and Orthodox Jew Michael Sklar, who argues that a November 1993 IRS ruling that Scientologists can deduct "fixed donations" they paid for religious education means that he should be able to deduct much of his children's religious education bills. Though the article is short, the case will be an interesting one to watch.
"Pop culture is a cantankerous, polymorphous critter," writes Jon Pareles in a New York Times commentary lamenting "moral-panic soundbites" in the U.S. presidential election. "It's just as likely, and perhaps more likely, to be a counterweight, providing feelings that people are missing in their daily lives." So forget the worries about violent video games, misanthropic music, and sex-crazed radio hosts, he suggests. "In 2000, the United States has peace, a humming economy and widespread quiescence; there's no visible enemy, just bland corporate power. And as a balance, pop culture is a thrashing, belligerent mess, where everyday frustration and aggression discharge in a jubilant symbolic rage. It's a strange equilibrium, and applying real-world values might have unintended consequences." Oh, but one more thing, Pareles adds seriously: musicians like Eminem should clean up their homophobic slurs. Somebody could get hurt.
See our past Weblog updates:
August 22 | 21 August 18 | 17 | 16 | 15 | 14 August 11 | 10 | 9 July 27 | 25 | 24 July 21 | 19 | 18 | 17 July 13 | 12 | 11 | 10 July 7 | 5 | 3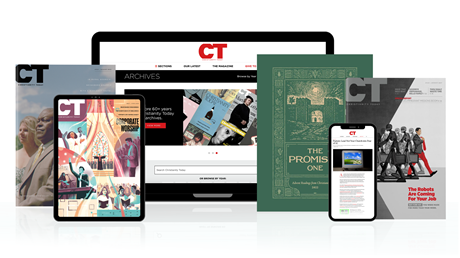 Annual & Monthly subscriptions available.
Print & Digital Issues of CT magazine
Complete access to every article on ChristianityToday.com
Unlimited access to 65+ years of CT's online archives
Member-only special issues
Subscribe
The Sea Jesus Calmed Is Becoming Deadlier than Ever
The Sea Jesus Calmed Is Becoming Deadlier than Ever