"This will suppress violence and terrorism that is going on in the name of religion," says Dastur Firoze M. Kotwal, a Zoroastrian high priest who's attending the Millennium World Peace Summit of Religious and Spiritual Leaders at the United Nations this week. Pretty tall order for one conference to suppress all that, but it sure sounds noble. Unfortunately, some of the other statements made at the conference are more ominous. "It's nice to come together here," Rabbi Arthur Schneier, president of the Appeal of Conscience Foundation, tells The New York Times. "But we have a lot of those who are out there who are not in sync, and who are seeking to undermine our peacemaking, bridge-building efforts. … We have to marginalize religious leaders who are peace spoilers and are inciting hatred and nationalistic passions, which destroys life." And what religious leaders might those be? At least in some minds, it's evangelistically-minded Christians. "Let us put an end—an immediate end—to strife in the name of religion," Wande Abimbola, a Yoruba priest is quoted as saying in the Chicago Tribune, which notes that he's explicitly referring to Christian missionaries. "Leave us alone, let religious freedom reign supreme." Meanwhile, evangelicals are reacting negatively to Ted Turner's speech Tuesday. Darren Logan, foreign policy analyst for the Family Research Council, tells conservative Newsmax.com that Turner's speech was "the most blasphemous thing I have ever heard in my life." The Times of India also has an interesting look at the summit, emphasizing the radical feminist speeches. from Northern Ireland stated in her forthright manner: "War is essentially man's work," said Betty Williams, the Nobel peace Laureate. "Now move over. Women will ensure peace. … Invoke the all-pervading feminine power—the very embodiment of non-violence—to be here with us. Give women a chance and non-violence will effortlessly be the religion of the new millennium." Who's laughing now, all you who criticized the Left Behind series for suggesting that the dialogue of the baddies in those books is too unrealistic?
When Zachary Hood was in first grade back in 1996, his teacher told him he could read his favorite story to the class. Zachary chose a story about Jacob and Esau from The Beginner's Bible, but the teacher said no. The family sued, and the case has been going through the courts ever since. On Monday, the Third U.S. Circuit Court of Appeals split, 6-6, so a lower court's ruling in favor of the school stands. The Hoods say they're going to appeal to the Supreme Court. (See the Circuit Court's opinion here.)
Celebration, Florida, has everything people associate with idyllic America: a dry goods store, fruit stand, ice cream parlor, theater, fire station, railroad station and town hall. Now the town, created by Disney, finally has a church. "The kingdom of God has been planted in the shadow of the Magic Kingdom," says the Rev. Patrick Wrisley, pastor of Community Presbyterian Church, which until now has been meeting in a movie theater. How Disneyish.
See our past Weblog updates:
August 30 | 29 August 25 | 24 | 23 | 22 | 21 August 18 | 17 | 16 | 15 | 14 August 11 | 10 | 9 July 27 | 25 | 24 July 21 | 19 | 18 | 17 July 13 | 12 | 11 | 10 July 7 | 5 | 3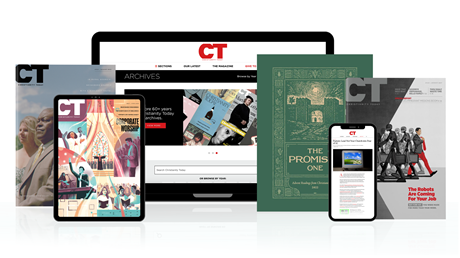 Annual & Monthly subscriptions available.
Print & Digital Issues of CT magazine
Complete access to every article on ChristianityToday.com
Unlimited access to 65+ years of CT's online archives
Member-only special issues
Subscribe
Peace Summit or Chance to Rip on Christians?
Peace Summit or Chance to Rip on Christians?