Consider:
When Hollywood Presbyterian Church did a "needs analysis" of the membership, leaders found couples wanted help in coping with marital pressures. In response, they launched an array of classes targeted to married couples at different ages and with varied needs.
One pastor of a small church became so convinced of the value of premarital psychological testing that he began sending couples to a professional counselor. The counselor identifies high-risk relationships, gives the pastor advice on problem areas, and suggests how to support the couple before—and after—the wedding. If money is an issue, the counselor donates his services.
One independent church in Southern California conducts regular retreats for couples married less than five years. Held at a nearby retreat center, the weekend includes presentations, discussion times, and a closing service of prayer and marriage rededication.
What role should churches play in strengthening marriage and preventing divorce? As these examples suggest, the potential and opportunities are great. But I have a growing conviction that, for the most part, churches are failing couples in crisis. They generally avoid taking an active role in helping couples headed for divorce. We need a kind of shock therapy to become alert to the missed opportunities.
How marriage has changed
Before we can change this picture, we need to understand why increasing numbers of Christians seek divorce. Marital failure stems from three separate but interrelated factors.First, for many in America, the nature of marriage has changed. Research confirms that most now marry primarily for companionship rather than economic security. However, the recency of the shift leaves contemporary couples without the role models and elder guides that were readily available to previous generations.Second, the new emphasis on companionship marriage has evolved at a time when couples are more isolated from networks of family and friends than ever before. High mobility and rugged individualism leave many to struggle alone. Isolation from the church may drive couples to require more than a healthy dose of relationship satisfaction from their marriage, placing further strains on it.Sometimes the church only reinforces this. One large suburban congregation's stock response to hurting couples is to give them the pastor's teaching series on the biblical view of marriage. But it takes far more than tapes to turn around desperately hurting marriages.Third, many couples bear deep emotional scars from growing up in homes troubled by mental illness, divorce, sexual abuse, violence, alcoholism, negligence, harsh discipline, and legalism. Indeed, as family breakdown continues, the pathologies people bring to marriage will increase. These scars cause fears, hurts, and distrust, making companionship marriage all the more difficult.Churches need sensitivity to such changes and will more effectively save marriages if they are aware of five guidelines:
1. Recognize the opportunity
Because trained professionals increasingly treat troubled marriages, pastors and laypersons sometimes wonder what their roles are. Twenty years as a marital therapist, struggling to help hundreds of couples set aside the option of divorce, and 25 years of training congregational lay counselors have convinced me that the church is indispensable. While secular marital therapists can save marriages in many cases, they cannot deal with all the questions about God's love, the role of commitment, and the place of prayer. Professional care is no substitute for pastoral care.In his book Ethics from a Theocentric Perspective, James Gustafson points out that Christians are "stewards" of marriages and families. This not only means families are nurtured through faith in God and participation in church, it also means that the church bears ethical and pastoral obligation to its families. Only as churches take responsibility for the vitality and longevity of marriages can they offer teaching, training, caring, and support that bear fruit.Developing pastoral care and counsel upon a compassionate foundation is essential to stopping the epidemic of divorce. The apostle Paul recognized that suffering prepares us to be empathetic toward others in suffering (2 Cor.1:3-7). That is why couples who have struggled with their own marriages are usually the most compassionate, capable, and ready to help other couples in crisis.
2. Break through the isolation
While hurting couples need to know they are not alone, seldom will they reach out to fellow church members. They are too likely to fear rejection or feel embarrassment. Breaking through the isolation is not an easy task; it requires a graceful balance between reaching out and honoring the need for privacy and confidentiality. But support is crucial.A pastor once told me he had confided marital difficulties to his denominational superior, who encouraged him to seek counseling. But while as a successful pastor he had received frequent calls from his superior up to that point, the calls immediately ceased. Not only did he miss the earlier support and attention, he now felt abandoned. His faith began to falter, and he longed for encouragement and spiritual guidance. Do couples in crisis feel scorned or neglected by our churches? If so, they may continue to suffer silently, and without the resources of our counsel, our encouragement, and our prayers.
3.Develop supportive measures
There are several supportive and confidential ways in which churches, pastors, and Christian counselors can break through the isolation of couples in crisis.One way is to help the couple recover hope. Couples in crisis often lack the hope so essential to the work of marital restoration. While they may be committed to the permanence of marriage, prolonged suffering will weaken their resolve. Mere reminders that God wills permanence may actually exacerbate guilt feelings and compound the struggle. The couple may have exhausted their own efforts in praying and studying the Bible, reading self-help books, talking with friends, and counseling with the pastor, only to discover that chronic marital dysfunction is a treacherous adversary against hope. In the end, they see only two alternatives, both undesirable. One, a decision for the right and the good, points toward endless accommodation to marital unhappiness. The other, a decision for divorce, promises a ray of hope at the expense of being destined to a second-class status with God. Couples need prayerful encouragement and skillful challenges to their myopic vision.Couples in crisis also need support for their faith. Perhaps more so than other sufferers, victims of marital dissatisfaction may wrestle with questions about God's goodness or love. They should understand that much of their despair is born of homespun remedies. They need prayer, referral to a competent marital therapist, and ongoing pastoral counsel and care.Churches can create an atmosphere of concern and hope that does not generate more feelings of failure. Pastors and laypersons can learn to detect marital dysfunction early so treatment is less traumatic. Developing a referral network of competent marital therapists is another important supportive measure.
4. Promote the examined life
Marital restoration requires sometimes painful self-examination. The truth can be frightening, and defending and blaming are ways couples in crisis fortify themselves against deep and often hidden inner pain. Couples need encouragement to redirect the focus away from the spouse toward self. They may need nudging to discover their role in marital dissatisfaction, to know the truth of the saying, "It takes two to tangle." Just as the attitude (angle of approach) of a space capsule upon reentry to the Earth's atmosphere determines whether the capsule will return safely or disintegrate, so an individual's attitude toward self-examination will determine the outcome of restoration efforts. Spouses who face their own problems help the marriage grow. Spouses who blame each other foster deterioration. It is that simple.Churches should be aware, however, that self-examination sometimes requires unusual courage and strength. These couples confront many unpleasant realities about themselves and their families of origin. They should be lauded and encouraged.While churches must uphold the standards of Scripture for marriage and divorce, they must do so in a way that guards against oppressive guilt. We must not confuse the call for self-examination with the message that hurting couples are solely to blame. Marital problems are usually the result of growing up in a broken world. The Old Testament recognized that the sins of fathers can be visited for generations. Care givers must avoid taking sides. Talking about one spouse to the other—what therapists call collusion—is a characteristic of dysfunctional families. Taking sides virtually always diminishes one's effectiveness to minister.We should also not be confused by symptoms. Companionship marriages break down because spouses have emotional blocks to intimacy. Withholding sex, staying away from home, or having an affair are symptoms of an already broken relationship. Focusing on the symptom can lead to a faulty conclusion that there is only one guilty party.Encouraging self-examination also means not giving false hope. Couples often want assurance that the work of self-examination and deep inner healing will revitalize their marriage. We must avoid glib reassurance. Many, but not all, marriages are transformed. Emotional capacity for growth and motivation to change are important determining factors. While recent research shows that 85 percent of couples who go to a marital or family therapist end up saving their marriages, many hurts and scars will not be removed this side of heaven.
5. Reclaim a moral vision
Many evangelicals assume that marriage partners will be committed to their marriages if they have a relationship with Christ. We assume that when people come to Christ they become naturally moral and fully converted. It is not so simple. Many need encouragement to be stronger and more courageous in saying no to divorce when conflict erupts. They need moral support for the hard work of making marriage healthy. Because a person claims to be healed or "saved" from a past of dysfunction does not mean the issues are magically erased. God may sovereignly heal, but more often it takes a long road of healing by learning truth, receiving love, and growing in understanding.More than ever we must not overlook the role of moral values in the survival of marriages. Churches, counselors, and pastors should take seriously their role as agents of moral persuasion. They cannot neglect to rebuild people's lives in a way that includes a moral vision. "The stability of marriage is based upon commitment, not love," theologian Emil Brunner once said. But talk of commitment is increasingly foreign in our culture, and we must not assume that Christians have been formed and shaped by the moral language of commitment. Sometimes only moral conviction will keep them trying.God is calling churches to become instruments of his grace, mercy, and truth to couples in crisis. It is vital that we rise to this. Pastors and counselors need to help couples rebuild broken lives, and to instill commitment and moral vision for the sometimes hard work of marriage.
This article originally appeared in the December 14, 1992 issue of Christianity Today.
Thomas Needham was then associate dean for marriage and family at the Graduate School of Psychology, Fuller Theological Seminary, Pasadena, Florida.
Related Elsewhere
Other stories from the 1992 CT Institute on divorce and remarriage include:CT Institute: Divorce and Remarriage | An introduction to our 1992 series on what divorce means for families, churches, and our country. A Marriage Counterculture | In addressing divorce, the church must adopt the strategies of the missionary. By David Seamands Sex, Marriage, and Divorce | Results from a 1992 Christianity Today reader's survey. By Haddon Robinson Divorce and Remarriage from Augustine to Zwingli | How Christian understanding about marriage has changed—and stayed the same—through history. By Michael Gorman Can One Become Two? | What Scripture says about Christians and divorce. By H. Wayne House Remarriage: Two Views | Two New Testament professors debate whether remarriage is acceptable for Christians. By Craig Keener and William A. Heth Becoming a Healing Community | How the church can develop a climate of help to the hurting.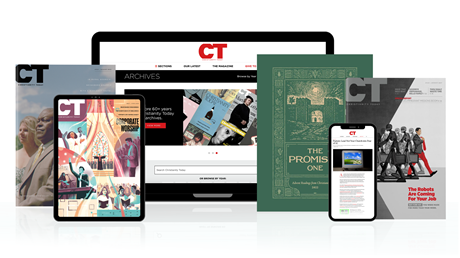 Annual & Monthly subscriptions available.
Print & Digital Issues of CT magazine
Complete access to every article on ChristianityToday.com
Unlimited access to 65+ years of CT's online archives
Member-only special issues
Subscribe
Read These Next
Trending

American Christians Should Stand with Israel under Attack

While we pray for peace, we need moral clarity about this war.

From the Magazine

I Studied Christianity with the Hope of Debunking It

A decade later, I became a Christian.

Editor's Pick

Don't Miss These African Christmas Hits

Jam out this season to highlife, Afrobeats, jazz, a cappella, R & B, rap, dance, and hip-hop artists from Nigeria, South Africa, and more.
How Not to Fail Hurting Couples
How Not to Fail Hurting Couples