Solving the mystery of where three kidnapped U.S. missionaries have been hidden for seven years—or whether they are still alive—may rest in the hands of a guerrilla leader now in Colombian police custody.
On November 30, Bogota police arrested Jose Milcíades Urrego Medina, commander of the 57th Front of the Revolutionary Armed Forces of Colombia (FARC), for aggravated homicide, extortionate kidnapping and aggravated terrorism, reported Bogota's daily newspaper El Tiempo. In 1993, FARC's 57th Front guerrillas took New Tribes Mission (NTM) missionaries David Mankins, Mark Rich, and Rick Tenenoff from their base in Panama near its border with Colombia. The men have not been seen since.
Guerrillas demanded a multi-million-dollar ransom for the missionaries' release. Talks broke off with 57th Front a year after the January 1993 kidnapping. FARC's highest leaders have said that those who kidnapped the men belonged to a renegade group not acting with FARC's blessing, and that FARC has no knowledge of what happened to them.
But it is highly possible that Urrego Medina, who was the 57th Front's second-in-command at the time of the kidnapping, can solve the case because he would know their fate, said Scott Ross, New Tribes Mission spokesman. The Associated Press reported that Colombia's National Police have strong evidence that Urrego Medina, also known as "Rigoberto," ordered the kidnapping. He is also wanted for his alleged role in trading drugs for arms in Panama.
"It's a very important break for us," Ross said about the latest development that he regards as an answered prayer. New Tribes has wanted to talk to the 44-year-old rebel leader since their men disappeared.
"(Urrego Medina) was involved from the start." Ross said. "If we're able to talk with him, he could get us information from day one all the way to the present, if our people didn't survive up to that point. Our case could be resolved in a few days. He could tell us where they are."
But coaxing Urrego Medina to talk may not be easy, Ross said. Unless Colombia's police offer him amnesty in exchange for telling all, talking would implicate himself.
"He's a very important person in FARC," Ross said. "If Colombian authorities decide to prosecute, he's probably going to be less free with his information."
Ross said that self-incrimination is not the only danger the arrested guerrilla leader faces. "If FARC felt he was going to nark on them, who knows what could happen," he said. Colombia's prisons are violent, and Urrego Medina is no safer in custody of the police, who hate guerrillas.
"It's really critical that we get to talk to him really soon."
NTM's foreign secretary, Dan Germann, is in Bogota and believes Colombian police will allow him to interrogate the captured leader this week, Ross said.
Copyright © 2000 Compass Direct
Related Elsewhere
For more on the political turmoil in Colombia read:
Colombia offers aid to destroy coca crops—The Boston Globe (Dec. 5, 2000)
A Widening War in Colombia—The San Fransisco Chronicle (Dec. 5, 2000)
More Colombia news is available at Yahoo's full coverage.
Christianity Today's earlier coverage of the church in Colombia includes:
Plan for Peace in Colombia Is a Plan 'For Death,' Say Church Activists | Will U.S. military assistance in destroying coca fields only increase violence? (Aug. 15, 2000)
Death in the Night | Colombia's pastors endure extortion, kidnappings, and threats as they plant churches and help the poor in a war zone. (June 6, 2000)
Colombia's Bleeding Church | Despite the murders of 120 church leaders, Christians are fighting for peace in one of the world's most violent nations. (May 18, 1998)
Fate of Kidnapped Missionaries Still Unresolved | Colombia remains thought to end questions are not human after all. (Mar. 29, 2000)
Twenty-five Pastors Killed This Year (Oct. 4, 1999)
Christians Held As Hostages (July 12, 1999)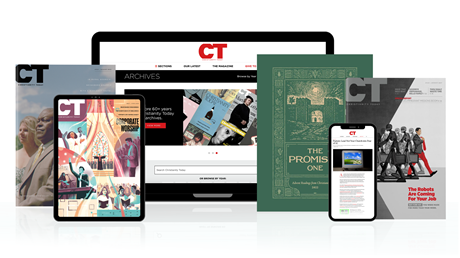 Annual & Monthly subscriptions available.
Print & Digital Issues of CT magazine
Complete access to every article on ChristianityToday.com
Unlimited access to 65+ years of CT's online archives
Member-only special issues
Subscribe
Break in Missionary Kidnapping Case
Break in Missionary Kidnapping Case