As he nears his eightieth birthday (he was born in 1921), John R. W. Stott gives the worldwide evangelical communion this latest gift as one of its elder statesmen. This pithy book offers us what he calls a "little statement on evangelical faith," a faith that he has done more to promote than anyone else in this century save Billy Graham.
Stott articulates these commitments in what is, indeed, a "personal plea" marked by both the strengths and, to some extent, the limitations of the evangelicalism he has represented and fostered. It stands as an important text both for what it says and for what it signifies: both as a helpful teaching of Christian truth and as an illustrative token of a particular "take" on Christian truth.
In his characteristically square-edged and lucid style, Stott affirms three core commitments of evangelical Christianity. Then, in the manner of many theologians today, he finds a Trinitarian link with this trio. Thus he suggests that evangelicals might profitably "limit our evangelical priorities to three, namely the revealing initiative of God the Father, the redeeming work of God the Son, and the transforming ministry of God the Holy Spirit. All our other evangelical essentials," Stott asserts, "will then find an appropriate place somewhere under this threefold or Trinitarian rubric."
Stott proceeds to deal first with the revelation of God found in the Bible, particularly as it testifies to Jesus Christ. Stott patiently defines "revelation" in its typical categories of "general" and "special" revelation, and then devotes most of the chapter to discussing the inspiration and authority of the Bible. He dedicates this longest of chapters to the Bible because, he writes, "the primary question in every religion relates to the topic of authority: by what authority do we believe what we believe?"There are few surprises here. Stott is "uncomfortable" (his word) with the term "inerrancy," but he affirms the entire truthfulness and supreme authority of the Bible for Christian life. The Bible is God's Word as it was "originally given," that is, "as it was written down by its author." (Stott presumably means "in its canonical form" since he is no foe of reverent historical study of the Bible that shows some biblical books—the Pentateuch, for example—almost certainly did not come down to us verbatim from the pen of a single author.) Though he eschews any form of deconstruction and other forms of hermeneutical anarchy, he still advocates serious exegesis of even seemingly obvious interpretations as they "remove from us some of the easy certainties which our critics suggest we are longing for."
Despite the many strengths of this section, a few concerns come to mind. First, one looks in vain for a complementary exposition of God's revelation of himself in Jesus Christ. Stott does affirm that "the climax of God's revelation was his incarnate Son," but then goes on to stress that the Bible is our main source of information about Jesus. Stott therefore concentrates on the Bible in a chapter on revelation.
Yet evangelical theology rests on the affirmation that Jesus shows us the very face of God, teaches us the truth of God, and models for us the life of godliness as God incarnate. Stott's subsequent chapter on Jesus focuses almost entirely on the atonement made for humanity in the Cross. But what about the conviction, so dear to evangelical piety, theology, and apologetics, that in Jesus of Nazareth we have more than a prophet, we have God himself? Where is the instruction in how to look properly at Jesus, learning all we can about God and applying all we can to our lives?This focus on Scripture also leaves out the Holy Spirit's universal work in testifying to the truth of God. Enoch, Job, Melchizedek, Abraham, and Moses learned what they knew of God outside of the Bible and the Christ. The world knows what it knows about truth, beauty, and goodness only from the Holy Spirit of God. These questions are crucial, particularly as evangelicals interact with people of other faiths.
Stott's chapter on the work of Christ quarries some choice bits from his magisterial exposition, The Cross of Christ(1986), focusing almost entirely upon the doctrine of justification through Christ's substitutionary Atonement. The sinner's need and its remedy in the Cross emerges in clarity, brevity, and power, with no apology to sensibilities offended by the language of sacrifice.
Yet in his commendable glorying in the Cross, Stott perhaps inadvertently downplays the Resurrection as also intrinsic to Christ's work of redemption. He suggests that Christ's "birth looks forward to [the Cross] and prepares for it, while the Resurrection looks back to it and validates it." But surely the Resurrection is much more than a validation of the Cross. Indeed, it is not at all clear what good the Cross would do us if we were not raised also with Christ in his resurrection (so Romans 6, which tightly binds together death and resurrection, both Christ's and ours).
Stott's statesmanship is most evident in his chapter on the work of the Holy Spirit. Here he stands astride a number of rifts in contemporary evangelicalism and pleads for unity in diversity, whether regarding charismatic manifestations, church membership, the sacraments, pastor-laity relations, the place of social action, or competing eschatologies. He shows some resistance to the "signs and wonders" movement, but even here he accentuates what is common and positive among evangelicals.
Among these issues one might expect to find the vexing question of gender, but Stott confines his comments on this subject to the conclusion, in which he lists it among the secondary matters on which evangelicals should simply agree to disagree. (Stott has hardly ignored this issue, however: for years he has encouraged women's leadership, including ordination, in the Church of England.)
In his conclusion, Stott returns to the fundamental question raised by the title of his book: What is truth for evangelicals, and what are the truths most central to evangelical profession? Stott boldly suggests that "whenever equally biblical Christians, who are equally anxious to understand the teaching of Scripture and to submit to its authority, reach different conclusions, we should deduce that evidently Scripture is not crystal clear in this matter, and therefore we can afford to give one another liberty." This criterion of "basic evangelicalism" is one that would resonate with evangelical statesmen back to John Wesley himself.
The book's title raises another question, however. In opting for "truth"—rather than "affirmations," "essentials," "convictions," and "concerns," some of which do show up as synonyms in the book—evangelicalism is implicitly reduced to a set of beliefs. Evangelicals are people who assent to certain propositions about God, the Bible, the Cross, and so on. This rationalistic tendency extends to Stott's characterization of evangelicals as "first and foremost Bible people, affirming the great truths of revelation, inspiration and authority," and of the evangelical faith that rests, he writes, upon "its chief foundation—the rock of holy Scripture, that is, of evangelical truth."
Any rationalism one finds in Stott needs to be put in context. As a young man, he reacted against both a highly pietistic and anti-intellectual British evangelicalism, and a liberal, if not openly skeptical, theological establishment. Therefore, Stott championed the need to use the sanctified intellect, and thereby inspired many millions (including me) in resisting these extremes. Rationalism is not finally the religion of John Stott or of this book. Time and again in this volume, this rector emeritus of All Souls Church exhorts his readers to be doers of the Word, and not merely hearers only. Stott's own career shows a man ever concerned to move from the study and the pulpit into the lives of the people in his charge.
Still, the tendency is there in this variety of evangelicalism: a tendency to prize soundness of conviction more than intensity of experience, to champion the objective work of justification above the subjective work of sanctification, and even to identify, at times, more quickly with the Bible than with the Lord Jesus. (Surely we should be "Jesus people" even more than we should be "Bible people"!)I am sure John Stott would agree that evangelicals characteristically have been at least as interested in heart religion and hand religion as in head religion. Yet "conversionism" and "activism" (following David Bebbington's influential, if problematic, description of evangelicalism) show up only as secondary matters in Stott's book. They are not, however, secondary in the history of evangelicalism—nor, ironically, in the career and teachings of this great evangelical leader.
To be sure, the pressures under which Stott formed his theology have not eased in our own day. In an age of increasing religious diversity, superficial experientialism, and postmodern doubt, we still need skilled masons such as John Stott to carve out biblical teachings to inform and buttress our faith. Evangelical truth is not all there is to even the core of evangelicalism, but we cannot do without it.
John G. Stackhouse Jr. is Sangwoo Youtong Chee Professor of Theology at Regent College, Vancouver, and author ofCan God Be Trusted? Faith and the Challenge of Evil(Oxford).
Related Elsewhere
Stott's Evangelical Truth: A Personal Plea for Unity, Integrity, and Faithfulnesscan be purchased at Worthybooks and other book retailers. For more information about John Stott, see "Guardian of God's Word| The amazingly balanced, wise, biblical, and global ministry of a local pastor, John Stott." The article, by David Wells, appeared in the September 16, 1996 issue of our print magazine.
Timothy Dudley-Smith's John Stott: The Making of a Leader: A Biography, 1921-1960, was briefly mentionedin our July 12, 1999 issue.The John Stott Ministriessite offers excerpts from Stott's works, "Stott Daily Thought" and "Stott Bible Study" newsletters, a biographical sketch, and his North American speaking schedule.
John G. Stackhouse Jr., a Christianity Todayconsulting editor, has written often for the magazine and our sister publication Books & Culture. For some of his past articles, click here.
Have something to add about this? See something we missed? Share your feedback here.
Our digital archives are a work in progress. Let us know if corrections need to be made.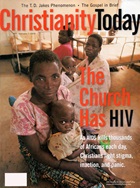 This article is from the February 7 2000 issue.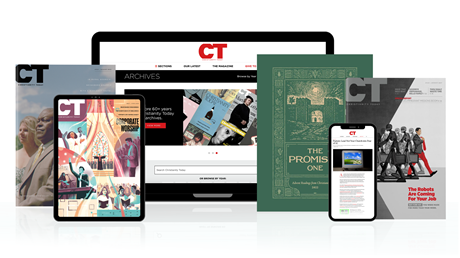 Annual & Monthly subscriptions available.
Print & Digital Issues of CT magazine
Complete access to every article on ChristianityToday.com
Unlimited access to 65+ years of CT's online archives
Member-only special issues
Subscribe
Read These Next
Trending

American Christians Should Stand with Israel under Attack

While we pray for peace, we need moral clarity about this war.

From the Magazine

God's Promises Are Clearest When We Turn Out the Lights

Christians have every reason to reduce light pollution.

Editor's Pick

Don't Miss These African Christmas Hits

Jam out this season to highlife, Afrobeats, jazz, a cappella, R & B, rap, dance, and hip-hop artists from Nigeria, South Africa, and more.
An Elder Statesman's Plea
An Elder Statesman's Plea