Yesterday, Focus on the Family founder and president James Dobson criticized Gary Bauer's endorsement of John McCain for president. In addition to faulting McCain for campaign finance issues and accepting support from gay republicans, Dobson said McCain "has offered no assurances that he intends to appoint a pro-life running mate or pro-life justices to the U.S. Supreme Court," reports the Associated Press. Dobson emphasized he was speaking for himself, not Focus on the Family, and said his criticism shouldn't be construed as an endorsement of any candidate. Dobson and Bauer have historically been very close: the two co-authored a book together, and Dobson created Family Research Council, the organization Bauer ran for ten years until his short-lived run for the presidency.
"To my knowledge, everything in our Feb. 19 McCain cover story is accurate," says Marvin Olasky in a response to William Safire's harsh criticism of the magazine in yesterday's New York Times. After a few corrections and clarifications, he continues, "World is small compared to Time and Newsweek—we're in the circulation ballpark of The New Republic or The Nation—but we take our biblical responsibilities seriously. Is that a crime?" (The magazine echoes Olasky's column in its Feb. 26 issue, summarizing Safire's column thusly: "Our crime? The Feb. 19 issue raised questions about John McCain The New York Times refuses to raise.")
The groups won't have to compromise by covering up religious symbols or hiring staff that doesn't agree with their beliefs, according to guidelines approved by the House Wednesday. Though "charitable choice" has been instituted in day care, drug treatment, and welfare-to-work programs, this is reportedly the first such educational program to allow religious organizations to receive federal funds.
Reports are circulating that evangelist Billy Graham called House Speaker Dennis Hastert to recommend Presbyterian minister Charles Wright as chaplain for the House of Representatives. A spokesman for Hastert said Graham "expressed support," but did not lobby for Wright. A spokesman for Graham says the evangelist took no position in the debate. The beat goes on …
"The patron saint of this small farm town suffered his first indignity untold years ago, when locals lopped off part of his name and called their home St. Augusta, rather than St. Augustine," writes Stephanie Simon in The Los Angeles Times. "But that slight was nothing compared to what may be coming: Civic leaders have petitioned a judge to let them sever their link with St. Augustine, a revered fifth-century teacher of Christianity. They want to call their town Ventura, after Governor Jesse—he who has declared religion a sham for the weak-minded."
Goliath probably had a pituitary gland disease called acromegaly, says Vladimir Berginer. He was probably partially blind, too, because of the disease, and the underdog in the fight against David. Cruel David, picking on the weak and crippled like that … (see related coverage in the New York Times and the Irish Independent).
The Church of England's General Synod called the BBC's religious programming "trite drivel" Monday. Then, on Thursday, well-known broadcaster Joan Bakewell of the BBC's religious debate program "Heart of the Matter" told the Daily Telegraph she was quitting the program because the religion on the BBC was becoming increasingly neglected.
Pope John Paul II is planning a trip to Egypt's Mount Sinai. But, notes the Associated Press, scholars disagree if that's really the biblical Sinai. Some say it's in Saudi Arabia. AP religion writer Richard Ostling looks at the arguments for and against Jabal Musa on Egypt's Sinai Peninsula and the mountainous region of northwest Arabia (near the Jordanian border).
A Catholic chapel in Talavera, Philippines, has been locked for two weeks while two priests fight over who gets to officiate mass there, reports The Manila Times. No resolution is in sight.
The Grammy-nominated Christian rock band The Newsboys will take a 3,500-seat inflatable arena on a 66-day tour. It will take seven tractor-trailers and 55 crew members to take it from town to town. "What we're doing is just applying 21st century technology to the oldest form of entertainment available—the circus tent," the band's manager told the Associated Press. Please note: the band is The Newsboys, not the similar-sounding Christian band Big Tent Revival.
Washington Post does double-duty commentary on state of politically conservative Christians
"But who is God's guy?" asks Post columnist David Broder, noting that Christian leaders like Pat Robertson are using awfully strong language in their support and criticism of the Republican candidates. If McCain wins the Republican nomination, Roberston said, "The Christian Coalition … would not put out 75 million voter guides, would not urge its membership to vote for anybody in the general election. … I'm not going to go raise great sums of money to get somebody elected when I don't feel good about him. … And I think others are the same way." Meanwhile, E.J. Dionne looks at the same issue: "We may have to wait another four years before the word Christian is associated in politics, as it's supposed be in other parts of life, with civility and a decent regard for the other guy."
This time, it's the Chicago Tribune's religion columnist, Steve Kloehn recounts his favorite "Peanuts" strips that touched on religion. "Though Schulz was a faithful Christian himself, a prominent lay preacher in the Church of God, he never shilled for the church or beat readers over the head with his own beliefs," Kloehn notes.
A boat from the Sea of Galilee that dates from Jesus' day (40 B.C. ±80 years) has finally been moved from the shack where it has been since 1986 into its new home at the Yigal Allon Center on Kibbutz Ginossar.
Note: Because ChristianityToday.com Online Editor Ted Olsen will be on vacation for the next two weeks, the ChristianityToday.com Weblog will not regularly appear during that time. It will return as a daily feature March 6.
Related Elsewhere
See our past Weblogs:
January 31
January 28 | 27 | 26 | 25 | 24
January 14 | 13 | 12 | 11 | 10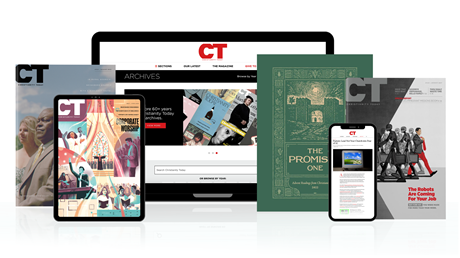 Annual & Monthly subscriptions available.
Print & Digital Issues of CT magazine
Complete access to every article on ChristianityToday.com
Unlimited access to 65+ years of CT's online archives
Member-only special issues
Subscribe
Dobson Rips Bauer for McCain Endorsement
Dobson Rips Bauer for McCain Endorsement