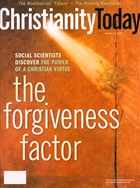 This article is from the January 10 2000 issue. Subscribers can read all of CT's digital archives.
Recent divorce statistics sent a distress signal to the Bible belt, and both religious and civic leaders are responding. Nevada, the longtime leader in divorce, still tops the list. But according to a statistical analysis released in November by the Associated Press, the rest of the nation's top five divorce states are notches on the Bible belt, whose citizens like to think of themselves as conservative, family-friendly people. Now Tennessee, Arkansas, Alabama, and Oklahoma are waking up to the divorce crisis. Oklahoma Baptist Convention executive director Anthony Jordan told the AP that his state's statistics "hit [him] like a ton of bricks."The church has long been aware that its own divorce rates match those of society as a whole. And out of either compassion or cultural accommodation, even conservative churches routinely accept divorce as a painful but ever-present reality.Part of that adjustment has been good: the church is largely more sensitive to those who find themselves wounded, disoriented, and bereft of their relational and financial resources.What has not been good, however, is the increase in divorce among Christian believers, as well as a significant increase in the rate of divorce among adults who were raised in intact families.
PARTNERSHIP OF CHURCH AND STATE
In the face of these divorce statistics, we must recognize that divorce itself is not our main problem. Rather we face the broad weakening of the idea of marital permanence in our society. New efforts are emerging on that front.Forming new partnerships between government leaders and church leaders is key to those new efforts. Because marriage is both a civil and religious institution, turning around the worst aspects of the divorce culture requires both ...
1
Our digital archives are a work in progress. Let us know if corrections need to be made.
It Takes a Village to Fight Divorce
It Takes a Village to Fight Divorce