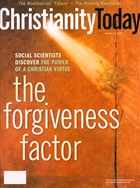 This article is from the January 10 2000 issue. Subscribers can read all of CT's digital archives.
Compile a short list of great religious satirists in our day and Kevin Smith will not appear on it. Smith is known more for films laced with profanities, sexual fixations, and the yin-yang slapstick team of Silent Bob (Smith) and his rarely silent friend, Jay (Jason Mewes), who appear as side characters in three of Smiths earlier movies—Clerks (1994), Mallrats (1995), and Chasing Amy (1997). Smith is a lifelong Catholic who dabbled in Calvary Chapel for a time, but now says he has returned to regular attendance at a Catholic parish. "Everyones there because theyre afraid to go to hell," Smith said of his fellow Catholics in a 1997 interview with Zug, an online humor magazine (www.zug.com/zug/scrawl/ksmith/intview.html). Dogma is the latest chapter in a never-ending story: A director shoots a provocative film that seems to attack either Jesus or Christianity (The Life of Brian, 1979; The Last Temptation of Christ, 1988; Jesus of Montreal, 1989; Priest, 1994). Various Christians protest loudly or organize boycotts. The film earns far more box-office profits and critical attention than it would have without the controversy, and the church stumbles ahead until the next broadside.Christians are sometimes tempted to suppress a film (Last Temptation) or to comment on films they have no intention of seeing. Perhaps it would be easier to consider attacks on Christian faith preferable to apathy—but Christians can hardly be faulted for objecting when they believe the attacks are more against Jesus himself than against the faith.After several months of resistance from the Catholic League for Religious and Civil Rights, Dogma seems like a wimpy target. Smith takes his shots at the Catholic Church, but mostly through the pitifully modernist ...
1
Our digital archives are a work in progress. Let us know if corrections need to be made.
Popular Culture: The Film Dogma Is Anti-Dogma
Popular Culture: The Film Dogma Is Anti-Dogma